Cory Maye Freed After 10 Years In Prison: The Back Story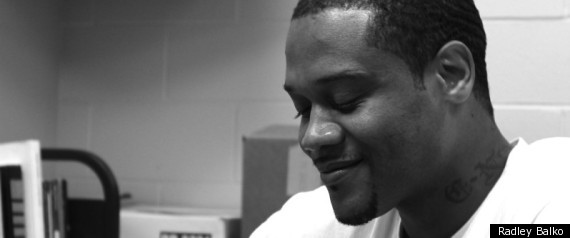 MONTICELLO, Miss. -- It's Friday, July 1, 2011, a little past 8:15 a.m. when I arrive at the Lawrence County, Mississippi, courthouse. As I walk toward the building, I run into Dorothy Maye, the mother of Cory Maye. She's beaming.
"I thought you'd be wearing a smile today, Miss Dorothy," I say. She gives me a quick but firm embrace. She scolded me years ago when I tried to shake her hand. "I don't shake," she said. "I hug." Later this morning, she expects to hear Judge Prentiss Harrell tell the courtroom that after 9 and a half years in prison -- including two on death row and another three in Parchman Penitentiary's notoriously violent Unit 32 -- her son will soon be coming home.
Cory Maye, now 30, was convicted in 2004 of shooting and killing Prentiss, Mississippi, police officer Ron Jones, Jr. during a botched drug raid on Maye's home on the day after Christmas in 2001. Maye says he was asleep as the raid began at 12:30 a.m. and had no idea the men breaking into his home were police. The police say they announced themselves. Maye had no prior criminal record, and police found all of a marijuana roach in his apartment, which under other circumstances would garner a $100 fine.
In fact, the man who lived next door to Maye in that bright yellow duplex, Jamie Smith, already had drug charges pending against him and appears to have been the actual target of the police action that night. The police found a significant supply of drugs in Smith's apartment, though Smith has never been tried.
Dorothy Maye and I walk into the building, up a flight of worn wooden stairs, and through a security checkpoint to enter the second-story courtroom. Maye is expected to plead guilty to culpable negligence manslaughter this morning, a much less severe charge than the capital murder rap for which he was originally convicted and sentenced to death. If all goes to plan, he'll be sentenced to 10 years in prison, with credit for the years he has already served. With time for good behavior, he should be released as soon as the Mississippi Department of Corrections can get through processing and paperwork, which his attorneys hope will take no more than a week to 10 days.
Bob Evans, Cory Maye, Ben Vernia, 2011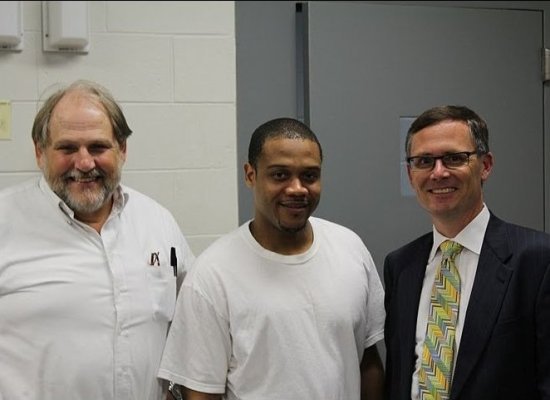 Total comments:
405
|
Post a Comment
The courtroom looks new, or at least recently renovated, a contrast to the groaning old building that holds it. The walls are a pastel shade of blue, and the judge's chair, bench and witness stand newly-finished oak. High-set windows with horizontal shades let in a portion of the warm Mississippi morning.
There will be no suspense today. No tense, pregnant silences as the courtroom awaits a verdict, as happened in 2004, when a Marion County jury declared Maye guilty and again less than an hour later, when the same jury condemned Maye to die. Nor will there be any exalted cries of "Thank you, Jesus!" like the one that burst from the normally-reserved Dorothy Maye's lips 2006, when Judge Michael Eubanks unexpectedly threw out Maye's death sentence. Eubanks ruled that the sentencing portion of Maye's trial was marred by mistakes made by Rhonda Cooper, Maye's trial attorney.
Instead, this morning's proceedings are scripted in the plea agreement hashed out by Maye's attorneys and Hal Kittrell, the district attorney for Mississippi's 15th Judicial District. Maye's attorneys began reaching out to Kittrell almost immediately after the Mississippi State Supreme Court granted Maye a new trial last December. The court ruled that Maye should have been permitted to argue at trial that he was defending the life of his daughter on the night of the raid, a defense Eubanks had denied him. It also upheld a lower court ruling that Maye should have been permitted to return his trial to Jefferson Davis County, the scene of the raid, after Cooper inexplicably asked to move it to a county with less favorable demographics.
Shorty after Maye's mother and I take our seats in the gallery, Maye attorney Bob Evans enters from the witness room at the back of the courtroom. The avuncular Evans, 61, is the Lawrence County public defender. He was once the public defender for Prentiss as well (in many areas of rural Mississippi, public defender is a part-time position -- it pays a few thousand dollars per year). Evans was terminated from that position when he agreed to represent Maye on appeal -- an act of retribution and intimidation that was very likely illegal. (Evans got his vindication: He now represents District 91 in the Mississippi legislature, a district that includes Prentiss.)
Evans was initially assigned to Maye's case in 2001, immediately after the raid. But Maye's family instinctively recoiled at entrusting their son's fate to a public defender. That would prove to be a mistake. Instead, they pooled their resources to hire Cooper, a black attorney in Jackson who they say played to their (well-founded) racial insecurities about the case. Contrary to what Maye's family says she told them, Cooper had no experience trying a capital case, a deficiency that was more than apparent at Maye's trial.
Evans is a character. When I first met him in 2005, he boasted that he was probably the only white man in the county with "Impeach Bush" and "Hillary Clinton for President" bumper stickers on his truck. But then, he also has an office full of hunting trophies ... and an office drawer full of guns. He spills out southern aphorisms and droll asides, all with the morbid sense of humor you often see in public defenders. It's a coping mechanism. This particular morning, after representing Maye in his plea, Evans will also represent a 60-year-old woman charged with sexual abuse in the death of her 4-month-old granddaughter. Both fearless and disarming, Evans is known almost as much for his mouth as for his lawyering. He'll dash off biting comments in awkward situations, usually masked with just enough humor to keep things from getting uncomfortable.
This morning, Evans is flustered. His hair is disheveled; his shirt rumpled. He's clearly stressed. "I didn't sleep at all last night," he says. "I know, I know. I sound like some menopausal woman. I'm emotional. I'm cynical. I'm too negative. But I'm not going to be able to exhale until I hear Judge Harrell accept this plea." Evans hands me a copy of the plea agreement. "I've never written an agreement like this," he says. "I must have written this thing seven or eight times."
It took a delicate dance of negotiation to get to this point. Maye's attorneys first reached out to Kittrell shortly after the Mississippi Supreme Court decision in December. Kittrell initially assured the press he would again try Maye for capital murder.
But the negotiations started to pick up momentum over the last few weeks, with Kittrell and his assistants both working with Maye's attorneys and relaying options back to the family of Jones, the slain police officer. Kittrell and the Jones family wanted some assurance that once a formal plea was offered, Maye would accept it, giving the family some closure. The priority for Maye's attorneys was getting Maye home, with no post-release supervision.
"We didn't want him under some sort of supervisory situation, where it would be easy for somebody with a grudge to set him up and put him right back in prison," Evans says. Kittrell's office first offered a 20-year sentence, with 10 years time served, and 10 years of probation. Maye's attorneys rejected that offer. The two reached an agreement just days before this morning's proceedings, and once both sides agreed, held a conference with Harrell in Purvis, Mississippi, less than 24 hours ago to see if he'd sign off on the deal. He said he would
Harrell doesn't usually agree to plea bargains that include a predetermined sentence. There's a small chance he could have changed his mind since yesterday and may reject the deal this morning. It's only a small chance, but this is what has Evans worried.
Evans invites me back to the witness room with Maye and Ben Vernia, another of Maye's attorneys. Vernia got involved in 2006 as an associate at Covington & Burling, the high-powered Washington, D.C. law firm that took on Maye's case pro bono. Vernia has since started his own practice, but hestill works on Maye's case pro bono. Maye's other primary attorney is Abe Pafford, who also started the case while at Covington, but also remained with Maye after moving on to start his own practice. It was Pafford who first brought Covington on board after reading about Maye's case on my blog from a link at National Review Online. Pafford has a daughter the same age as Maye's, and said he was moved to get involved after thinking about what he'd have done if he'd been in Maye's position.
This morning, Cory Maye is wearing the standard-issue inmate attire at the Lawrence County jail, where he was transferred after the Mississippi Supreme Court decision in December: a short-sleeved, bright-orange v-neck top and baggy pants with wide stripes that alternate white and orange. He's wearing orange, rubber shower sandals; his feet are chained at the ankles. As I walk in, he's stretching his thin goatee yet thinner with a broad grin. Ask anyone about Maye, and they'll mention that grin. Maye always smiles, even when a smile may not be the most appropriate expression. Evans says he was smiling throughout his trial, which probably didn't help him with the jury. He was even smiling when he was sentenced to death.
"So what are you thinking this morning?" I ask. "I imagine there's a lot going through your mind."
"I'm just ready to get home to my family and see my kids," Maye says. "I want to take them fishing. Maybe take them to Sea World or Disneyland."
Maye's clutching a hand-written statement he'll give later this morning. It's a message for the family of Ron Jones. Between my questions, he glances back down at it. There are signs of revision, words and phrases crossed out, new words written in the spaces between. It has the look of something he's labored over.
"Be as deferential and respectful as you always are," Evans tells him. "You can be a little timid when you speak. Make sure you speak up so the Joneses can hear you."
Maye says he knows that Southern Mississippi may not be safe for him long-term, a sentiment shared by his legal team. He says at the moment he's thinking of moving to Florida. He has become pen pals with a woman who lives there, and there may be some romantic interest. It's far enough to get him away from any lingering anger about his case, but close enough to allow him to still see his kids and his family. We chat about work. He says he knows he needs to get a job soon. He's interested in getting his commercial driving license. And we chat about food. He wants his first meal outside of prison to be his mother's gumbo, with a side of her banana pudding.
"There's going to be a big party when this is done," Evans says. "You'll get to eat all you want."
HuffPost readers: Find out how you can help Cory Maye. Click through to the final page for a short documentary on the Cory Maye case.
Subscribe to the HuffPost Hill newsletter!