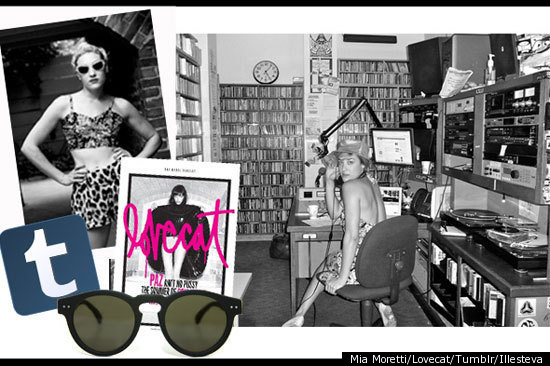 Who: Mia Moretti
Occupation: DJ
From: Oakland, CA
Currently Lives in: NYC
What was the last song you downloaded? "Que Que" feat. maluca by Dillon Francis & Diplo
What item do you wear every day? Illesteva sunglasses
How long does it take for you to get dressed in the morning? 15 minutes
What is the last thing you bought? A vintage Pucci bodysuit
If you could only shop in one store for the rest of your life, what would it be? Muji
Who is your ideal shopping buddy? J. Logan Horne
Favorite magazine? Lovecat
What is a trend you hope dies this summer? Bottle service raves & Herve Leger
What is the next vacation you plan on taking? I'm going to Corsica at the end of the month; it's half work, half play.
Do you have any piercings or tattoos? Just my ears. When my mom took me to get them pierced at Claire's I fainted; ever since then I've been deathly scared of needles.
What is your favorite restaurant? Izakaya Ten in New York City (207 10th Avenue)
Drink of choice? Bushmills on the rocks with one orange slice
What was your first AOL screen name? I can't tell you because I still have it.
Twitter or Tumblr? I love Tumblr, go follow teen witch.
If you could have any super power what would it be? Flight