City To Auction Off Remnants Of Historical Landmarks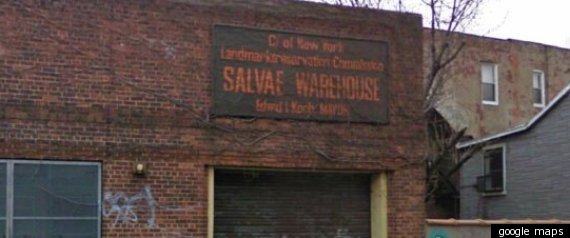 Somewhere in Brooklyn there is a warehouse that contains a treasure trove of historical artifacts from the city's rich history. Discarded material from demolished landmarks and other city buildings end up here, at the Architectural Salvage Warehouse on Berry Street. The New York Times reports that the whole lot of items -- from municipal furniture, signs from Grand Central's old post office, doors and sculptures -- will sold to the highest bidder at the end of this month, a move which infuriates lovers of the city's ephemera.
The Times notes that "some historians are concerned the city fails to recognize the cultural significance of what it is auctioning," by given the entire lot to one entity.
"What the hell," writes the blog Lost City. "Why could the stuff not be auctioned off in pieces, or lots? That would afford people who don't have a lot of cash--but possess a lot of interest--the chance to claim some of these treasures."
The city regularly sells confiscated or discarded property at open auctions, including cars left at impound lots, or police-seized materials.
The Landmarks Preservation Commission is organizing the auction, which is sealed from the public. John Weiss, deputy counsel for Landmarks commission, said that while the sale is private, there is hope in the public future of these historical artifacts. "Whoever buys the entire lot, you can always just buy it from them," he noted.
Go to the Times' website to learn more.