Foursquare wants to make a deal.
The location-based service, which enables users to share their location by checking in to venues via their smartphones, announced it had partnered with five daily deals companies--LivingSocial, Gilt Groupe's Gilt City, zozi, BuyWithMe and AT&T Interactive--to offer Foursquare members additional discounts that can be purchased through the social network's app.
The deal will expand Foursquare's "Specials," which consist of discounts, rewards and other perks for patrons, to include "Deals" offered by the new partners and which Foursquare described as "deep discounts that you buy ahead of time."
Foursquare's new partnership isn't just good news for users: it also marks a necessary effort by the company, valued at around $600 million, to prove it can monetize its userbase, now 10 million strong, and develop meaningful, sustainable revenues. According to the Wall Street Journal, Foursquare will take an unspecified cut of revenues from deals its partners sell over the service, a move the Journal calls "Foursquare's most significant attempt yet to build a revenue stream." The startup announced a partnership with American Express earlier this year, but one that notably did not include a revenue sharing agreement.
Users will be able to access the "Deals," which will initially be available in the U.S. UK, Canada, Ireland, Australia and Zealand, under the "Explore" tab on the Foursquare app. The company noted in a blog post that the deals that appear on the app will be customized for each user according to factors such as whether multiple friends have visited an establishment.
Check out screenshots of the new feature below: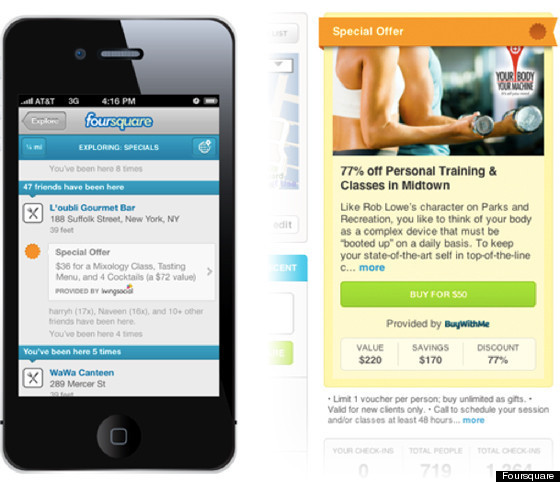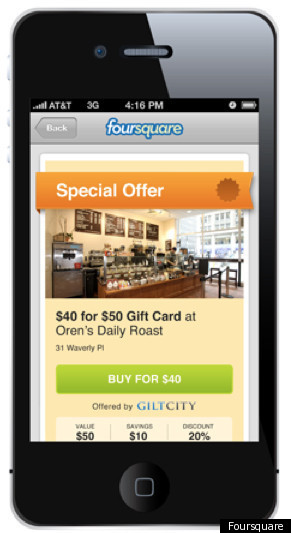 SUBSCRIBE TO & FOLLOW THE MORNING EMAIL
The Morning Email helps you start your workday with everything you need to know: breaking news, entertainment and a dash of fun. Learn more