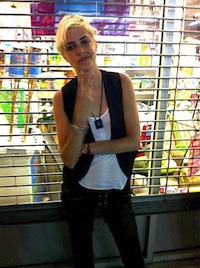 Samantha Ronson can sing.
And not in an ironic, self-conscious way. The disc jockey and member of Team Ronson (brother Mark is a music producer, twin sister Charlotte is a clothing designer) has a new band called Samantha Ronson and the Undertakers. She has written an album and she's currently feeling out her stage legs at venues around the country. The Huffington Post caught up with Ronson and the album's co-writer Jimmy Messer before their first "real show," at New York's Blue Note Jazz Club.
For someone featured in the tabloids as frequently as she is -- having dated Lindsay Lohan will do that to you -- Ronson is surprisingly easy to get a hold of. And though she has well over 1.6 million followers on Twitter, she doesn't really like talking about herself. She doesn't have a publicist. "I don't want one. If there's no contact, then there's never a comment," she said. "Sometimes I want to fight back, but if I say one thing isn't true, then everything I don't address looks true."
She says that she "fell into" spinning when the scheduled DJ at a club she frequented as a 20-year-old in the West Village didn't show up. "They asked me and my boyfriend at the time if we wanted to spin, so we went to his car and grabbed all the CDs we had. The next night I came back with some records."
It was apparently a good fit. "I just found a journal I used to write in, and on that second night I had written, 'I DJ'd tonight, I think I want to do this for a living.' And here I am."
When asked why she was about to perform as the frontwoman for a sometimes folk sometimes rock and roll band, Ronson was less sure. "I just like making and playing music, I've been doing it on and off for awhile, and [Messer] just said 'let's make a record.' There wasn't a plan in the beginning, but I like the songs and now we have an album."
It's worked out. The music covers a fairly wide range of ethos, from angsty rock to reflective, even mournful tunes. Ronson navigates the mix effectively, and she seems as comfortable singing the ostensibly poppy "Built This Way" (which some might recognize from the soundtrack to Mean Girls) as she does graveling her way through "Chasing The Reds." Contributors to the album include rapper Wale, who appears on one track, and Slash, who provides the guitar for at least one song.
The crowd at Blue Note was eclectic, ranging from an adorable elderly Asian couple to four teens who spent the greater part of the show chattering excitedly in Arabic and tweeting that they'd shaken Ronson's hand. Also present were Ronson's mother (who Samantha introduced as "the subject of every love song that I didn't write"), Ann Dexter Jones, Charlotte ("I got chills, tonight I'm a very, very happy sister") and brother Chris. Stepfather and Foreigner guitarist Mick Jones was not in attendance; nor was Mark Ronson. The audience responded well to Ronson's songs and banter, and though the singer seemed a bit nervous at times, the show seemed to go off without a hitch.
Ronson also wrote Foreigner's new song, which she said was a particularly rewarding experience. "I mean, I got to work with my dad, and write a Foreigner song. How many people can do both of those at the same time?"
Ronson's album, Chasing The Reds, will probably be met with a great deal of skepticism, but it's likely that she'll be able to make up for a relative lack of singer-songwriter credentials with the surprising amounts of honesty and fun that characterize her live show. At the very least, those who see her live will be shocked at the transition from chronic photographer-flipper-off-er to gentle love song crooner.
First R-Rated Movie: "My mother took us to see Kiss Of The Spiderwoman, which was completely inappropriate, and I spent the whole time with her hands over my eyes."
First Record Purchased: "Wham! Make It Big."
Musical Guilty Pleasure: "I don't think it's a guilty pleasure, but I really like pop music."
Watch: Samantha Ronson & Jimmy Messer Cover Enrique Iglesias' "Tonight" (Warning: Clip Contains Explicit Language)
:
SUBSCRIBE TO & FOLLOW THE MORNING EMAIL
The Morning Email helps you start your workday with everything you need to know: breaking news, entertainment and a dash of fun. Learn more