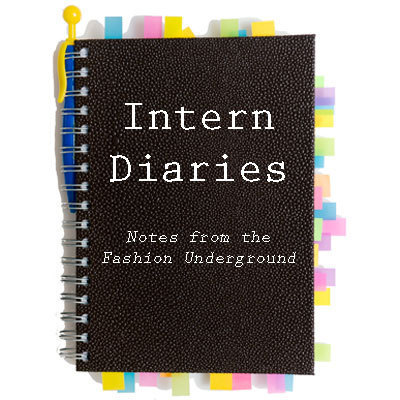 Intern Diaries: Notes from the Fashion Underground is a new column that goes to the straight to the source of the fashion industry: the free labor. In this column, anonymous interns tell all about their bosses, coworkers and dramatic work environments. This week's intern is an Ivy League female college student working at a fashion magazine in New York City.
DAY ONE
7:20 a.m. Not a morning person. Shower, blow-dry, walk around naked.
8:00 Pick out an outfit.
8:15 Re-pick my outfit and settle on a striped J. Crew dress and bright blue heels.
8:35 At work super early. Getting a breakfast sandwich at the cafeteria – no one skinny is here this early to judge me. I feel like I am in "The Devil Wears Prada."
9:00 And now I'm at work upstairs.
9:15 First task, expenses! Organize reimbursements from the director's Vegas trip. A.K.A. I'm trimming and taping receipts down in rows onto printer paper. Shouldn't she have an assistant for this?
9:47 They spent $95 on mani/pedi's with clients. What did they get, gold leaf by Essie?
10:30 Next project, alphabetize a client account binder and 'keep an eye out' for any typos.
11:00 Bottom of the first page and already found so many typos. Sneakily slide up next to my boss and hint that there might have been a few mistakes throughout, "but I'm not sure."
12:00 p.m. Lunchtime. Head downstairs to the flash runway show they call the cafeteria and try my hardest to blend in with editors, photographers, stylists. Skinny & beautiful people, etc.
1:00 Back upstairs and eying a foot tall pile of paper that's been dropped off at my desk. My email says I'm meant to bind these booklets, with spiral binding.
1:01 The spiral binding.
2:20 Still in the copyroom sweating and battling the ferocious binding machine, our furnace-sized 1980's monster with levers and spikes.
2:45 Return victorious with bound presentations in hand.
3:00 Recoup with my intern buddy over at the hot cocoa machine.
3:14 Texting under the desk about plans for tonight. Party time?
3:21 Doing research on WWD for any recent fashion news clippings and ad campaigns.
4:40 Now just waiting to leave...
9:00 Heading over to meet my friends for dinner, I decide I'm going to walk all the way to the Lower East Side, why?
9:50 Worst idea ever. But this is amazing – five course menu and cocktails included for $10 a person at Stanton Social. I am in loooove.
DAY TWO
7:20 a.m. Alarm, my enemy. Get out of bed, shower, and eat fruit loops.
8:20 Out the door and heading to the subway, wearing black jeans, a floral top, and a gray blazer, with my new Proenza heels – bought last week on sale at Barneys (what a steal!). Hope no one notices they are last season.
9:00 At work.
9:20 The August issue has arrived! While this is exciting for some, I know that it means I'll be organizing and tabbing editorial credits for the next decade.
11:54 Finally finished with the August issues and printing out the sales rep mail-out letters.
12:20 p.m. Re-re-printing the sales rep's letters after several corrections. Soaking in the criticisms as they come.
12:40 I demand that it's lunchtime. I'm thinking healthy today.
12:41 Hit up the dessert table first. Yum. Cupcake.
12:55 Sitting with the other interns and comparing weekends. We realize that Tim Gunn is sitting two tables away. Just love being surrounded by royalty. Make it work, interns!
1:30 Back upstairs and have a ton of emails. Ignore, ignore, respond, ignore.
1:38 Start doing research for two upcoming meetings with Burberry and Chloe. Style.com has such eye candy.
2:06 The publisher's assistant sidles up next to me and asks if I can 'do a favor.'
2:10 Am now trudging 7 blocks in the blinding heat to Staples with a ten dollar bill to buy .5 lead for the publisher's mechanical pencils. Regretting gorgeous Proenza heels.
2:45 .5 lead delivered. I am a hero. Cannot wait to take my heels off under my desk and nurse my wounds. Are there band-aids in the fashion closet?
3:30 Continue working on the August issues and letters.
5:20 Heading home. To cab or not to cab?
9:00 Making plans to meet up with the other interns at Brother Jimmy's for tonight's theme "Fashion meets Finance."
11:00 At Bro-J's in a swarm of sexy banker boys. Mega-flirting time.
12:15 a.m. The place has been infiltrated and is now over 50% eager girls...clearly this is a hot spot.
DAY THREE
7:20 a.m. Slide my top half out of bed to check out my hair in the mirror – middle part, kinda stuck to my head, and I'm not necessarily blonde anymore... but it looks passable. Resetting my alarm for another half hour.
7:50 Okay fine I'm up. Two spritzes of dry shampoo and no one knows my secret.
8:30 Finally rushing to the subway, wearing my blue Marc Jacobs smock dress and flats this time. Feet covered in band-aids (damn you Staples!)
9:00 At work just in time to sit (stand) in on the sales meeting. Witness the publisher being a serious boss. Totally inspired.
9:50 Everyone back at their desks and the assistant asks me to make 8 gift bags for the Tommy Hilfiger auction.
10:25 I really do have a knack for tying bows and these are my greatest knots yet. Maybe I'll make one for myself?
10:34 Get an email that it's time to follow up the August issue with some heavy competitives data, I reluctantly log on to excel.
10:55 The ominous swirly rainbow pinwheel. Force quit! Lose everything!
11:02 Still working, saving every 3 minutes.
12:44 p.m. Finished each sales rep's competitives worksheet and head down to lunch with the other interns.
12:55 Sushi bar is calling me, think I am the only person who still uses the salty soy sauce...
1:45 Froyo in hand and back in the elevator heading upstairs.
1:55 Downtime? Amazing. Flip through the August issue and cruise LinkedIn – Facebook-at-work placebo.
2:35 "Intern, can you move these shelves of magazines over one cabinet to the left?"
2:45 Balancing on a ladder and moving stacks of slippery magazines. Really need to bring my keds to work.
2:50 The only straight guy here just walked by my ladder. Definitely shouldn't have worn the pink lace thong today/I hope it is not visible with my arms raised like this?
4:10 Finished the shelves and back to my computer. Messenger and UPS more tabbed August issues out.
5:00 Done for the day.
Are you a fashion intern? Interested in contributing? Please email diary.of.an.intern@gmail.com.
FOLLOW HUFFPOST