Diamondbacks' Justin Upton, Miguel Montero Beat Rockies 12-3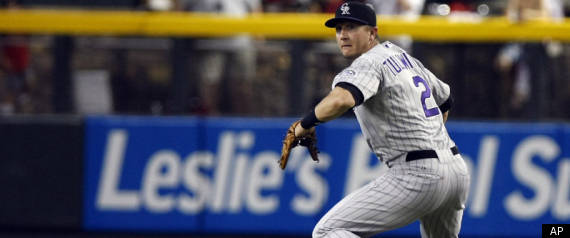 PHOENIX (AP) -- Justin Upton and Miguel Montero combined to drive in 11 runs and the Arizona Diamondbacks routed the Colorado Rockies 12-3 on Saturday night.
Josh Collmenter threw seven strong innings, had a pair of hits and added his first career RBI for the Diamondbacks, who have won two of their past three.
Upton finished 3 for 5 with his second career grand slam and six RBIs while Montero had three hits and drove in five.
Collmenter (6-5) allowed three runs on six hits with no walks and four strikeouts to record his second consecutive win.
Troy Tulowitzki hit his team-leading 19th home run and Ty Wigginton added a two-run single for the Rockies, who have lost two of three.
The Diamondbacks opened a 4-0 lead before Rockies starter Jason Hammel (5-10) recorded his first out.
Willie Bloomquist singled to right leading off the game and Gerardo Parra walked. Upton doubled just under the glove of a diving Wiggington at third, scoring both runners for a 2-0 lead.
Upton moved to third when Chris Young singled to center and both came home on Montero's double to left to make it 4-0. Collmenter drove home Montero three batters later for a 5-0 lead.
Tulowitzki lined a home run just over the right-field fence to start the second and cut Arizona's lead to 5-1. But Montero hit a two-run homer into the Rockies' right-field bullpen in the bottom of the inning, his 12th, to put the Diamondbacks in front 7-1.
Colorado pulled to within 7-3 in the fourth on Wigginton's two-out flared single into shallow center.
Hammel settled in somewhat after the tough start, lasting 5 2-3 innings and allowing eight runs on 12 hits with four walks and seven strikeouts. He left after loading the bases only to see left-hander Eric Stults walk Montero to make it 8-3.
Upton hit his second career grand slam with two outs in the seventh off Stults to make it 12-3.
Notes: Upton also drove in six runs on May 20, 2009 at Florida. ... Montero has three career five-RBI games. He leads NL catchers with 23 doubles and 36 extra-base hits. ... Collmenter's toughest moment came running the bases, when he was thrown out at home by Ryan Spilborghs trying to score standing up on a single by Parra. Collmenter wasn't helped by Upton, who signaled for his pitcher to come in standing and not sliding. ... Hammel has given up 14 runs, 12 earned, on 20 hits over 10 2/3 innings in his past two starts. The right-hander had not allowed an earned run in two previous starts against Arizona this season. ... Todd Helton hit his 547th career double in the fourth, tying Manny Ramirez for 24th place on the all-time list.