From the department of so-totally screwed up style statements comes the "Belsen Was A Gas Military Parka," being shilled by British clothing brand Evil Twin.
Jezebel and Styleite first stumbled upon the disturbingly-dubbed item on BuyDefinition.com and the latter writes that it "is named after a sardonic, shocking Sex Pistols song about the [Bergen-Belsen] concentration camp in northwestern Germany, where some 50,000 inmates (including Anne Frank) died during World War II." The opening lines of the tune:
Belsen was a gas, I heard the other day/
In the open graves where the Jews all lay/
"Life is fun and I wish you were here"/
They wrote on postcards to those held dear.
Second verse:
Dentists searched their teeth for gold/
Frisk the Jews for banknotes fold/
When they found out what they'd got,/
"Line them up and shoot the lot".
This isn't the first time the song's unfortunate title landed somewhere where it shouldn't have. In 2007, phone company Bell Canada posted billboard ads featuring a "Japanese girl dressed in an urban punk style, sporting a number of buttons and accessories," one of which read, "Belsen was a gas," reported the Toronto Star. Spotted by several commuters, the ad was quickly removed and Bell Canada issued apologies to anyone who was offended, which we're sort of hoping was everyone.
According to a blurb on Wikipedia, John Lydon a.k.a. Johnny Rotten, the Pistols' lead singer, told Q magazine in 1996 that "[the song] was a very nasty, silly little thing...that should've ended up on the cutting room floor."
Which is where this jacket should have ended up, too.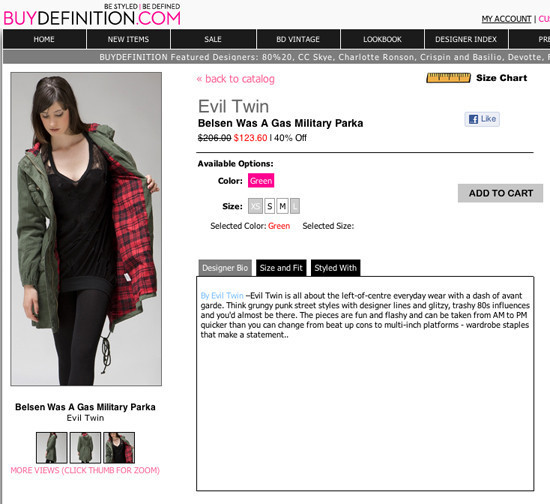 Update: BuyDefinition.com posted the following statement on Wednesday evening:
The people here at BuyDefinition are deeply sorry for any controversy we raised or anybody who was offended by the piece in question carried by our store. The "Belsen Was A Gas Military Parka" by Australian label Evil Twin was not named by us. It was named by the designers, who we can only assume were referencing the Sex Pistols song, given the line's punk appeal and style.

We regret our oversight with carrying the piece with such an inappropriate title. It was a mistake on our half for selling this piece without understanding the historical allusion. We hope to rectify the error our company has made by taking the piece off our site and discussing renaming with the designers at Evil Twin.

Please know that there was no ill-intent on our part and that this was simply a mistake. The piece was chosen for its style rather than its name. In the future, we will do more background research when buying. We hope that this unfortunate mistake does that deter you from supporting our company in the future. We have no anti-Semitic sentiments and are sympathetic to the Jewish and those who perished during the Holocaust.
SUBSCRIBE TO & FOLLOW LIFESTYLE
We're basically your best friend… with better taste. Learn more