Family vacations in Austin can be rewarding experiences or absolute disasters -- it all depends on pretrip homework. To make planning easier, we've done all the preparation. As part of a Huffington Post Travel series on traveling with children, here are recommended attractions for those planning Austin family vacations.
Austin's Park
Austin's Park
, located just off of Interstate 35 north of Austin, offers a variety of indoor and outdoor family attractions. Among these are a rock-climbing wall, laser tag, miniature golf and mini go-carts.
Address: 16231 I-35 North, Pflugerville, TX 78660
Phone: 512-670-9600
Hours: Open Sunday through Friday, 11 a.m. to 10 p.m.; Saturday, 10 a.m. to 10 p.m.
Price: General admission, $19.95; kids under 40 inches, free
Lyndon Baines Johnson Library And Museum
Located on the University of Texas campus in the heart of Austin, the 14-acre
Lyndon Baines Johnson Library and Museum
is home to more than 45 million pages of historical documents from the Johnson administration. In addition, the museum contains a vast array of artifacts and items from the Johnson family and the Johnson White House. Among these are dresses that Lady Bird Johnson wore to state functions and a replica of the Oval Office as it looked during Johnson's presidency.
Austin's Children's Museum
Located in the heart of downtown Austin, the
Austin Children's Museum
offers 12,500 square feet of interactive, learning exhibits. Favorites include Global City, where kids learn how people work, live and play together in the adult world; and Design Center, where visitors can make their own creations using recycled materials.
Address: 201 Colorado St., Austin, TX 78701
Phone: 512- 472-2499
Hours: Open Tuesday, Thursday, Friday and Saturday, 10 a.m. to 5 p.m.; Wednesday, 10 a.m. to 8 p.m.; Sunday, noon to 5 p.m.
Price: General admission, $6.50; toddlers 12 to 23 months, $4.50; babies younger than 12 months, free; everyone is free Sunday after 4 p.m.
The Texas State Capitol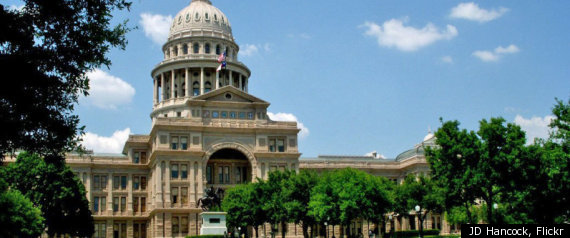 The seat of Texas government, the Texas State Capitol is located in the center of downtown Austin. The striking domed building, constructed in the 1880s, is a U.S. Historic Landmark and welcomes visitors to view the spectacular rotunda, see the statues of Sam Houston and Stephen F. Austin and peek into the Texas Senate chamber.
Address: 112 East 11th St., Austin, TX 78711
Phone: 512-305-8400
Hours: Open Monday through Friday, 8:30 a.m. to 4:30 p.m.; Saturday, 9:30 a.m. to 3:30 p.m.; Sunday, noon to 3:30 p.m.
Price: Free admission
Austin Nature And Science Center
This free museum gives visitors a chance to meet animals native to central Texas up close and personal. In addition, the
Austin Nature and Science Center
has exhibits about the region's plant life as well as the dinosaurs that used to populate the area.
Bob Bullock State History Museum
Located in Austin adjacent to the University of Texas campus, the
Bob Bullock State History Museum
tells the story of Texas with three floors of interactive displays as well as an IMAX theater. Artifacts and talking tableaux paint a picture of the Native American tribes that once peopled central Texas, the story of Stephen F. Austin, the impact of the discovery of oil on Texas and much more.
Address: 1800 Congress Ave., Austin, TX 78701
Phone: 512-936-8746
Hours: Open Monday through Saturday, 9 a.m to 6 p.m.; Sunday, noon to 6 p.m.
Price: Adults, $9; students, $8; seniors (65 plus) and military, $7; children 4 to 17, $6; children 3 and younger, free
SXSW: South By Southwest
Each March for 10 days, Austin comes alive with concurrent film, technology and music festivals called SXSW (South by Southwest). The music festival alone is one of the largest of such events in the United States, drawing more than 2,000 musical acts to a host of Austin venues. Visitors can attend single events (some of which are free) or purchase an all-access pass for the duration of the festival.
Address: Various sites throughout Austin
Phone: 512-467-7979
Hours: Hours vary by event, but the festivals take place in early March
Price: Prices vary; check the websites for individual events for more details
What are your favorite vacation spots in Austin?
FOLLOW HUFFPOST