Family vacations in South Dakota can be rewarding experiences or absolute disasters -- it all depends on pretrip homework. To make planning easier, we've done all the preparation. As part of a Huffington Post Travel series on traveling with children, here are recommended attractions for those planning South Dakota family vacations.
Mount Rushmore National Memorial
This
monumental sculpture
in South Dakota's Black Hills, features the faces of four U.S. presidents: George Washington, Thomas Jefferson, Theodore Roosevelt and Abraham Lincoln. Each face is 60 feet tall and 500 feet above ground -- impressive stats that attract over three million people each year. Sculptor Gutzon Borglum began drilling into the 5,725-foot mountain in 1927. It took him 14 years and $1 million to complete the monument. According to the
National Park Service
, Mount Rushmore is named after New York City attorney Charles E. Rushmore, who came to South Dakota in 1884 to check legal titles.
Address: 13000 Highway 244, Keystone, SD 57751
Phone: 605-574-2523
Hours: Visitor facilities are open every day except Christmas. May 8 to Aug. 13, 8 a.m. to 10 p.m.; Aug. 14 to Sept. 30, 8 a.m. to 9 p.m.; Oct. 1 to May 7, 8 a.m. to 5 p.m.
Price: Free, but parking costs $11.
Wild Water West
Wild Water West
features a 500,000-gallon wave pool and a swim-up bar, as well as a 65-foot tower with four slides to choose from. It also has two speed slides, a tube slide, a body slide and a lazy river. Families visiting South Dakota will enjoy Caribbean Falls with its 1,000-gallon bucket that fills and empties on everything below. A baby pool is also available for the younger ones.
Address: 26767 466th Ave. Sioux Falls, SD 57106
Phone: 605-361-9313
Hours: May 27 to Sept. 5, 11 a.m. to 8 p.m.; Aug. to Sept., 4 p.m. to 8 p.m.
Price: Day tickets for people 48 inches tall and taller, $24.95; kids under 48 inches and seniors, $14.95.
Children's Museum of South Dakota
The Children's Museum of South Dakota
features Our Prairie, an exhibit with the goal of fostering a sense of belonging and pride in prairie life and presenting visitors with a glimpse into future life on the prairie. Other exhibits include Sensations, in which children learn about math and geometry while solving challenges related to visual and musical patterns; Imagine a House, in which children and adults explore the mechanics of house construction; Kidstreet, in which kids are in control of familiar environments like tuning up a car and creating a newspaper; Prairie Play, a 1.5-acre outdoor area designed to nurture a love of the natural world; Splash, which features water play; and miniExplorers, a special gallery for kids 4 and younger.
Address: 521 Fourth St., Brookings, SD 57006
Phone: 605-692-6700
Hours: Tuesday to Saturday, 10 a.m. to 5 p.m.; Sunday, noon to 5 p.m.; closed most Mondays.
Price: $6 per person, ages 1 and up
Corn Palace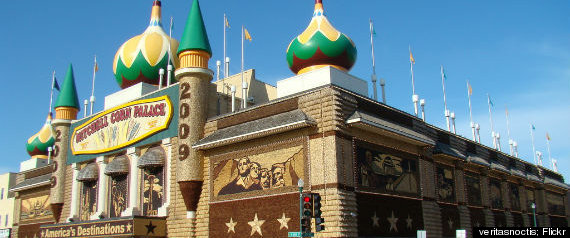 The world's only Corn Palace offers free guided tours in the summer months. The building is covered with murals made from corn that change each year. The new murals go up in June and continue to be created until September. The process takes most of the summer because four different crops have to be ready to harvest. The tour also features a video explaining the Corn Palace story and displays about the Corn Palace. South Dakota visitors can also watch murals being created outside.
Address: 604 N. Main St., Mitchell, SD 57301
Hours: 605-995-8430
Hours: January to March, 8 a.m. to 5 p.m. daily except Sunday; April to Memorial Day, 8 a.m. to 5 p.m. daily; Memorial Day to Labor Day, 8 a.m. to 9 p.m. daily; Labor Day to November, 8 a.m. to 5 p.m. daily; December, 8 a.m. to 5 p.m. daily except Sunday.
Price: Free
Ingalls Homestead
Ingalls Homestead
is the section of South Dakota land claimed by Laura Ingalls Wilder's father in 1880. The area was featured in several of Wilder's "Little House" series of books, including "By the Shores of Silver Lake," "The Long Winter," "Little Town on the Prairie," "These Happy Golden Years" and "The First Four Years." The
Laura Ingalls Wilder Memorial Society
preserves a collection of more than 2,000 original artifacts and three historic structures where the Ingalls family lived and studied, including the Surveyors' House, the first school and the home that was built shortly after Wilder was married.
Crazy Horse Memorial
The Crazy Horse Memorial
is a memorial to Lakota leader Crazy Horse and the Native American culture. Sculptor Korczak Ziolkowski and Lakota Chief Henry Standing Bear started this South Dakota memorial in June 1948. It is still a work in progress. When finished, it will stand 641 feet long and 563 feet high. It will be the world's largest mountain sculpture.
Address: 12151 Avenue of the Chiefs, Crazy Horse, SD 57730-8900
Phone: 605-673-4681
Hours: From mid-October to late May, the visitor complex is open from 8 a.m. until 5 p.m. After 5 p.m. during the winter season, the mountain viewing area at the parking lot is open until dark and the mountain is lighted for one hour. From Memorial Day weekend through mid-October, the Crazy Horse Memorial visitor complex is open from 8 a.m. until dark, when the "Legends in Light" laser light show on the mountain carving begins.
Price: Carload, $27; adults, $10; children under 6, free
Bear Country USA
Bear Country USA says it is "the home of the largest collection of privately owned black bears in the world." This South Dakota park is located on more than 250 acres just eight miles south of Rapid City. Visitors take a three-mile drive through several enclosures and encounter black bears, elk, reindeer, deer, cougars, bobcats, rocky mountain goats, bighorn sheep, dall sheep and buffalo.
Address: 13820 S. Highway 16, Rapid City, SD 57702
Telephone number: 605-343-2290
Hours: Bear Country USA is open May through late Nov. In June, July and Aug., it is open 8 a.m. to 6 p.m. daily. In May, Sept., Oct. and Nov., it is open 8 a.m. to 4 p.m. It may close due to inclement weather in Oct. and Nov.
Price: $16 per adult in a private vehicle, $10 per child and $13 per senior with a max of $55 per car.
Does your family have a favorite South Dakota vacation spot?
FOLLOW HUFFPOST