Food Informants is a week-in-the-life series profiling fascinating people in the food world. We hope it will give you a first-hand look at the many different corners of the food industry. Know someone who would make a great Food Informant? Tell us why.
Chef Nate Appleman is the Culinary Manager at Chipotle. This involves a range of tasks including developing new menu items, opening ShopHouse (Chipotle's upcoming Asian fast-casual chain) and furthering Chipotle's commitment to sustainable sourcing. A graduate of the Culinary Institute of America, Appleman was previously executive chef and co-owner of San Francisco's super popular Italian restaurants A16 and SPQR. Appleman moved to New York in 2010 to open Pulino's. After leaving, Appleman took his current position at Chipotle. He has received a James Beard award for Rising Star Chef, been anointed Best New Chef by Food & Wine and is the champion of Food Network's Chopped All-Stars.
Read Nate Appleman's diary to learn about how many Chipotles he visits in one day (a lot!), how he manages to balance work and caring for his son Oliver, how many miles he runs per day (a lot!) and some of his favorite restaurants across the country.
Monday, July 18
6:41am: Up and went for 5 mile run. Stretching, smoothie, shower.
8:00am: Breakfast with Oliver: cereal, mixed banana and yogurt. Read the paper.
8:30am: Started prepping for a photo shoot for a Runner's World profile about chefs who run with Oliver.
9:00am: Photographer and assistant show up. We start shooting four different bruschette.
11:15am: Wardrobe change and jump in taxi to the East River running path for more photos. These are mostly running and stretching shots. Oli comes with and we are both sweating a lot.
12:30pm: Finished and taxi back to apartment. Make lunch. Took leftover food from photo shoot and made a tomato, chickpea, avocado, carrot, radish, celery, red onion, basil and oil poached tuna salad.
2pm: Taxi to Oliver's cardiologist (he has a heart disease). He has an EKG which is pretty routine.
5pm: Had a meeting with the co-author of a cookbook I am working on. We meet at Peels. Had iced coffee and a sampling of pastries. The pastry chef Shuna is amazing. I knew her for 10 years ago in San Francisco and now she works 3 blocks from my apartment.
6:45pm: Cook simple pasta—cavatappi with fresh tomatoes, roasted green peppers, olive, basil and goat cheese.
7:13pm: Give Oliver a bath and read him a bedtime story.
7:55pm: I go visit my friend Ryan. He got hit by a car two days ago and he is really banged up. We order delivery from Rai Rai Ken. Cold noodles and menma.
9:45pm: Headed home to pack for trip to San Francisco in the morning.
Tuesday, July 19
6:44am: Wake up, run 5 miles, shower.
8:00am: Breakfast. Cereal again. Read GQ article on Mila Kunis and finish packing.
9:04am: Finally get a taxi after 15 minutes. Should of called car service. It shouldn't be this difficult to get a taxi in the East Village. A/C is blasting and driver isn't talking to me. That is a bonus.
11am: Flight on time.
1:30pm: Land in San Francisco.
2:10pm: Get picked up by Hugh, a great friend. We worked together for many years at A16 and SPQR.
2:30pm: Go to Mission Chinese Food. This place is the talk of the food world and I needed to try it myself. We are spotted by the chef and he proceeds to send out an endless amount of food. Way more than two people should ever eat for lunch. I love it when I go to a place with a lot of hype and it is beyond amazing and lives up to it. I have a great conversation with the chef about Szechuan places in New York. But in my opinion Mission Street Food is better than all of them.
3:45pm: Go to Bi-Rite Creamery and have a kids' scoop of brown butter pecan ice cream.
4:15pm: Stroll through Dolores Park and take a few photos just to say I was there. I have a habit of taking 10 photos of the same thing with every lens from Hipstamatic. It is taking over my life. Run into two cooks who used to work for me. We decide to have coffee.
4:45pm: Hugh and I go to Four Barrel Coffee and each have an espresso. The coffee is very different than what most people are doing in the east. This is a very light toast with a lot of extraction. Very fruity and acidic. I prefer East Coast, but well done.
5:00pm: Check into the Huntington Hotel. Very old and opulent. The guy at the front desk informs me that I have been upgraded four times. Not sure what to expect. My room is approximately five times bigger than my apartment.
8:30pm: Cancelled dinner at Benu, too full from lunch.
10:30pm: Bed.
Wednesday, July 20
6:00am: Read the paper and order oatmeal from room service. Not great. Worst banana ever. I am quite a banana connoisseur.
7:30am: Meet with eight-person Chipotle group which includes owner and co-founder Steve Ells.
8:00am: Head out to start the kitchen design tour. I received our schedule for the next three days and it is brutal.
8:45am: San Mateo Chipotle. At each site visit we look at everything from design to food quality and especially focus on the people who work at the store.
10:17am: Arrived at Mountain View Chipotle and did tour and tasting.
11:23am: Tour Union City Chipotle.
12:05pm: Depart for the airport and take off from Hayward to Concord.
12:52pm: Land in Concord and head to Chipotle. Tour and eat lunch.
2pm: Back to plane. Liftoff to Phoenix.
4:12pm: Phoenix is 110 degrees. Visit two restaurants.
6:23pm: Check into Intercontinental Hotel in Scottsdale and go on a run. Every person has advised against this which makes me want to do it more. I finished a 5 mile run and felt very smug about the whole thing.
9:00pm: Sit down at Pizzeria Bianco and order everything. I was starving. Amazing arugula, goat cheese, peaches and pistachios. Also, red onion pistachio pizza. Espresso and biscotti for dessert.
11:34pm: Bed.
Thursday, July 21
6:03am: Wake up and take in some CNN. Have oatmeal, yogurt and berries. Coffee.
8am: Depart for the jet and takeoff to Miami.
2pm: Brainstorm meeting about Shophouse. We discussed menu items and procedures for storage. We created an order for smallwares (small kitchen and bar appliances, glassware, tableware, and flatware).
4:27pm: Arrive at Chipotle in Coral Springs. Eat tacos and tour.
6:00pm: Tour Bal Harbor Chipotle.
7:15pm: Check into Ritz Carlton in Fort Lauderdale. Read the new issue of Bon Appetit and quick workout at the gym.
9:45pm: Sit down at Makoto for dinner and proceed to order everything.
12am: Return to hotel and sleep.
Friday, July 22
7:45am: Takeoff to Washington, DC.
10:10am: Land at Dulles and head to Shophouse. Kitchen equipment got delivered last night and we are going to inspect. The kitchen looks amazing.
12:50pm: Headed back to the jet.
2:31pm: Landed at Teterboro, got on helicopter and landed in Manhattan.
3:13pm: Made it back to apartment and finish 5 mile run. It is so hot I had a friend ride a bike next to me, just to make sure I didn't die.
5:00pm: Brave the outdoors again for an ice coffee at Everyman. Best coffee in NYC.
7:00pm: Decompress and cool off. Played trains with Oliver. Read books. Put Oliver to bed and fell asleep myself.
9:45pm: Woke up and went to Pinkberry. Had a craving. The line moves way too slow there.
11:00pm: Went home and read a article on Larry David. Love him. He is my idol. He says and does whatever he wants.
Saturday, July 23
7:45am: Run 7 miles. It is brutal hot.
9:45am: Get Oliver ready for a bday party in New Jersey. He is super excited. Walk to Le Pain Quotidien to get Oliver a sandwich for the train ride. He of course picks the most expensive one, mozzarella and prosciutto. Hand Oli off to his nanny and they head to Penn station. I head to Liqueteria and have the Reggae Rhumba. Meet Ryan and we bike to the Chipotle in Chelsea to finish all the prep for Meatopia.
1pm: We ride to Brooklyn Pier 5 and meet 12 other Chipotle employees to set our booth up for Meatopia.
2pm: Walk around and talk to all the other chefs. Great to see everyone. I gawk at the whole steer that Pat La Freida cooked.
4:30pm: Event start and we serve a tostado with chorizo, pickled onion and cabbage, tomatillo salsa and queso fresco.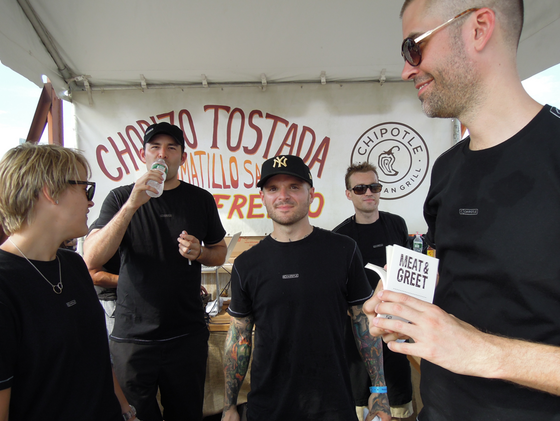 9:27pm: Brian Boitano stops by the booth and chats with me. I proceed to tell everyone around me who he is and how he is an American hero and they should be embarrassed that they don't know him.
9:31pm: Start riding home.
10:35pm: Get a $1 slice of pizza.
10:46pm: Back to Pinkberry for the second straight night. The guy behind the counter recognizes me. This is cause for alarm for me. Two nights in a row is very out of character. Must be the heat.
Sunday, July 24
8:07am: Woke up. First time sleeping in all week. Do some work on the charity event I am co-chairing in October, Celebrity Chefs Cook For KD. We are raising money for the Kawaski Disease foundation to fund research. It is something very personal for me and I have invested a lot because Oliver had KD and now has heart disease because of it.
10am: Breakfast with Oli. We make a fritatta of broccoli, mushroom, cherry tomatoes, garlic and goat cheese. Dark rye toast.
10:13am: Oli makes me an espresso. I started training him when he was one-and-a-half and he has been making them ever since.
1:19pm: Take the Long Island Railroad with Oli and Ryan to Queens (Ryan's parents' house).
1:49pm: Arrive and hit the farmers' market. Buy corn, peppers, two varieties of plums and a few other items.
2:15pm: Fired up the grill. Grilled corn, peppers and spinach and pancetta all on the grill for a pasta salad finished with Parmigiano-Reggiano. Braised green beans with onion, tomato, parsley and basil. Multi-grain bread and sparkling water.
3:57pm: Consumed 4 plums. They were great.
4:20pm: Discover the "Boob Job" app on the iPhone. Hilarity ensues.
4:49pm: Train back to the city.
6:01pm: Bike ride with Oli.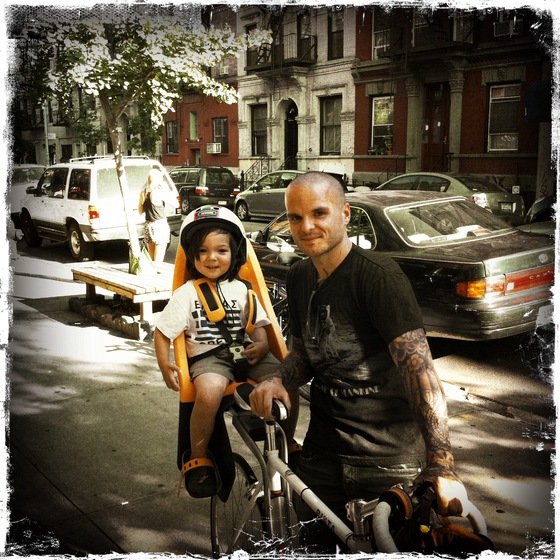 7:25pm: Back home. Dinner is bruschetta, with goat cheese avocado and tomato. Carrot sticks. Blueberries for dessert. We put them in the freezer for 15 minutes to make them extra cold.
8:00pm: Bath, bedtime story and bed.
See all previous Food Informants:
Geoff Bartakovics, 34, is the co-founder and CEO of Tasting Table, the free daily email publication all about food & drink culture. Before starting Tasting Table, Geoff was a business manager in asset-backed finance at UBS Investment Bank, where he coordinated business activities among the fixed income trading desk and the bank's middle- and back-office functions. Geoff was formerly a business analyst at Deloitte Consulting. He attended The University of Chicago, from which he graduated with honors in English. He was a Fulbright Scholar in comparative literature and philosophy in Berlin and Hamburg. He's an obsessive dinner party entertainer and a serious home cook. Read Geoff's diary here.

Elizabeth Laseter, an aspiring food journalist, is a recent graduate of Johns Hopkins University and lives in Washington, D.C. She received her diploma in Writing and Art History and is now pursuing a Culinary Arts Degree at L'Academie de Cuisine in Gaithersburg, Md. The one-year program includes six months of learning techniques in the classroom and six months at an externship in a D.C. fine dining restaurant. Elizabeth documents her food adventures through two blogs, The Baltimore Food Rag and The D.C. Food Rag. She decided to attend culinary school after interning at Baltimore magazine and working with the food editor. Read Elizabeth's full diary here.

Jane and Terry Levan operate a 20-acre pastured poultry farm outside of Lexington, Texas called Dewberry Hills Farm, after the dewberry vines that grow wild on their land. They raise antibiotic- and hormone-free meat chickens for sale. Their chickens mostly live outdoors. The Devans call themselves "omnivores with a conscience;" Jane won't eat any meat unless she personally knowns who raised it and how it was processed. Jane and Terry began farming in 2003, after reading Fast Food Nation and The Omnivore's Dilemma. The pair had always wanted to farm, but they didn't want to follow the industrial agricultural model. Jane and Terry built a processing building on-site and became state certified so they could sell their birds commercially in May 2008. Read Jane's diary here.

"James" is an Apple employee. He works at Caffe Macs, the on-site cafeteria of Apple's campus in Cupertino, Ca. Reminiscent of Google's epic food offerings, Caffe Macs is pretty much a corporate food court dream-come-true. Read James' diary here.

Brooklyn-based Aaron Lefkove used to work in book publishing and as a freelance writer. After his office re-located to New Jersey, Lefkove decided he didn't want to do the commute. Lefkove and his business partner, Andy Curtin, had the idea for a Cape Cod-style seafood joint for awhile. One day at a barbecue, they decided to commit to opening a restaurant, Littleneck, Brooklyn's first and only classic New England-style beach side seafood shack. Besides working in restaurants growing up, Lefkove had no experience as a restaurateur. He acknowledges that the process has been a major learning curve, but so far, there haven't been any obstacles they couldn't get around. At first, he thought opening up a clam shack would be easier than finding a new job but it turns it that it is actually "WAY WAY WAY harder." Despite this being the "hardest, most stressful, most frustrating, most time consuming, most ambitious thing" he has ever done, it isn't nearly as hard as he thought it would be. Plus, he says he loves working for himself, working toward something he has "always dreamed about," and building something really exciting. Read Aaron Lefkove's diary here.

Jonathan Stich, 29, is a third generation farmer from Burlington, Wisconsin. He grew weary of the corporate world, went traveling and decided to become a farmer. After reading about how heirloom tomato grower Tim Stark in Pennsylvania sells his products to New York restaurants, Stich made the decision to spend a night in restaurants in Milwaukee and Chicago asking if they'd be interesting in buying local produce. Read more about Jonathan Stich's week here.

Erika Nakamura and Amelia Posada are the owners, managers and butchers in chief of LA's artisanal butcher shop Lindy and Grundy. (Erika is Grundy and Amelia is Lindy.) The two, who also live together and are a couple, opened their store on Fairfax last spring (profiled on HuffPost Food). Lindy and Grundy has already been feted as one of the most best butchers in Southern California -- and quite possibly its most sustainable. Read about a week in the life of Erika Nakamura and Amelia Posada's here.

Recently, inspired by a meeting at the San Francisco Food Bank, chef Karl Wilder started the food stamp challenge: living and eating on a food stamp budget. What began as a one week project has turned into a two-month long commitment. Wilder calculated that a family has $1.33 to spend per meal, and decided that when using oil and seasonings, the cost would be $1.22. In total, he has less than $4 to spend on food per day. He monitors his nutrition and caloric intake on FitDay. You can read more about his daily experiences at on his blog, Fusion On The Fly. Read about a week in the life of Karl Wilder here.

Chris Cosentino is the executive chef of San Francisco's Incanto, an offal-heavy (not sure what offal is? Check out our Whole Animal Guide here) rustic Italian restaurant located in San Francisco. While encouraging patrons to try different cuts of meat, Cosentino also champions eating locally. He's previously cooked at such renowned restaurants as Kinkead's and Chez Panisse, and cites Jean-Louis Palladin as a big influence on his cooking style. He also co-owns Boccalone, which sells various cured meats and house-made salami. To learn more about Cosentino, check out his website, Offal Good. Read about a week in the life of Chris Cosentino here.

"Jane," 24, has been working for Trader Joe's since 2007, though in 2009 she left for over a year to go work for Whole Foods. She did not like it there and returned to TJ's. At Trader Joe's, every employee does a range of tasks, but Jane's speciality is dairy. Below is her explanation of the pros and cons of the job: I like working for Trader Joe's because they pay me well and offer great benefits. They also respect me as an employee and make me feel like I'm useful and needed and not just another part-time employee that can be replaced (which has been the case at other retail jobs I've had). Trader Joe's is really good at hiring great people and I'm lucky to have so many wonderful co-workers. I don't like working at Trader Joe's because the work can be strenuous on my back and wrists. Being on a register for several hours at a time is tiring and somewhat soul crushing due to ignorant people who feel the need to be condescending to me because I work at a grocery store. I also feel that the company is becoming more and more corporate as it grows and it is beginning to have an impact on the enjoyability of being a part-time "crew member." I also work in a very busy store which causes the managers to stress out a lot and I don't enjoy being surrounded by it. Read about a week in the life of a Trader Joe's employee here.

Chef Nate Appleman is the Culinary Manager at Chipotle. This involves a range of tasks including developing new menu items, opening ShopHouse (Chipotle's upcoming Asian fast-casual chain) and furthering Chipotle's commitment to sustainable sourcing. A graduate of the Culinary Institute of America, Appleman was previously executive chef and co-owner of San Francisco's super popular Italian restaurants A16 and SPQR. Appleman moved to New York in 2010 to open Pulino's. After leaving, Appleman took his current position at Chipotle. He has received a James Beard award for Rising Star Chef, been anointed Best New Chef by Food & Wine and is the champion of Food Network's Chopped All-Stars. Read about a week in the life of Nate Appleman here.

Freeganism is a lifestyle in which one employs "alternative strategies for living based on limited participation in the conventional economy and minimal consumption of resources." Gio Andollo is a writer, artist, musician and freegan. Andollo became a freegan when he realized that artists don't get paid much, but he didn't like the idea of working a "crappy, part-time job" to pay the bills. So he found another way. Andollo performs on the subway for about 20 hours a week, typically in two-hour intervals. He makes $10 to $50 per shift and has a love/hate relationship with busking. Andollo will buy food, but very rarely. The majority of his food comes from trash touring, or dumpster diving. He's become increasingly concerned with the abuses inherent in current economic systems: waste of resources, exploitation of people, degradation of the environment, calloused treatment of animals, commodification of time, labor, even war (thus human life in wholesale). In addition to busking part-time, he writes songs, blogs and books about these issues. Read about a week in the life of Gio Andollo here.

Captain Jason Joyce is an eighth-generation resident of Swan's Island, Maine. He is a Coast Guard Licensed Captain and a registered Maine Tidewater Guide. He has done lobster and fish research with the University of Maine, the University of Massachusetts, the Gulf of Maine Research Institute and the Lobster Institute. Joyce is currently doing a lot of work with the Penobscot East Resource Center, which works to secure a viable future for the fishing communities of eastern Maine. Each week, he records HD video of lobstering that he gives to restaurants to educate customers about sustainable lobster fisheries in Maine. Captain Joyce is married to his high school sweetheart and they have four children. Learn more about Captain Jason Joyce here. Read about a week in the life of Jason Joyce here.

Martin Kastner is a serviceware designer extraordinaire/jack-of-all-design-trades for Grant Achatz's Alinea, Next and The Aviary. Kastner creates custom pieces that work with Achatz's elaborate and intricate food. Born in the Czech Republic, Kastner trained as a blacksmith and received an MFA in sculpture. (His thesis was about air). He met his American wife in Prague and moved to the US in 1998. In 2003, Kastner received an unexpected email from Grant Achatz, who had emailed a host of designers. Kastner was the only one to respond. They've partnered not only on serviceware, but also on web design, video and the Alinea cookbook. Kastner's other clients include L20 (an upscale, seafood-focused Chicago restaurant), Le Bernardin (Eric Ripert's homage to seafood) and Empellon (Alex Stupak's new Mexican restaurant in New York). Read about a week in the life of Martin Kastner here.