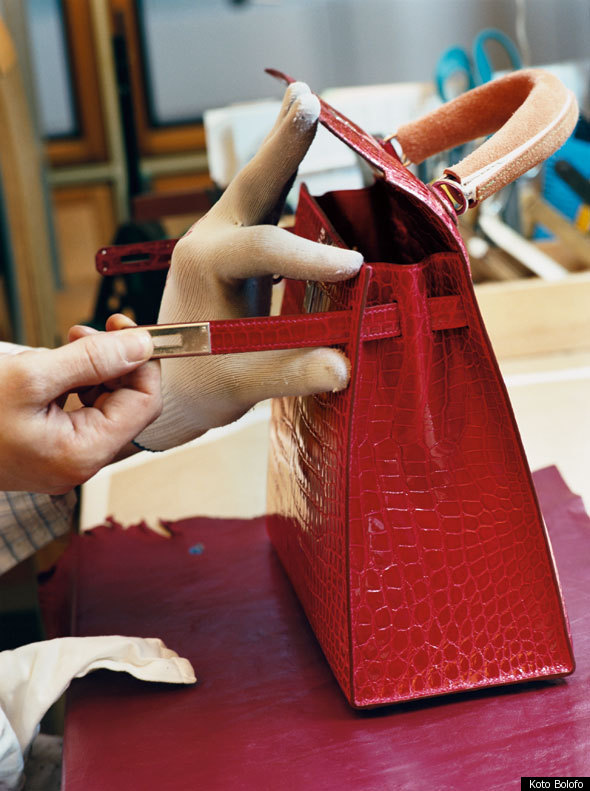 Koto Bolofo, a South African photographer who grew up in Great Britain, gained unprecedented access to the house of Hermès when he started working for Monde d'Hermès, the Hermès magazine, in 2004. After meeting the chairman, Jean-Louis Dumas, Bolofo recalls, "Mr Dumas asked where I came from. I said South Africa. He asked what part. I said Lesotho. He was shocked and very excited. He explained that his great great great grandfather was a missionary in Lesotho and that the Zulus used to attack his mission, but the Sothos - my tribe - protected him." He adds, "I was very happy to be a Lesothan in Mr Dumas's office that day. He called me his cousin and said that his cousin was welcome any time and I had carte blanche to photograph what I liked in Hermès".
The collection of photographs, which Bolofo took over a six year period, were recently published in eleven volumes by Steidl under the title, La Maison. This beautiful insider's view into the Hermès workshops captures the old world feeling of the French fashion house behind the scenes. Volume three, "Le sac Kelly/Kelly Bag" shows almost one hundred photographs of the process involved in producing one of the world's most coveted handbags. Bolofo artfully captured, both in color and black and white images, as a highly skilled designer delicately cut the crocodile skin, stitched the straps and installed the signature logo - all by hand. Close ups of the materials and the worker reveal the time intensive process behind a single bag. In Volume 4, "Clothes," Bolofo shows the an extensive view of the process of creating Hermès' ready-to-wear collection. Shot almost entirely in black and white, this volume differs greatly from the more energetic Kelly bag. While "Le sac Kelly" highlighted the process behind creating a single bag, "Clothes" shows an entire team working towards a larger collection of pieces. Bolofo photographed close portraits of the workers with their heads bent, hands sewing and feet pressing pedals. Almost as if the workshop was lit by dim candle light, there is a soft, romantic quality to these images.
In addition to these two volumes, Bolofo's photographs of the Hermès workshop producing perfume, silk, saddles and more each appear in a separate book. La Maison by Koto Bolofo is available on Steidlville.com. For a preview of the photographs, take a peek in our gallery below:
SUBSCRIBE AND FOLLOW
Get top stories and blog posts emailed to me each day. Newsletters may offer personalized content or advertisements.
Learn more