A shady street corner park is hardly the place you'd expect to find a lab, but that's what BMW brought to New York City's Houston Street this week. The Guggenheim BMW Lab, yes, in partnership with the Guggenheim Museum, is a month and a half long open exhibition, sitting in the space of First Park, a small patch of green area in the middle of one of the city's most bustling intersections.
But maybe exhibition is the wrong word because, unlike a gallery where you go to a fixed space to view fixed works, the Lab is a living museum in a state of constant curation, filled at any point with games, panels, group activities and a handmade kiosk serving organic meals. And this isn't the Lab's permanent setting; it travels on a consistent basis, visiting nine major cities worldwide within a six-year span. Every second year, the Lab changes themes; the current visiting theme being Confronting Comfort, a hyper-local look at how large cities can better handle the needs of citizens.
Hyper-local is indeed the name of the game at this pop-up museum. The short-term calendar reads events such as "Sustainism as the New Modernism?" a talk on long-term neighborhood sustainability via interconnectivity; "Segregated Water" an exhibition by culinary performance artists, a razor shiny knife on the power of water; and a screening of Last Address, a haunting look at the final homes of well-known artists as a metaphor for the disappearance of that creative generation. But the neighborhood is not just the topic of the Lab, it's also the visitor and the curator.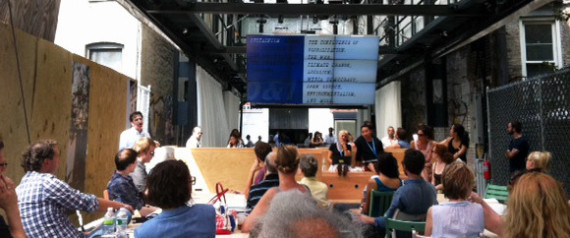 Whether sitting in on a panel or playing the popular Urbanology game, where passersby answer a series of questions that determine the livability of a virtual city, the entire lab is in flux based on the group of people inside at a given time. Conversing over hot button issues that affect New York, and determining wealth factors of imaginary living spaces, the citizen curators may start off timid but are soon completely engaged, putting passion into the discussion, as they realize these scenarios are not just games, but affect them too.
Divisions between exhibition and visitor are dissipated as questions diverge from gameplay to very real issues: what is a city, what's our role here and what do we need? By controlling and affecting the Lab environment, we begin to see the basics of controlling and affecting our own. This is community think tank at its core.
If you can't make it to the site, you can still participate and stay connected via online versions of the interactive games. Or, you can post your urban improvement idea to the website, where it will graphically mesh with the ideas of others, a metaphor for the way we coexist in this sometimes cramped city sphere.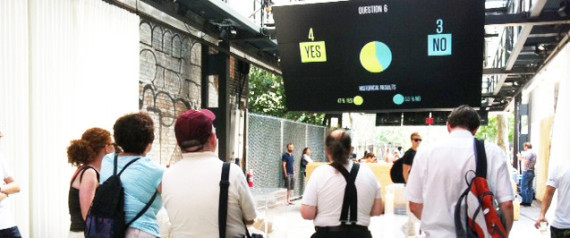 After the BMW Guggenheim Lab's stay in New York, maintained by a very diverse group of architects, designers and advisors, ends on October 16th, the Lab will travel to Berlin and then to a not yet determined city in Asia, where a new mobile structure will be created by a local architect and will travel to three cities of its own. Two additional two-year cycles will follow, each with a new mobile structure and theme. The community center and think tank will conclude in the fall of 2016.