Jesse Eisenberg will soon switch gears from a larger-than-life Italian author to a Russian one. New York Magazine's Vulture broke the news Thursday that Jesse Eisenberg has been cast in Richard Ayoade's indie adaptation of Fyodor Dostoyevsky's "The Double."
Eisenberg -- best known for his roles in "The Social Network," "The Squid and the Whale," and "Zombieland" -- is currently filming Woody Allen's adaptation of Giovanni Boccaccio's "The Decameron" -- titled "The Bop Decameron" -- a romantic comedy opening sometime in 2012 (filming pictured below).
Ayoade, a British quadruple threat (comedian, actor, writer, director), is best known for directing "Submarine," and for his roles in the British comedy series, "The IT Crowd" and "The Mighty Boosh," both of which gained loyal cult followings. He's also directed music videos for Vampire Weekend, the Yeah Yeah Yeahs and the Arctic Monkeys (who contributed music to "Submarine"), among others.
Dostoyevsky's larger works have been translated to film before. "Crime and Punishment", for one, got a modern spin in 2002, and a 1958 version of "The Brothers Karamazov" starred Yul Brenner.
It's not hard to imagine Eisenberg as the protagonist in "The Double." It follows a young clerk who is convinced his doppelganger is working at his office and trying to take over his life, which leads to some mind-losing on the protagonist's part. At just 144 pages -- and with no release date in sight -- there's no good excuse to not give this a read before the movie.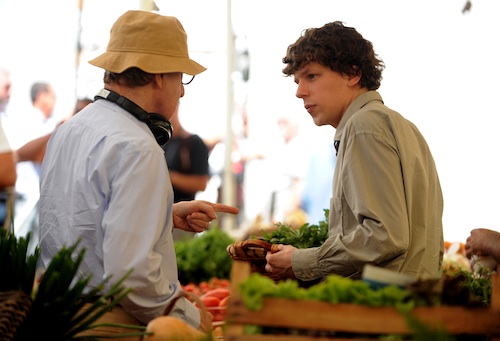 Eisenberg chats with Woody Allen on the set of "The Bop Decameron" at Campo dei Fiori square in central Rome, on July 28, 2011/Getty Images