After outlining the qualities she likes in a mate, Emma Watson may have already found someone who fits the bill.
According to People, Watson was seen canoodling with Johnny Simmons, her co-star in the upcoming film, 'The Perks of Being a Wallflower.'
The two were seen dining together and even shared a kiss before entering the restaurant.
There's been an awful lot of buzz surrounding the two stars. Rumors circulated after they were seen hiking together a while back, but allegations were shot down by reps.
But things definitely seemed to have heated up since then.
Let's cross-check with Emma's likes--"kindness, good manners, intelligence, confidence and someone who can make me laugh."
Yep, seems to all check out.
PHOTO: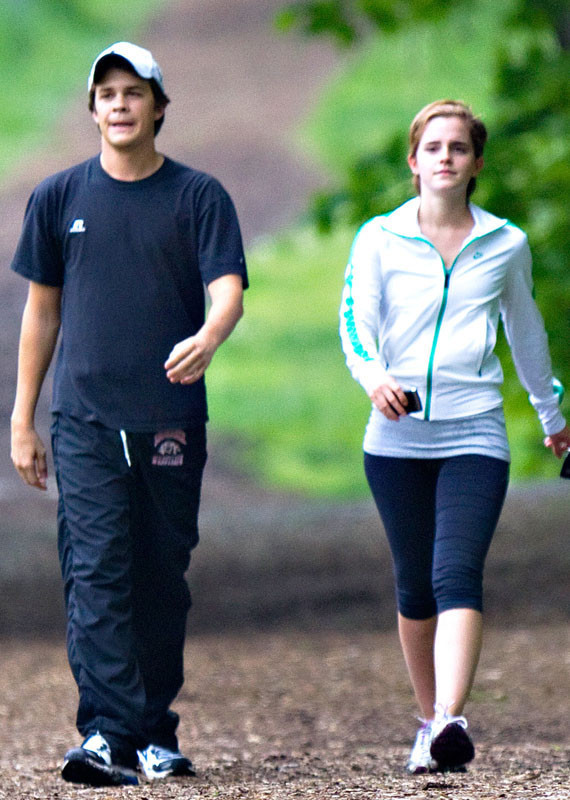 See photos of the 'Harry Potter' stars:
'Harry Potter' Cast: What's Next For Daniel Radcliffe, Emma Watson And Wizard Kids (PHOTOS)
Harry himself! Already a Broadway star, in "How to Succeed In Business Without Really Trying," Radcliffe will next appear on film in the indie supernatural thriller, "The Woman In Black." He's said that he wants to one day direct film, too.

The spacey Luna Lovegood, Lynch is artistic in a number of disciplines. She's designed accessories for her character in Potter, won Ireland's Mary Barrett Portfolio Award for painting, and plans on continuing to act.

Elder brother Bill Weasley, Gleeson is actually the young Potter cast member with the most accomplished stage background, having been nominated for a Tony for his part in "Lieutenant of Inishmore" before he even joined on for the final Potter film. He's got a number of Irish films ahead of him, including "Dredd," "Shadow Dancer," and 'Anna Karenina" with Keira Knightley and Saoirse Ronan.

The future Mrs. Harry Potter as Ginny Weasley, Wright is a renown model, and has signed on to star in the fantasy thriller, "The Philosophers."

No one has had her future discussed more than Hermione Granger. She is perhaps the world's most famous student; as of now, she's spending a year "abroad" at Oxford, though she still plans on returning to Brown University. She has her own environmentally friendly fashion line, is the face of Lancome, and will star in the upcoming "The Perks of Being a Wallflower."

Perhaps unfairly cast as one in the public's eye as Fred and George Weasley, the two will look to make their own identities in the future. Oliver has signed on to a meaty role, co-starring as Alfred Jarry with Wilmer Valderrama in the Picasso in Paris film, "Latin Quarter." James is interested in a life behind camera, having worked on the set of "The Da Vinci Code," as well as the Potter films.

Hated on screen but beloved off, Felton has perhaps the busiest career post-Potter ahead of him. He co-stars in the upcoming, "The Rise of the Planet of the Apes," will lead in the indie, "From The Rough," co-star with Ashley Greene and Sebastian Stan in, "The Apparition," be a soldier with Tom Sizemore in the British war film, "Grace and Danger," and, presumably, go back to his natural brown hair color.

Wearing false teeth and big ears as Neville Longbottom, Lewis is suddenly the hunk of the stars. He reminisced about his time in the films with Moviefone, and will star in the upcoming indie, "The Sweet Shop."

Alongside his career as an ice cream truck owner, Grint will work to break out as his own man on screen. The beloved Ron Weasley will go back to war, this time against the Nazis, the other most evil people in the world, in "Comrade," and get athletic (hopefully, more so than his Quidditch days) as England's first Olympic ski jumper in "Eddie the Eagle."