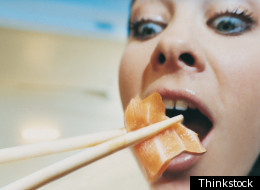 Mealbreaker (n.): a nasty, non-edible surprise found in food while it is being eaten; often lawsuit-provoking, sometimes fabricated, always disgusting.
It's no big secret that spicy tuna sushi isn't as healthy as traditional styles, like unadorned sashimi and sushi. It's usually smothered in a mix of hot sauce and mayonnaise -- hardly low-calorie. But one New York woman allegedly got something truly sickening in June 2008, the last time she ate a roll of her favorite food at Planet Sushi on the Upper West Side of Manhattan: semen.
According to court documents published on Eater today, the woman had taken a bite of her saucy sushi when she tasted something semen-like. She wasn't in New Zealand ordering horse semen shots, so she was outraged. She sent the sushi to a laboratory for testing and filed a lawsuit against Planet Sushi. The labworkers tested it three times, and found possible body fluids on the final attempt. But then, the woman apparently left the sushi at the lab until it spoiled and they disposed of it. Planet Sushi apparently filed a motion to dismiss the lawsuit the other day, on account of the destroyed evidence, but the woman claimed that she still has samples in her fridge. Three years later, that doesn't sound all that promising. But if this is legitimate, let's hope she finds justice for her sickening mealbreaker. Read the full report at Eater NY.
Whether or not she does, the woman is not alone. Below are 17 more examples of disgusting mealbreakers from the last decade.
An upstate New York man found a bloody bandaid in baked into the crust of his Pizza Hut pizza in June of 2011. He sued after the company failed to address his concerns.

A couple found a disembowled mouse in their Dole packaged salad mix in June 2011. They'd already started eating the salad by the time they found the mealbreaker; they promptly vomited.

Cancer survivor Susan Mosher was outraged after she found human blood on her BLT and fries at a Cracker Barrel in Kingwood, TX, in late June of 2011.

A dieting woman found a live caterpillar crawling on a Weight Watchers-brand slice of packaged cake in June 2011. She called it gross enough to put her off of cake forever.

An East Texas woman found a razor blade in a carton of Walmart ice cream in February 2011. Considering the danger, she was surprisingly understanding. She told CBS, "I think it's just one of those random accidents that happen. When you make that much of a product and that many products, you're bound to have a machine break."

A Salt Lake City teen was hospitalized after biting into a mysterious green pill in a bag of trail mix she'd bought at Whole Foods in January 2011. The teen felt numbness and pain throughout her throat. Whole Foods recalled the product from stores around Utah.

A California man claimed to find a condom in his French onion soup at a Clam Jumper restaurant, also in July 2009. The restaurant's PR firm said that they found no evidence of wrongdoing after conducting an investigation of the matter.

In July 2009, a German tourist claimed to find a used tampon in his steak at the Waldorf-Astoria in New York.

An Ontario woman apparently found a pearl-like object in a king crab leg May of 2009. She and her husband thought the pearl was beautiful, and so did not pursue legal action against the species.

No one said hot dogs promote longevity, but it's not like eating a frankfurter is as dangerous as someone sticking a gun in your face--unless your name is Olivia Chaines and you're eating it Costco. The then-31-year-old had swallowed a piece of a Hebrew National brand hotdog in the shopping aisle of a Costco in May 2004 before she realized that it contained a piece of metal. X-rays revealed that the hot dog had contained a live bullet.

In 2009, a man from Bath, UK found a dead mouse in a loaf of bread.

At the height of the Beijing Olympics, reporters pounced on the Chinese food industry after athletes found paperclips in muffins served them at an official function. The story's most surprising revelation may just be that Olympic athletes eat muffins.

In 2006, a 52-year-old man from Illinois sued Kraft Foods for $55,000 to compensate for the physical and emotional distress he suffered after allegedly biting into a "non-human animal tooth" in a container of Planter's Peanuts.

Finding a golden ticket in your candy bar is great. But a gold tooth? Not so much. That's what happened to a 62-year-old British man in September of 2007. He contacted Mars to try and receive compensation, but got no substantive response.

Kitchen accidents happen. Knives are sharp; sometimes a cook will slice off a piece of skin the course of an evening. It's understandable. Not understandable? Failing to clean up the product of an accident. That, apparently, is what happened at an Ohio Arby's in June 2007, when a man found a piece of human skin sitting on the lettuce in his chicken sandwich. The man sued, refusing a settlement that Arby's initially offered him.

A Baltimore man was eating fried chicken from Popeye's in September of 2003 when he discovered that the fast food store had inadvertently fried a mouse along with the chicken parts.

In June of 2001, 22-year-old Angelina Cruz bit into a burger from Burger King--and got pricked in the tongue by a syringe. Citing HIV fears, she sued the chain for $9 million.