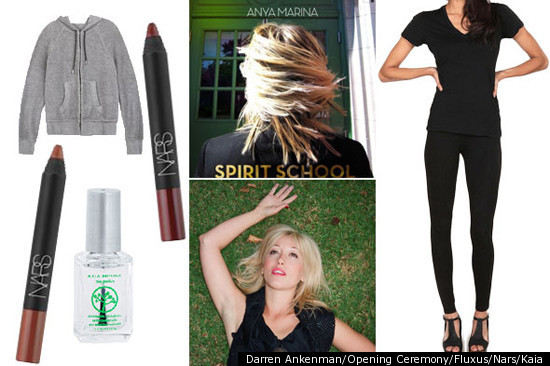 Anya Marina won us over with her wry lyrics on albums Miss Halfway and Slow & Steady Seduction: Phase II. And she's presumably impressed plenty of film-and-TV music supervisors too: Her songs have been featured on the "New Moon" soundtrack, "Grey's Anatomy," "How I Met Your Mother," and perhaps most memorably, her breathy cover of T.I's "Whatever You Like" was played during a scandalous scene of "Gossip Girl." Touring this summer in support of her recent release, Spirit School, the stylish singer reveals her fashion and beauty essentials.
1. Alexander Wang Speckled French Terry Hooded Sweatshirt: I have heard that money and material possessions can't buy love, but I am so in love with this Alexander Wang sweatshirt that I wear it everywhere: gym, bed, out to dinner. It's soft, flattering, the hoodie falls perfectly. It has pockets. I just love how it falls on the body. I stare at it sometimes just to revel in its beauty. Why do I mention it here considering I wouldn't wear it onstage? Because it's a tour essential. When traveling, you've gotta pack light, so having a multi-purpose item like this sweatshirt which functions as workout gear / pajama gear / pre-show gear / soundcheck gear is very important. Also: It's one of the only "designer" items I've purchased recently, so I'm very proud of this fact and intend to get every last bit of mileage I can out of it.
2. Fluxus zip tights: I used to live right by Fluxus in LA and would have to cross the street after my morning class at Yoga Works so as to avoid spending all my money in the Fluxus store nearby. I love the whole brand because they manage to fuse comfort and beauty and rock 'n' roll into a whole line of clothing. I've worn their zip tights onstage at least 300 times. They're flattering, they travel easy, and they can be worn over and over. I'm telling you, these leggings are the perfect component to a stage outfit because they never wrinkle, and they act like tights but aren't at all see-through, they don't need to be laundered every other day, and they don't do that annoying tight-around-the-ankle thing that most leggings do, which is never, ever cute, designers! Instead, they have these nifty zippers on the bottom and they're just loose enough, so it's actually very flattering to the ankle. The slight sheen and the zippers on the back of the legging also add a little rock 'n' roll to what is a very unique legging.
3. Venus Superstar: I love anything and everything Venus Superstar. The designer Rebecca Vandersteen is one of my dearest friends and is the mastermind behind these fun and innovative designs (worn by everyone from Devendra Banhart to Natasha Kahn of Bat For Lashes).
4. NARS Velvet Matte Lip Pencil: Because of all the whipping of the hair back and forth, a lady musician--unless she has a little pixie cut--cannot rock the lip gloss on stage. Too much risk of hair-stickage (not a good look). Also, I don't know about you, but most lipsticks are too greasy for my taste. They can also make me feel too made-up, too hookerish, too prostitute-y, too whore-ish. You get the gist. I like a lipstick that looks like I was wearing lipstick about an hour ago. Ladies and gentlemen, I give you: NARS Velvet Matte Lip Pencil. I prefer the NARS lip pencils because they aren't as dry as your average lipliner and they come in an array of fine colors. Also, I really like their size. I dare you to lose a NARS lip pencil. It's nearly impossible. They're short enough to fit in my wallet and fat enough to not get mistaken for a pen when I'm rummaging through my backpack on an airplane or in the greenroom. All the colors are so great, but right now I'm stuck on "Pop Life."
5. Kaia House Organic Nail Polish: I just heard about the link between formaldehyde (commonly found in nail polish) and cancer, so I decided to try out Kaia House's products for this summer's tour. I love what they stand for, and the colors are pretty fancy and fun, so I'll keep you posted on the durability of the lacquer after I rock faces on this upcoming West Coast tour!
SUBSCRIBE TO & FOLLOW LIFESTYLE
HuffPost Lifestyle is a daily newsletter that will make you happier and healthier — one email at a time. Learn more