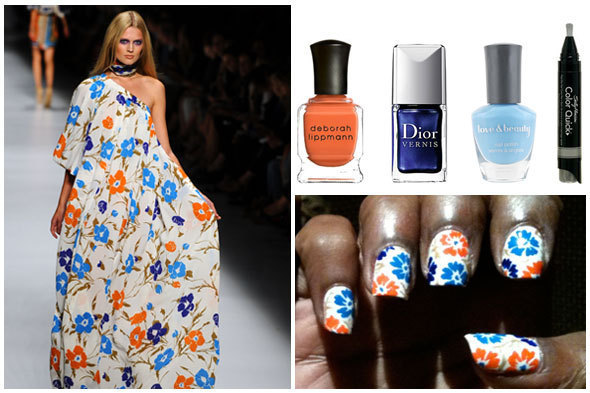 Photos (from left to right): CHRISTOPHE SIMON/AFP/Getty Images | Deborah Lippmann Lara's Theme Nail Lacquer; Dior Vernis Tuxedo Nail Color Blue Tie Collection | Forever 21 love and beauty Sky Blue Nail Polish | Sally Hansen Quick Chrome Gold Pen | M.I.A.'s manicure
Want to bring the garden party to your fingertips?
We know what you're thinking. How in the world are you going to mimic those petal strokes and wisp of stems?
Thanks to advancements in nail polish technology, there are tons of super-slick lacquers and pens to experiment with, screw up and start all over again!
To master this manicure, we'd recommend laying down a white canvas in NARS Écume to make sure the neon shades stand out. Once dry, take a small brush, dip it into the nail color and paint on tiny flowers – keeping in mind that the beauty of this freehand design is that imperfection is perfection. Use a smart tool like Sally Hansen Color Quick Chrome Pen to draw on the leaves. Finish with a glossy top coat.
Shop the products below to try this blossoming nail art.
SUBSCRIBE AND FOLLOW
Get top stories and blog posts emailed to me each day. Newsletters may offer personalized content or advertisements.
Learn more