If Anne Hathaway's defense of her Catwoman costume is any indication, her rendition of Selina Kyle will be quite fierce. And hey, she is doing some intense training.
"I was not going to admit it: I asked someone to send me a few reactions. And I happen to know that MTV's reaction was 'meh,'" she said. "What I am happy to say is, if you didn't like the photo, you only see about a 10th of what that suit can do. And if you did like the photo, you have excellent taste."
"It's disappointing. I think everyone feels a slight frustration with it because those stills so undercut the work that's being done," she said. "I mean, honestly, like, wait till you see this movie. Chris [Nolan] is doing insane things in it. And it's gonna be marvelous and it's gonna be way beyond what anyone imagines that it could be. You can't imagine the things that he's doing, at least I couldn't until I read the script and I was like, 'You're really? Okay, you're going there!""
Hathaway's character will be participating in that insane action, meaning she's had to train to get ready to pull it off. At the junket for "The Help," Hathaway described her routine to Cinemablend.
"They've given me a martial arts exercise that I have to do all the time to teach me grace and proper stance and fluid movement," she said. "It looks so gentle, but when you're actually doing fight choreography it's 'Oh my gosh, that's actually a block.' Oh, I'm hitting somebody's throat right now. It's been a lot of fun, it's been a new challenge. I'd really like to do a lot more of it. It's not something I ever thought I'd do."
PHOTOS: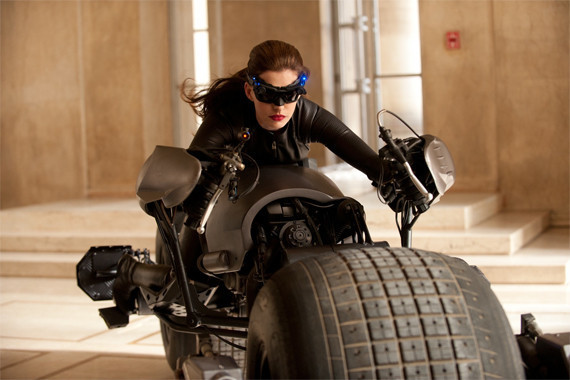 'The Dark Knight Rises' Set Photo Spoilers: Batman, Bane Battle (PHOTOS, VIDEO)