Family vacations in Colorado can be rewarding experiences or absolute disasters -- it all depends on pre-trip homework. To make planning easier, we've done all the preparation. As part of a Huffington Post Travel series on traveling with children, here are recommended attractions for those planning Colorado family vacations.
Rocky Mountain National Park
Rocky Mountain National Park
and the eastern gateway town, Estes Park, Colo., is considered one of the top vacation spots in the nation with over 3 million visitors a year. The park stretches 415 miles and has 17 mountain peaks above 13,000 feet.
Trail Ridge Road
is the park's main east-west highway and is the highest continuous paved highway in the U.S. at over 12,000 feet at the peak. Trail Ridge runs 48 miles from Estes Park on the east to the town of Grand Lake on the western slope of the park with wildlife viewing at every turn.
Address: 1000 U.S. 36, Estes Park, CO 80517-8397
Phone: 970-586-1206
Hours: The park is open daily, year-round. However, weather conditions often close portions of the park. Trail Ridge Road is closed in the winter as well as much of the fall and spring due to high snow accumulation.
Price: Park entrance is $20 per car and $10 for pedestrians and bikes (good for 7 days). Annual passes are available for $40.
The National Center For Atmospheric Research
Just what is wind shear? Visitors learn the answer to this and more from the scientists at the
National Center for Atmospheric Research
. The center is housed in a large pink building and sits on top of Table Mesa in southwest Boulder near the Rocky Mountain foothills. Two-hour guided tours are available as well as self-guided tours to witness how the weather is monitored using weather balloons, robots and satellites. There is also a gift shop for those weather-type gifts, a cafeteria and an interpretive trail on the grounds.
Museum of Space Exploration And The May Natural Museum Of The Tropics
Two for the price of one. Vacationers can view the history of space at the family-friendly Museum of Space Exploration and, housed on the same grounds, a
bug museum
. The May Natural Museum of the Tropics has a rotating display of 8,000 bugs at any given time. Most of the bugs featured in the museum would be impossible to capture today as the areas they inhabit are too dangerous for travel.
Breckenridge Whitewater Rafting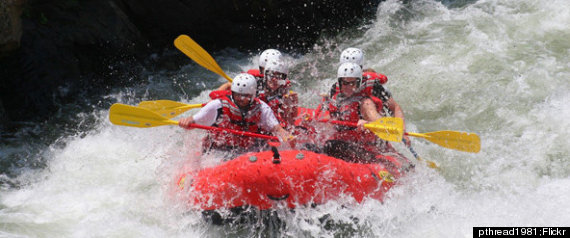 Whitewater rafting makes for an unforgettable outdoor family adventure. Breckenridge Whitewater Rafting offers trips to five rivers in central Colorado as well as rivers in other parts of the state, depending on where you are traveling. Trips cater to a variety of skill levels, so not every family has to commit to the rigor of adrenaline-pumping class V rapids. Kids must be at least 7 years old for some rafting trips and 15 or 16 for others. Trips offered are full day, half day, overnight and longer.
Grand Lake
Grand Lake
is both the name of a town and a lake in Colorado. The town is the gateway to Rocky Mountain National Park from the west slope. Formed by glaciers, Grand Lake is the largest natural lake in Colorado and has a depth of 300 feet. The lake is surrounded by the Colorado Rocky Mountains. The beach at Grand Lake has a marina, docks, boat rentals and tours. It is steps away from the Old West Boardwalk in the town that boasts over 60 shops, restaurants and galleries.
Address: 1128 Lake Ave., Grand Lake, CO 80447
Phone: 800-670-0792
Hours: The beach and warm weather activities are open until Labor Day. It is a popular area for snowmobiles, cross-country skiing and other activities in the winter.
Price: Beach access, free; activity fees, vary.
The Denver Zoo
Where else but in Colorado's "bear country" would you expect to see the very first natural-style habitat for bears in North America? The habitat is the result of significant research and development to ensure that the bears feel as if they are in the wild.
The Denver Zoo's
Bear Mountain exhibit is home to Grizzly bears and Asiatic bears, among other species.
Address: 2300 Steele St., Denver, CO 80205
Phone: 303-376-4800
Hours: March through October, 9 a.m. to 5 p.m. November through February, 10 a.m. to 4 p.m.
Price: Children 2 and under, free; ages 3 to 11, $8; ages 12 to 64, $13 ; ages 65 and up, $10
Downtown Aspen
You might see a movie star, a rock star or just regular vacationing families taking in the sights and sounds of the historic mining town of Aspen. While it is known as the shopping and play area of the rich and famous, it is also home to Wagner Park for kids, the Popcorn Wagon, New York Pizza, a climbing wall and even fast food. Families can catch a free downtown concert in the summer, view the water fountains and dine out, without breaking the bank.
Address: Main St., Aspen, CO 81612
Phone: 800-670-0792
Hours: Open year-round. Hours dependent on type of business.
Price: Free
Have you been to Colorado? What are your favorite attractions?
FOLLOW HUFFPOST