Family vacations in Connecticut can be rewarding experiences or absolute disasters -- it all depends on pre-trip homework. To make planning easier, we've done all the preparation. As part of a Huffington Post Travel series on traveling with children, here are recommended attractions for those planning Connecticut family vacations.
Calf Pasture Beach
Calf Pasture Beach
is one of the largest beaches in the area. The 33-acre site has a miniature golf course, fishing area, volleyball court and softball field. The beach is also lifeguarded, wheelchair accessible, and has picnic tables as well as concession stands.
Address: Calf Pasture Beach Road, Norwalk, CT 06851
Phone: 860- 424-3034
Hours: Calf Pasture Beach is open daily Memorial Day through September.
Price: Free
Children's Museum Of Connecticut
The Children's Museum of Connecticut
has plenty of hands-on exhibits to entertain families, including "Winging It! Adventures in Flight," which puts children in the pilot's seat. The museum is also home to a theater where kids can learn about working aboard the International Space Station and a planetarium which hosts out-of-this-world shows.
Address: 950 Trout Brook Dr., West Hartford, CT 06119
Phone: 860- 231-2824
Hours: Spring Hours: Monday - Closed (with the exception of West Hartford District Monday holidays, when the museum will open 9 a.m. to 4 p.m.) Tuesday through Saturday, 9 a.m. to 4 p.m., Sunday 11 a.m. to 4 p.m. Summer Hours (beginning June 27): Monday through Saturday, 9 a.m. to 4 p.m., Sunday 11 a.m. to 4 p.m.
Price: Children under 2, free; ages 2 to 62, $11; senior citizens, $10.
Connecticut Science Center
The Connecticut Science Center
has so much to offer you might have to go back the next day to see it all. KidSpace can accommodate children in second grade and under with the notable Waterplay exhibit, while the SportsLab, Planet Earth and Ski Simulator will attract patrons of all ages.
Address: 250 Columbus Blvd., Hartford, CT 06103
Phone: 1-860-SCIENCE
Hours: June 27 to 30, July and August, daily, 10 a.m. to 5 p.m. (Check the Web site for other times of the year).
Price: General Admission: adults, $17; senior citizens, $15.50; youth 4 to 17, $6; kids 3 and under, free.
Yale University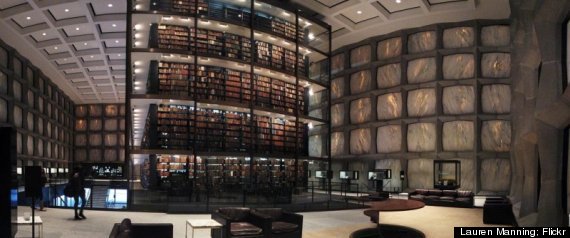 Yale University is one of the oldest and most prestigious institutions of higher learning in the United States, let alone the world. Visiting may inspire young learners to aspire to attend an Ivy League school. There are museums and galleries on the campus, and several festivals and events can be found on the school's calendar.
Address: 149 Elm St., New Haven, CT 06520
Phone: 203-432-2300
Hours: Guided Tours: Monday through Friday, 10:30 a.m. and 2 p.m.; Saturday and Sunday, 1:30 p.m.
Price: Free
Beardsley Zoo
Beardsley Zoo
is home to many exotic animals, including snowy owls and an endangered ocelot born at the zoo. There is also a free flight aviary, farm yard and carousel. The zoo also has lectures for aspiring animal handlers, such as Farming Fever which teaches about animals and their habitats, and Animal Bytes which allows guests to visit select animals up close.
Address: 1875 Noble Ave., Bridgeport, CT 06610-1646
Phone: 203-394-6565
Hours: Open daily 9:00 a.m. to 4:00 p.m., except Thanksgiving, Christmas and New Year's Day.
Price: Adults (ages 12 and older), $12; children (ages 3 to 11), $10; seniors (62 and older), $10; children under 3, free.
Quassy Amusement Park
Quassy Amusement Park
offers fun for everyone with their Family Entertainment Center. The giant arcade has over 100 games to choose from, including skee-ball, pinball and sit-down simulators. In addition to the amusement park rides, there is also a beach and water play area dubbed "Saturation Station" for warm weather.
Address: 2132 Middlebury Road, Middlebury, CT 06762
Phone: 1-800-FOR-PARK
Hours: Dates and hours of operation vary; check the Web site for details.
Price: All-Day Ride and "Saturation Station" Passes are $23.50 for adults 45 inches and taller, $19 for kids under 45 inches. See Web site for more details.
Brownstone Water Park
Brownstone Water Park hosts all sorts of ways to enjoy water. Among the choices are swimming, snorkeling and scuba diving. Those who prefer to stay dry can try rock climbing, hiking and biking.
Address: 161 Brownstone Ave., Portland, CT 06480
Phone: 866-860-0208
Hours: Dates and hours of operation depend on the park's current schedule. Check the Brownstone Water Park Web site for details.
Price: General Swimming Daily Pass, $18 (includes swimming, snorkeling, kayaking, hiking and biking); Adventure Sports Daily Pass, $28 (includes cliff jumping, zip lines, water slide, wakeboarding, scuba diving).
Have you been to Connecticut? What's your favorite attraction?
Check out more FAMILY VACATION GUIDES.