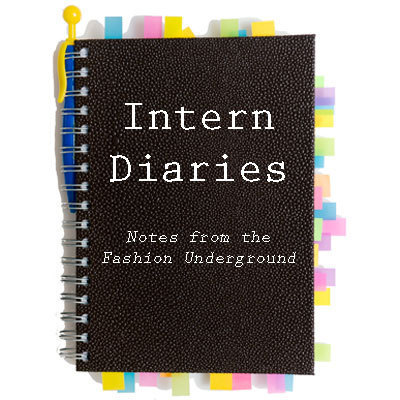 Intern Diaries: Notes from the Fashion Underground is a column that goes straight to the source of the fashion industry: the free labor. In this column, anonymous interns tell all about their terrible bosses and entitled coworkers as they endure ridiculous tasks which include, but are not limited to, fetching dry-cleaning, going on coffee runs and acting as a substitute nanny. This week's intern is a college graduate working at a style magazine in New York City.

DAY ONE
7:45 a.m Snooze.
8:00 Why is it so hot in my apartment?! I need to pick out an outfit that will keep me cool without looking trashy.
8:15 Settle on a belted vintage black sheath dress. Add open toed flats that a friend once let me borrow that have now become a full time member of my closet.
9:45 How do this many people fit in this tiny Starbucks?
10:00 First one to arrive out of my department. Time to set up big boss' water mugs, get tea and magazines ready and make sure her desk is clean. Very "The Devil Wears Prada" right?
10:30 Print out email invites for big boss.
11:00 Lesser boss asks me to open bags and boxes of beauty samples that were called in. How many of these are personal requests?
11:20 Fill bags full of beauty products for the other editors.
12:13 p.m. Run upstairs to the photo studio to shoot three products
12:18 Whoops! Lesser boss forgot to give me something earlier. Have to run back upstairs to drop it off.
12:35 Eat some breath mints to hold off hunger. Does not work.
1:00 Organize the remaining products.
2:30 Print more invites and email PR contacts to call in samples.
3:30 Ugh, missed lunch hours. Settle on eating a cookie, apple and Vitamin water. How unsatisfying.
4:00 Lesser boss assigns me to "URGENT CALL INS." Call PR contacts for products to be messengered over first thing tomorrow morning.
4:30 Stare out my window and spy on the financial guys in the other building. Hey there.
4:45 Lesser boss gets annoyed that the PR company sent the bag to me rather than her even though I specifically told them her name. Ugh.
5:00 Printer is down. AGAIN. Not supposed to use the art printer, but shh- this is an emergency! Again, according to boss.
5:14 Run up to the photo studio again. Thank God I wore flats today.
5:45 I need a drink.
6:20Take the subway back home where I online shop. Hey Piperlime's "Fall Preview Sale." Such a great marketing tactic to get people to buy knee high leather boots in the middle of summer.
DAY TWO
7:45 a.m. Snooze.
8:00 Decide to wear a cute Topshop skirt, plain white H&M top,and my new wedges from Dolce Vita.
8:35 I am so sweaty on this muggy subway platform. There goes my straightened hair.
9:43 Starbucks.
9:57 Lesser boss is in early. I can't believe before 11 is early.
10:02 Get big boss's tea and water ready.
10:15 Tea went cold by the time big boss came in. Quickly put it in microwave and nearly spill it on myself.
11:45 Errands time. Have to return three items to three different stores spread out over 15 blocks. Why did I wear my new wedges today?
12:05 p.m. Stop at J.Crew to return a hat.
12:18 At Prada returning a bracelet. Prada gives me a hard time and have to call big boss.
12:30 Final stop is at Bergdorf Goodman to return shoes. Those Louboutins are in my size. Hey, if she doesn't want them, I'll have them...
12:45 Got sucked into the beauty department at Bergdorf Goodman and bought three Kiehl's products. The saleswoman was so nice, I couldn't say no!
1:10 Officially over these heels. My poor feet!
1:30 Back in the office and start typing up a document of all the products featured in the next issue. Wish I could afford this stuff...
2:45 Need food. Basically missed lunch hours again and have to buy a vegetable soup, bread and a small bag of Swedish Fish. Somewhat nutritious?
3:45 Lesser boss asks me to bring up a product to the photo studio. I say, "Yes," but my feet scream, "Please don't make me walk anymore!"
5:50 Big boss is gone. I open all new products and arrange on her table.
6:15 Exhausted, hungry and annoyed by these tourists blocking my path to the subway. What are you taking pictures of?
7:00 Go to a friend's apartment nearby and complain about the amount of walking I did all day. It doesn't, however, dissuade me from going out for a drink.
DAY THREE
7:45 a.m. Snooze.
8:00 Not in the mood to dress myself. Dresses allow me to be lazy, so my red Zara dress it is! Add heels from some unknown TJ Maxx brand.
9:35 I hate this Starbucks location, but the other subway line came first. The line is basically out the door!
9:48 Walked past a group of at least 40 teenagers all dressed in red t-shirts. Hear a couple of boys comment on my height. Hey, just because I'm 5'11 doesn't mean I don't like to wear 3.5 inch heels too!
9:53 I hate awkward elevator rides.
10:00 Fix up big boss' water mugs, counter and magazines. No tea this time.
10:15 Get big boss her tea.
10:35 Have to collect all the press releases for products featured in the issue. Email PR contacts like crazy!
11:45 Big boss needs more tea.
12:17 p.m. Big boss wants lunch. I take her order and head to the cafeteria.
12:40 Sushi day in the cafeteria! Make a point not to miss lunch hours, but have to wait in line for what seems like forever! Notice that everyone has nice shoes on.
1:45 Still collecting press releases.
1:50 Is that Tom Ford's new scent that I see on the giveaway table? Mine! Along with the "Vegan's Guide to Cupcakes." Great day.
2:15 I could really go for one of those cupcakes right now...
2:30 Cleaning out the closet. I wish there was another department intern to talk to. This closet can get a little lonely.
3:45 Editors want some iced beverages at Starbucks. I get three drinks to-go and an iced chai for myself.
5:45 Highlight the press releases to follow up on. Open a few more boxes and bags.
6:00 Ask boss for two scrubs. My face is breaking out from this heat and lack of sleep.
6:02 Two new scrubs! This is what I slave away for right? Sometimes I have to reassure myself.
6:05 Lesser boss comes in and talks to me about her expectations. What did I do wrong? I've only been working here a month.
6:20 Freedom!
7:00 Nothing like some yoga to calm my mind.
8:15 Nothing like a beer to completely ruin my yoga workout.
11:15 Really want that cute purse on Piperlime.com. It was Rachel Zoe's pick! Realize I don't have any money. Ah, the life of an intern.
Are you a fashion intern? Interested in contributing? Please email sarah.leon@huffingtonpost.com.
SUBSCRIBE TO & FOLLOW LIFESTYLE
We're basically your best friend… with better taste. Learn more