Animal rights groups Marine Animal Rescue (MAR) and Friends of Animals are offering a $5,000 reward for any information that will lead to the culprit responsible for a fatal sea lion shooting.
Peter Wallerstein, founder and director of MAR, was called to Venice beach on August 3 to respond to reports about an injured adult sea lion who had made it to shore. He was bleeding profusely from a hole in his side -- Wallerstein says the blood "was coming out like a faucet."
Warning: Graphic photos below.
Unfortunately, curious beachgoers who had gathered around the sea lion proved too intimidating, and the beast escaped back into the ocean before he could be treated. Two hours later, he washed up on shore, dead but still bleeding profusely.
Even though Wallerstein doesn't usually deal with dead animals, he brought the sea lion back to the Marine Mammal Care Center at Fort MacArthur for an examination. "I didn't want this otherwise healthy animal to die in vain, so I took the animal in for a necropsy," he explains. The people performing the examination discovered three bullets and confirmed the sex of the sea lion (previous reports say the sea lion was female).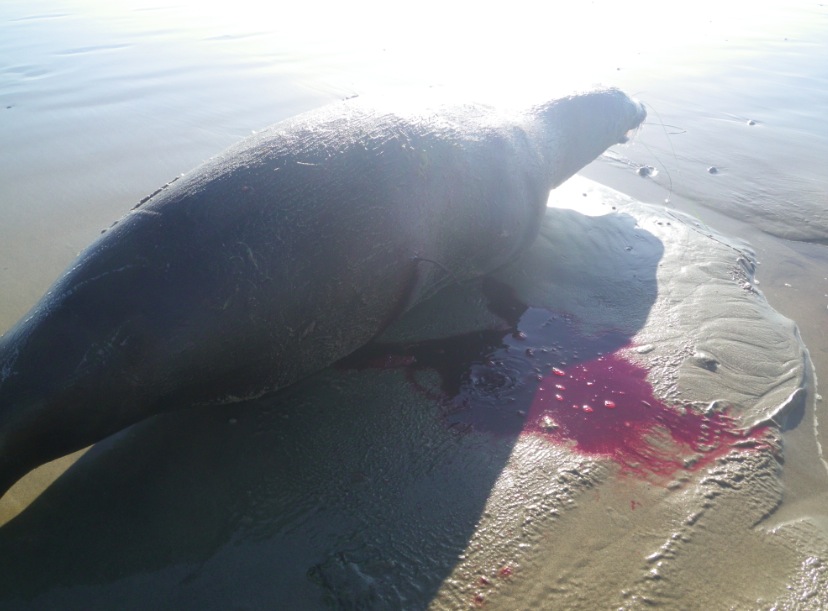 According to Wallerstein, it's a minority of fisherman who are to blame for assaults on sea mammals. From MAR's statement on the recent sea lion death:
Some anglers feel that seals, sea lions and even pelicans are a threat to their livelihoods and will purposely injure or kill the animals. From shootings, to the use of seal bombs, these violent acts by cruel individuals must be stopped. Many more shooting victims don't make it to shore; they die a slow death at sea.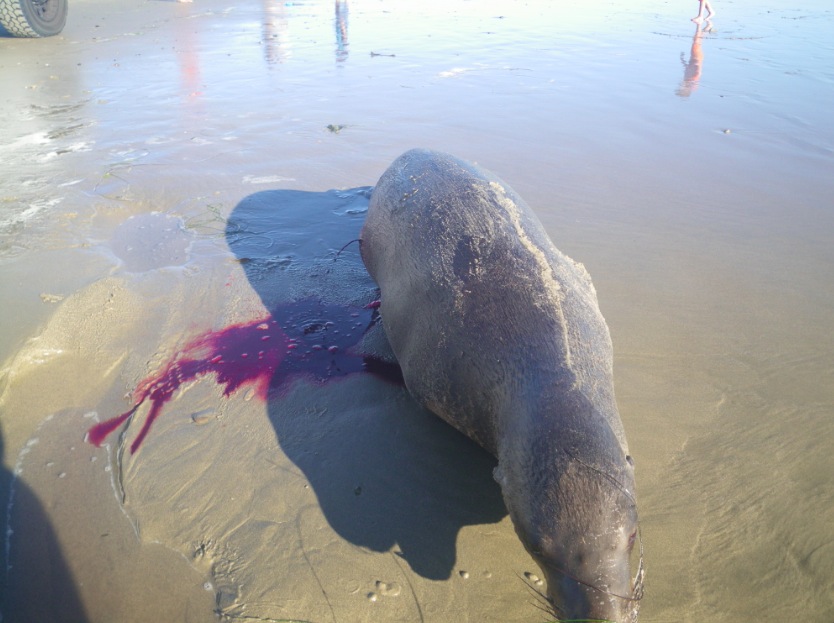 "I see this thing too many times, from seal bombs to shootings," Wallerstein says. "He made it to the beach, but it's just the tip of the iceberg," he says of the recent death. "How many countless animals don't make it to the beach? I want to bring the brutality of it to light."
Wallerstein is realistic about the chances of catching the people responsible for the sea lion's death. On the one hand, while very few people get caught, a posted reward will have the culprits looking over their shoulder for a while. Still, Wallerstein reasons, "maybe because of this economy, you never know who could turn the people in."
National Marine Fishery Service is going to do forensic testing to if they can match the three recovered bullets to the gun used to shoot the sea lion.
Thanks to the Marine Mammal Protection Act, it's a crime to kill marine animals, notes KTLA. Punishment includes a $100,000 fine and up to a year in prison.
If you have any information on this sea lion's death, or acts of cruelty against other sea mammals, please contact the Marine Animal Rescue Hotline at 1-800-39-WHALE.
CORRECTION: This news entry was edited to correct information about where the necropsy was performed.
SUBSCRIBE TO & FOLLOW THE MORNING EMAIL
The Morning Email helps you start your workday with everything you need to know: breaking news, entertainment and a dash of fun. Learn more