Oprah sent her followers what might be her most random YouTube update ever on Sunday.
In the video that she uploaded, Oprah appeared as just a disembodied voice and a sudsy foot. The point of the video was the woman at the end of the foot--Oprah's personal pedicurist Gloria. Oprah was helping Gloria hawk her new website, Footnanny.com
We're just impressed that Oprah was willing to share her feet with the world. What other billionaire is so casual? Mind you, this isn't the first time Oprah's drawn attention to her toes. She even got a foot massage from Serena Williams on her talk show once.
PHOTO: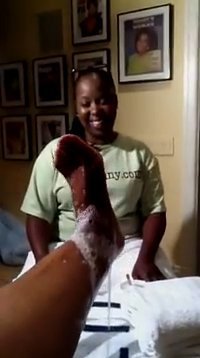 SUBSCRIBE AND FOLLOW
Get top stories and blog posts emailed to me each day. Newsletters may offer personalized content or advertisements.
Learn more