Family vacations in North Carolina can be rewarding experiences or absolute disasters -- it all depends on pre-trip homework. To make planning easier, we've done all the preparation. As part of a Huffington Post Travel series on traveling with children, here are recommended attractions for those planning North Carolina family vacations.
Outer Banks, North Carolina
Corolla, Duck, Kitty Hawk, Nag's Head and Hatteras are just a few of the family-friendly beach towns that can be found on this beautiful barrier island. The
Outer Banks
has much to offer vacationers, including great sports fishing, lots of reasonably priced and fine dining restaurants, clean and safe beaches, a low-key atmosphere and even the chance of viewing one of the wild horses that live on the island's north end.
Address: Kitty Hawk, NC
Hours: Open year-round
Price: Free
Marbles Kids Museum
Marbles Kids Museum
has a wide range of activities including a child-size town where kids can pretend to shop in a grocery store or try their hand at acting on a stage. Children can also enjoy water activities in the Splash! room or work off some energy in the Power2Play World Tour exhibit. In addition, Marbles has an Imax theater onsite that shows box office hits in 3-D, as well as educational movies.
Address: 201 East Hargett Street, Raleigh, NC 27601
Phone: 919-834-4040
Hours: Tuesday through Saturday: 9 a.m. to 5 p.m., Sundays: noon to 5 p.m. Marbles is closed on Mondays.
Price: Children under 1, free; ages 1 to 11, $5 or with Imax, $6.50; adults, $5 or with Imax, $8.95; seniors, $5, or with Imax, $7.95
NASCAR Hall Of Fame
Even if your children are not race fans, the
NASCAR Hall of Fame
has a number of interactive exhibits, including a toddler play area and pit crew challenge for kids, which will keep them engaged. Of course, if your family members are NASCAR or race car fans, this museum is a must-see, with displays that describe the early days of the sport, exhibits about the hall of fame inductees, plus many other race-related activities.
Address: 400 East Martin Luther King Blvd., Charlotte, NC 28202
Phone: 704-654-4400
Hours: The NASCAR Hall of Fame is open every day except for Christmas Day. Open most days from 10 a.m. to 6 p.m., but hours can vary. Please check the calendar on the website before visiting.
Price: Children 5 to 12, $12.95; adults, $19.95; seniors and military, $17.95
Great Smoky Mountains National Park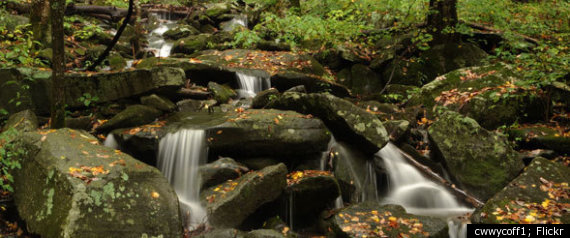 It is no wonder that the 500,000-acre Great Smoky Mountains National Park is the most visited national park in America. It is a beautiful park that straddles the Tennessee and North Carolina border, and it is teeming with wildlife, including deer, turkeys, bears and elks. Casual and serious hikers will find miles of trails to explore, with many of them leading to the park's bountiful and beautiful waterfalls. The North Carolina entrance to the park is located near the town of Cherokee.
Address: Cherokee, NC
Phone: 865-436-1200
Hours: The park is open 365 days a week, 24 hours a day, but there are areas of the Great Smoky Mountains National Park that close in the winter.
Price: Free -- it is one of the few national parks that does not charge an entrance fee
NASCAR Race Shops
Many of the NASCAR race teams, including those of
Dale Earnhardt, Jr.
and
Tony Stewart
, are based out of the Charlotte, N. C., area, and most of their race shops are open for public visits and tours. For racing enthusiasts, it is a fascinating look behind the scenes of what goes on when the cars and drivers are not at the track. Most of the race shops also have gift stores and some have theaters or museums to enhance a visitor's experience.
Address: 4400 Papa Joe Hendrick Blvd. Charlotte, NC 28262
Phone: 704-455-3400
Hours: Monday to Friday 10 a.m. to 5 p.m., Saturday 10 a.m. to 3 p.m. Call to confirm.
Price: free
The Time Warner Cable Blues & BBQ Festival
The annual
Time Warner Cable Blues & BBQ festival
, which used to be the Blues, Brew & BBQ Festival, offers three days of eating, drinking and fun in downtown Charlotte, N. C. This is the largest MBN-sanctioned (Memphis Barbecue Network) contest and festival in the Southeast. Visitors can enjoy seeing celebrity chefs, listening to music and tasting some great cooking.
Address: 935 N. Graham, Charlotte, NC 28206
Phone: 704-332-9583
Hours: A three-day festival held in September.
Price: Admission is free
Biltmore House
The
Biltmore House
is a 250-room French chateau that was built by George Vanderbilt in 1895 and is now a popular hotel and tourist attraction. Guests can explore the mansion and grounds on foot or take a Segway tour. Horseback and carriage tours are also available. Visitors to the Biltmore House should also allow time to visit nearby
Asheville
.
Address: 1 Lodge Street, Asheville, NC 28803
Phone: 800-411-3812
Hours: Open year-round from 8:30 a.m. to 6:30 p.m.
Price: Adults, 17 and older, from $54 to $69 depending on the season and day of the week; children, ages 10 to 16, $5; under 9 are free
North Carolina Zoo
The North Carolina Zoo is a beautiful natural habitat zoo, meaning that the animals are generally given more room to roam and live more like they would in the wild. It is one of the largest such parks in the United States, and there are trams and buses available within the park to ferry guests between three stops within the zoo. The North Carolina Zoo has over 1,100 animals from Africa and North America in its displays.

Address: 4401 Zoo Pkwy., Asheboro, NC 27205
Phone: 800-488-0444
Hours: April to October, 9 a.m. to 5 p.m.; November to March, 9 a.m. to 4 p.m.
Price: Children under 2, free; children 2 to 12, $6; seniors (62 and up), $8; adults, $10
Have you been to North Carolina? What are your favorite attractions?
Check out more FAMILY TRAVEL GUIDES.