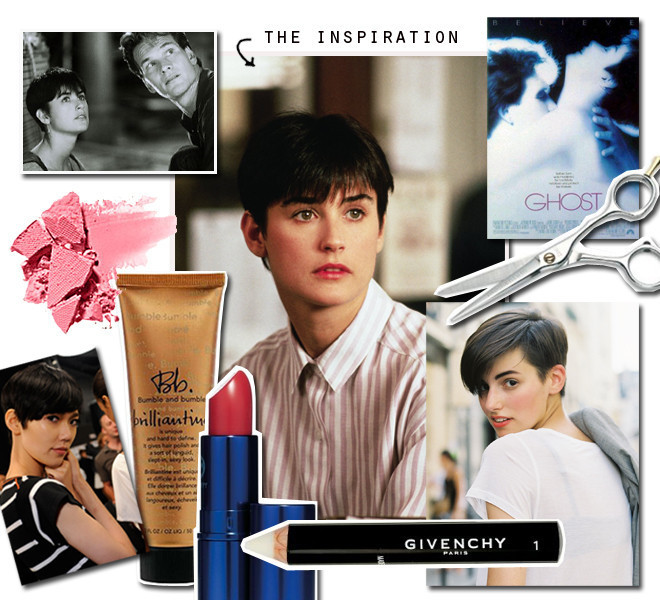 Clockwise from left: Time & Life Pictures / Getty Images, Amazon, Vanessa Jackman, Givenchy, Lipstick Queen, Bumble and bumble, FilmMagic, Bobbi Brown
When Demi Moore appeared with ultra-short, cropped hair in the film "Ghost," it signaled a major shift away from the big hair of the late '80s. Moore's style -- which was cut specifically for her role as Molly Jensen in the 1990 romantic drama -- was undoubtedly influenced by Linda Evangelista's similarly dramatic cut in 1988, which really shook the fashion world. (Evangelista was subsequently canceled from all the big shows that season, only to successfully rebound almost immediately.) The cut, which helped Moore reestablish herself as a more versatile actress, also marked the beginning of what would become a very androgynous period in fashion, with women everywhere emulating this short boy-like crop.
In the film, Moore balances out the short, tousled style (a cross between a pixie and a bowl cut) with defined brows, glowy skin and a touch of lipstick. The wispy, tomboyish cut is still alive and well today with models like Tao Okamoto and street style stars Anne-Catherine and Tracy Rosenbaum making it their signature look.
Click to learn more about Demi Moore in "Ghost".
Where to buy:
Bumble and bumble Brilliantine, $21, bumbleandbumble.com
Lipstick Queen Jean Queen Lipstick, $18, lipstickqueen.com

Bobbi Brown Blush in Peony, $24, bobbibrowncosmetics.com
Givenchy Mister Eyebrow Fixing Pencil, $22.50, sephora.com