Family vacations in New Orleans can be rewarding experiences or absolute disasters -- it all depends on pretrip homework. To make planning easier, we've done all the preparation. As part of a Huffington Post Travel series on traveling with children, here are answers to some frequently asked questions about New Orleans family vacations.

The French Quarter
The French Quarter, also known as
Le Vieux Carré
(the Old Square), was the first neighborhood in New Orleans to be settled. Known for its unique architecture, the district has been named a National Historic Landmark. Explore one of the neighborhood's old hotels, stop in for coffee and
beignets
at
Cafe Du Monde
or take in the scenery at Jackson Square.
Address: French Quarter Visitor Center, 419 Decatur Street New Orleans, LA 70116
Phone: 504-589-2636
Hours: Visitor Center is open daily from 9 a.m. to 5 p.m. and closed Christmas Day and during Mardi Gras.
Price: Free.
Olimpic Beach
Olimpic Beach
is slightly off the beaten path, therefore typically never too crowded. It offers fishing, swimming and tons of fun in the sun on the gulf shore. Olimpic Beach has a bounce house for kids and a power boat sales shop on its stretch of boardwalk.
Address: Olimpic Beach, 13, St. Tammany, LA 70461
Phone: 318-363-2403
Hours: Open daily, 24 hours
Price: Free
Audubon Zoo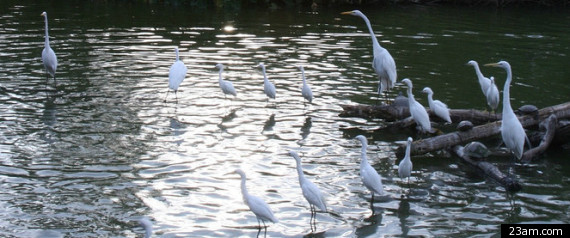 The
Audubon Zoo
, part of the Audubon Institute, is home to an exotic variety of animals that are on display year round, including rare white alligators and white Bengal tigers. Several areas of the zoo have been made resemble habitats found across the globe.
Address: 6500 Magazine Street New Orleans, LA 70118
Phone: 800-774-7394
Hours: Tuesday through Sunday, 10 a.m. to 7 p.m.
Price: Adults, $14.95; children ages 2 to 12, $9.95; seniors, $11.95
Carousel Gardens Amusement Park
The oldest theme park in Louisiana,
Carousel Gardens Amusement Park
boasts one of 100 wooden carousels in the United States. An adventure for children awaits as Captain Hook, Pinocchio and other story-book characters come alive. The 25 storybook areas spring to life throughout the park.
Address: 1 Palm Drive New Orleans, LA 70124-4608
Phone: 504·482·4888
Hours: March 12 through May 29: Saturday and Sunday from 11 a.m. to 6 p.m.; June 2 through August 7: Thursday from 10 a.m. to 3 p.m., Friday from 10 a.m. to 10 p.m.. Saturday from 11 a.m. to 10 p.m.; Sunday from 11 a.m. to 6 p.m.; August 13 through November 13: Saturday and Sunday from 11 a.m. to 6 p.m.
Price: Park entry with unlimited rides, $20; children 36 inches and shorter, free with adult admission
Louisiana Children's Museum
The
Louisiana Children's Museum
, located in the heart of New Orleans, is an interactive experience for children. Visitors can be part of a five-star dining experience, shop in a miniature Winn-Dixie grocery store or pilot a tugboat down the waters of the Mississippi into the Gulf. Every visit will have children uncovering something new.
Address: 420 Julia Street New Orleans, LA 70130
Phone: 504-523-1357
Hours: Tuesday through Saturday, 9:30 a.m. to 4:30 p.m. Sunday, noon to 4:30 p.m. Closed all major holidays and Mardi Gras
Price: $8 per person
Sword and Pen
The
Sword and Pen
of New Orleans is a one-of-a-kind shop that features military miniatures and other metal collectibles. The rare metal miniature collectibles range from the Civil War to World War II. Mardi Gras and other Creole miniature collectibles are on sale year round in this unique shop.
Address: 528 Royal Street New Orleans, LA 70130-6400
Phone: 504-523-7741
Hours: 10 a.m. to 8 p.m. daily, closed all major holidays
Price: Entry is free
New Orleans Jazz & Heritage Festival
The
New Orleans Jazz & Heritage Festival
embraces the musical heritage of this diverse city. Featuring 12 types of soul-stirring, foot-tapping music, the heritage festival highlights the greats that have inspired music today. The festival kicks off with homage to New Orleans' great native musicians.
Address: 1751 Gentilly Boulevard New Orleans, LA 70119-2133
Phone: 504-942-8328
Hours: April 29 through May 1, 11 a.m. to 7 p.m. May 5 through May 8, 11 a.m. to 7 p.m.
Price: Adult, $60; child, $5; ages 2 and younger, free
What is your family's favorite New Orleans destination?
Photo: abundantc/Flickr
Check out more FAMILY TRAVEL GUIDES.
SUBSCRIBE TO & FOLLOW LIFESTYLE
We're basically your best friend… with better taste. Learn more