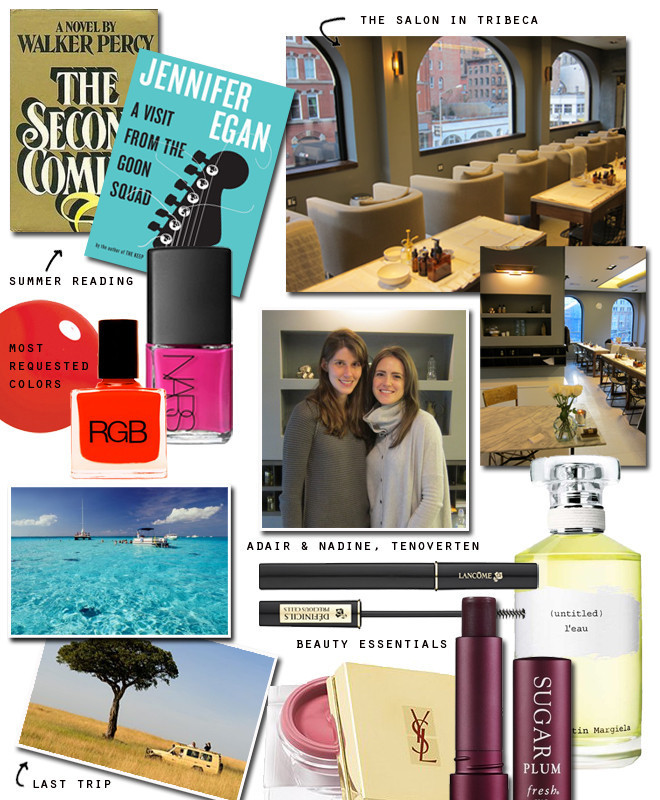 Photo: Tenoverten
New York's chicest new nail spot was actually born out of necessity: When best friends Adair Ilyinsky and Nadine Ferber -- who'd made a ritual of getting their nails done together in order to catch up -- became discouraged with the lack of nice, clean (but not crazy expensive) nail places available in the city, they decided to open their own. Tenoverten opened in Tribeca last year, and has been booked solid ever since. With chic, comfortable chairs (in place of the unsightly, throne-like monstrosities seen everywhere else), hot tea (or Diet Coke) upon arrival and iPads to surf online while your nails dry, the salon has redefined the experience most of us had come to expect from getting a manicure and pedicure in this city. Not only is the space super-calming -- the view of downtown Manhattan is amazing, the charming furniture was found upstate -- but they stock a well-edited selection of NARS, RGB, Chanel, Essie and Uslu Airlines nail polishes, not to mention other beauty staples from Rodin, Weleda, and Saipua.
The last time we stopped by Tenoverten, we were excited to hear about the upcoming projects Ilyisnky and Ferber (who also owns Mick Margo in the West Village) have in the pipeline: In addition to working on their second location (which will open early next year), they're throwing their hat into the nail polish game. Tenoverten's polish line -- which will feature six colors -- is launching this October.
We met up with the girls to discuss their beauty essentials, how they spend summer weekends and the color they predict will be huge for fall.
--
Where do you live:
Adair & Nadine: TriBeCa
Hometown:
A: Litchfield, CT by way of Cincinnati, OH
N: Houston, TX
Astrological sign:
A: Leo
N: Capricorn
Favorite fragrance:
A: Untitled L'Eau Maison Martin Margiela
N: By Kilian develops the most luxurious fragrances
Favorite lipstick:
A: Chanel Rouge Coco Lipstick in Rivoli or Gabrielle for something more dramatic
N: YSL Rouge Pur Couture with SPF 15
Last trip you went on:
A: Safari in Kenya for my honeymoon!
N: Cayman Islands FOR AN annual summer holiday with my entire family
Contents of your travel dop kit:
A: Laura Mercier tinted moisturizer with SPF 20, Lancome Definicils Mascara and Bi-Facil Eye Makeup Remover, YSL Creme de Blush in Powdery Rose that can double as lip tint, Deborah Lippmann "the Stripper to go" lacquer remover pads and loads of Claritin
N: La Roche Posay Anthelios Sunscreen SPF 60, Phytovolume Actif volumizer spray for good beach hair, Rodin Luxury Face Oil, Klorane Gentle Dry Shampoo with Oat Milk for in between proper shampoos, Shu Uemura eyelash curler, NARS eyebrow pencil in Ipanema, Guerlain bronzer and my contacts so I can see.
The polish color you're loving for summer:
A: Essie Clambake is my perennial summer favorite
N: NARS Dovima (my summer staple)
The polish color you think will be big for fall:
A: Chanel Peridot has already been very popular at the salon, but I think the trend will continue into Fall (and Tenoverten's new Navy color that we will be introducing too, ha!)
N: Tenoverten's very own Graphite polish color from the brand new polish collection
The polish color you can't keep in stock:
A: Nars Schiap
N: RGB Coral
Favorite restaurant:
A: Locanda Verde and Smith & Mills, a perfect night is going from one to the other.
N: Tiny's & the Bar Upstairs (just steps away from the salon).
The one beauty product you never leave home without:
A: Kiehl's Lip Balm #1
N: Fresh Sugar Plum Tinted Lip Treatment
Music you're loving right now:
A: Adele, I can't get enough.
N: Jump Into The Gospel, Humvee Mansion is my favorite song.
What are you reading right now:
A: "A Visit from the Goon Squad" by Jennifer Egan
N: Walker Percy's "The Second Coming"
Favorite movie:
A: The BBC version of Pride and Prejudice and more recently, the King's Speech. Anything with Colin Firth really
N: "Amadeus" directed by Milos Forman

A typical summer weekend consists of:
A: Heading to my grandmother's house on the Connecticut shore...we have a very matriarchal family so my poor husband is outnumbered by lots of headstrong women!
N: Jumping into the car with my husband and our dog to head out to Southampton….stopping at local farm stands along the way for fresh produce and staying at the house all weekend long aside from hitting the beaches and the occasional dinner at Vine St on Shelter Island. Perfection!
Tenoverten, 112 Reade Street, 2nd Floor, New York, NY
212-406-1010
tenoverten.com