Family vacations in Texas can be rewarding experiences or absolute disasters -- it all depends on pre-trip homework. To make planning easier, we've done all the preparation. As part of a Huffington Post Travel series on traveling with children, here are recommended attractions for those planning Texas family vacations.
The Alamo
The Alamo
is a historic landmark in San Antonio, Texas, offering free entry for anyone who wants to discover this important piece of Texas history. Located in the Alamo Gardens, over two million people visit the site every year where a small army of Texans fought the Mexican Army in 1836. David Crockett and James Bowie gave their lives here in a battle that served as a turning point in the struggle for Texas independence.
Address: 300 Alamo Plaza, San Antonio, Texas 78205
Phone: 210-225-1391
Hours: Open year-round except for on Christmas Eve and Christmas Day. Hours of operation are 9 a.m. to 5:30 p.m., Monday through Saturday and 10 a.m. to 5:30 p.m. on Sundays
Price: Free admission
Stewart Beach
Galveston Island offers some of the most beautiful beaches in Texas.
Stewart Beach
is one of the biggest family beach parks on the island. There are miles of beaches where adults and kids can relax and play in the surf. Umbrella and chair rentals are available as well as plenty of restrooms, showers, a snack bar and volleyball courts.
Address: Galveston, TX 77550
Phone: 888-425-4753
Hours: Open daily, weather permitting, 9 a.m. to 5 p.m. weekdays and 8 a.m. to 6 p.m. weekends
Price: $8 per vehicle, per entry, $16 oversize vehicles
SeaWorld in San Antonio
SeaWorld in San Antonio
offers families a multifaceted amusement park to enjoy a day out in the sun. Families can start their day off with one of the many shows available, including "Azul," a raucous show involving beluga whales and Pacific dolphins. There are also sea lions and the iconic Shamu, the killer whale. In addition to the animal shows, there are a number of rides for all members of the family.
Address: 10500 SeaWorld Drive, San Antonio, TX 78251
Phone: 800-700-7786
Hours: Hours vary throughout the year. Summer hours are 10 a.m. through 11 p.m. daily
Price: Adults, $59.99; children, $49.99
South by Southwest Festival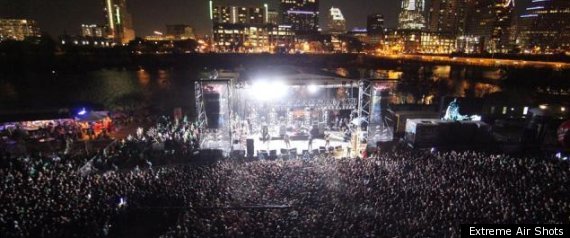 Located in Austin, Texas, the South by Southwest Festival (SXSW) takes place every March. It is the premier festival in the south for movies, music and interactive technology. While purchasing a full-access pass for films and concerts can be quite pricey, some shows are outdoors and open to the public.
Address: Various locations in Austin, Texas 78701
Phone: 512-467-7979
Hours: The festival is in March each year and times vary depending on events
Price: Some events are free and open to the public. However, badges must be purchased to attend specific screenings. Prices vary from $450 to $1,200 for full-access passes
The Sixth Floor Museum
The Sixth Floor Museum in downtown Dallas
tells the story of the life and death of President John F. Kennedy. The museum walks guests through the former Texas School Book Depository, where the shots were fired from when the president was killed. The museum also features shows, exhibits, short films and photographs celebrating the life of the former president.
Address: 411 Elm Street, Dallas, TX 75202
Phone: 214-747-6660
Hours: The museum is open every day except Thanksgiving and Christmas Day, 10 a.m. to 6 p.m. Tuesday through Sunday and noon to 6 p.m. Monday
Price: Adults, $13.50; seniors (ages 65 and up), $12.50; youth (6 to 18), $12.50; children (5 and under), free
Downtown Aquarium in Houston
The Downtown Aquarium in Houston
offers a lot of fun for families vacationing in the state's biggest city. The aquarium has rides for kids, including a Ferris wheel and carousel as well as many live events starring animals, both of land and sea. Kids can walk up and pet a stingray or stand in a room surrounded by giant tanks and watch the sharks swim by. Don't miss the beautiful and rare white tigers.
Address: 410 Bagby St. at Memorial Dr., Houston, TX 77002
Phone: 713-223-3474
Hours: 10 a.m. through 9 p.m. from Sunday through Thursday and 10 a.m. to 11 p.m. on Friday and Saturday
Price: Adults, $9.25; seniors (65 and up), $8.25; children (2 to 12), $6.25; Children (under 2), free
NASA Space Center Houston
NASA's Space Center in Houston gives families a fun way to learn about the history of the U.S. space program. The center is partially a science museum, but it also provides interactive experiences and educational programs. See what it's like to live and work in zero gravity or fly a space shuttle. Classic film footage from the moon will entertain parents and kids alike.
Address: 1601 NASA Parkway, Houston, TX 77058
Phone: 281-244-2100
Hours: Weekdays from 10 a.m. through 5 p.m. and 10 a.m. through 6 p.m. on weekends
Price: Adults, $20.95; children (4 to 11), $16.95; seniors, $19.95
What are your favorite vacation spots in Texas?
Lede photo: gsloan/ Flickr
Check out more FAMILY TRAVEL GUIDES.