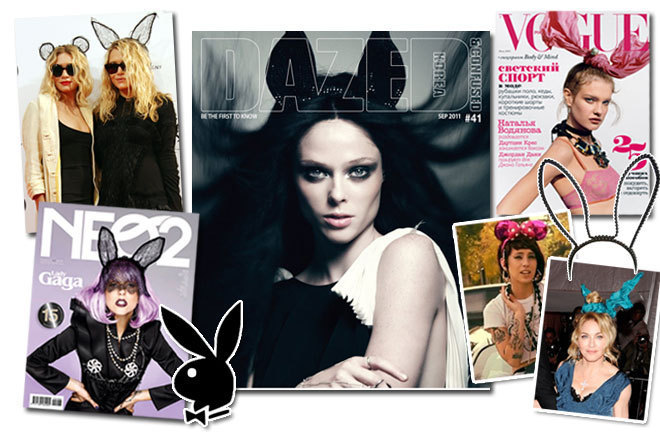 Mary Kate and Ashley at the opening of Opening Ceremony in Japan (Getty Images), Lady Gaga wearing Maison Michel ears on the cover of NEO2 , The Playboy Logo, Coco Rocha on the cover of Dazed & Confused, Natalia Vodianova on the cover of Vogue Russia, Kreayshawn's Minnie Mouse ears, Bunny Ear Headband from Ms. Fortuna Pearl, Madonna wearing Louis Vuitton (Getty Images).
Coco Rocha's cover of September Dazed & Confused demonstrates the return of a horrifying trend: adult women wearing animal ears. Although Playboy has been a purveyor of the look for decades, bunny ears made their high fashion debut when Marc Jacobs designed some for Louis Vuitton's Spring 2009 collection. Maison Michel expanded the world of editorial ears beyond the bunny world to include mice, as well. After Madonna, Gaga and the Olsen twins wore their animal headgear in public, the trend seemed to disappear briefly, but unfortunately it seems to have reared its head once more. Will you sport bunny ears come fall?
SUBSCRIBE AND FOLLOW
Get top stories and blog posts emailed to me each day. Newsletters may offer personalized content or advertisements.
Learn more