Gilbert Arenas Deletes Twitter Account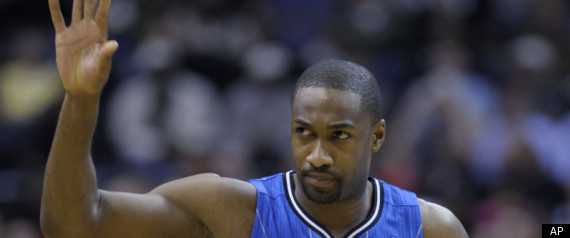 Fans of social media and ridiculous things, please bow you head for a brief moment of silence: Gilbert Arenas has deleted his Twitter account.
From daily musings, to once live-tweeting a blind date gone bad, Arenas was arguably among the most captivating follows on the entire site.
The former All-Star guard was fined by the NBA for something he tweeted last June, although nobody is sure what exactly. He also got in a Twitter feud with comedian Joe Mande earlier this week, with hilarious results.
In addition to the fine, Arenas' Twitter activity was actually used against him in a recent court decision. Arenas sought a court order to prevent his ex-fiancee Laura Govan from discussing their relationship on the VH1 show Basketball Wives. Arenas' suit was denied however, partially because, as the judge claimed, there's no reason to protect his privacy when he already has "tens of thousands of Twitter users who follow [him] as he tweets about a variety of mundane occurrences."
Touché.
But perhaps the final nail in the coffin for Arenas' twitter account were his tweets in relation to Javaris Crittenton, a former teammate of Arenas' who was recently charged with first degree murder. Crittenton and Arenas were both suspended by the NBA in 2010 for allegedly pulling guns on another in a locker room when they both played for the Wizards. Arenas raised some eyebrows last month when he tweeted about the incident saying, 'What I got in trouble for I've seen over a dozens times." Once again: Arenas was suspended for pointing a gun at a teammate in a locker room. But Arenas wasn't done talking about Crittenton there, earlier this week he reportedly tweeted, then quickly deleted, "I really wanna say sumthing but i wont becuz theirs a dead woman involved."
Long story short, Arenas potentially hinted via Twitter that he has information in relation to a suspect in a murder. Odds are you aren't going to get that kind of tweet out of Kim Kardashian.
Regardless of your feelings about him as a player, candid athlete Twitter accounts are hard to come by so in that respect, this is a loss. For Arenas' purposes, his tweets may have been TMI, but for us, it was A-OK.