The 26-foot-tall sculpture, named "Forever Marilyn," was created by artist Seward Johnson and will be on display until next spring. (Scroll down for photos)
Detractors have found so many things to criticize about this work that it's hard to know where to start: its 26-foot (7.9 meter) scale, its impropriety given that the movie to which it pays tribute is set in New York, and its perceived crudeness given that viewers are able to look directly up the screen siren's dress. Luckily, she'll only be there until 2012.
Virtual Tourist also ripped on "Monument with Standing Beast," a sculpture by Jean Dubuffet located in front of Chicago's James R. Thompson Center.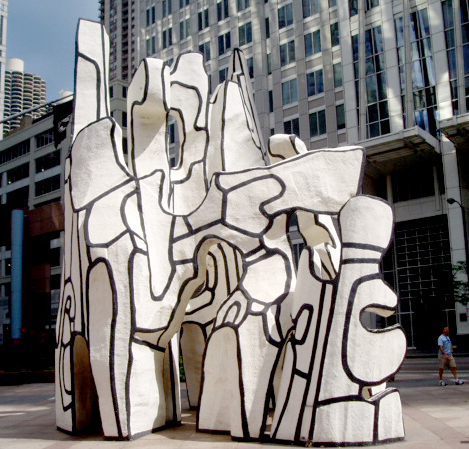 "Monument with Standing Beast" photo by 20 Letters via Flickr

"This ten-tonne behemoth is said to represent an animal, a portal, a tree, and an architectural form, but to some it just represents bad taste," Reuters reports.
Check out the whole list of bad public art here.
All "Forever Marilyn" photos below by Scott Olson of Getty Images.

PHOTOS: Marilyn Monroe Sculpture Unveiled In Chicago