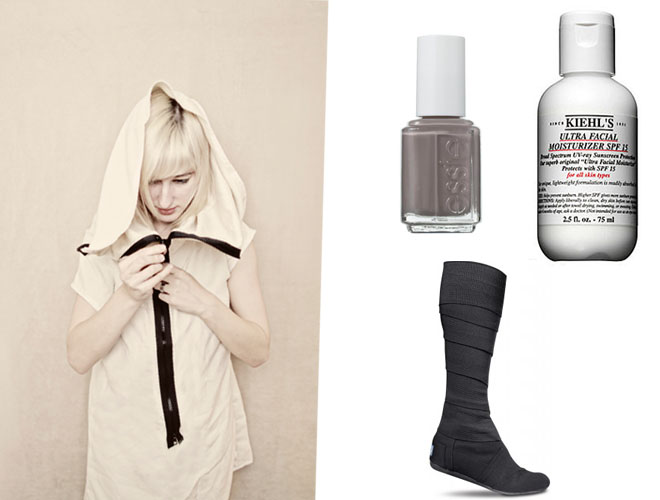 Angel Ceballos
Zola Jesus (née Nika Roza Danilova) was trained as an opera singer, but now lends her layered vocals to a beguiling brand of genre-defying, industrial synth pop (just don't call it "dirgeful goth" music). She also knows how to rock some fierce footwear. In honor of her upcoming album Conatus, out October 4, she shares her style must-haves.
1. Toms Wrap Boots: I wore my first pair completely into the ground. I love the way these boots conform to your leg to the point of almost becoming unnoticeable. I am drawn to clothing that feels like a second skin and these boots in particular are the closest I will ever get to that. They're also so insanely comfortable!
2. Kiehl's Ultra Facial Moisturizer: My skin takes a real beating on the road. Kiehl's becomes a lifeline. Their moisturizer is amazing; I take it with me everywhere.
3. Complex Geometries: One of my favorite designers, half of my wardrobe is by them. I love how their clothing moves, and how each piece can be worn in many different ways. I feel like they were made for me.
4. White or gray nail polish: Lately I can't leave the house (or hotel) without nail polish, which is new for me. I've always been so bad to my nails (full disclosure: I'm a biter), but I'm trying to fight the habit. My favorite nail colors are white and gray, and sometimes when I'm feeling daring, mint.
5. T3 Featherweight Journey Blow Dryer: Best thing I've ever purchased. I'm on the road so much that I decided to get the travel version of this powerful blow dryer. It is brilliant, compact and works everywhere from Los Angeles to London
SUBSCRIBE TO & FOLLOW LIFESTYLE
We're basically your best friend… with better taste. Learn more