What do Susan Sarandon, Laura Linney and "Glee" star Darren Criss all have in common?
They are all amongst the newest faces of Uniqlo.
Women's Wear Daily reports that the three actors plus musician Esperanza Spalding, Tumblr founder David Karp, teacher Gregg Breinberg and at least a dozen more names will be featured in the retailer's fall ads.
Debuting this week, the adverts trumpet the arrival of Uniqlo to uptown New York City, with two giant new flagships opening in October (one on 34th Street, one on Fifth Avenue) and two pop-ups on the Upper West Side that just opened in August.
It's a savvy expansion for the Japan-based store, which sells affordable basics à la H&M. But we wonder about the new spokesmodels. The chosen names, though stylish enough whenever they step out, seem decidedly un-fashion, with nary a socialite, red carpet stunner or professional model in the bunch.
But WWD writes that Sarandon, at least, has quite the fashion footing. "I like to have fun dressing up. I hold onto things. All my Azzedine Alaïa from years ago I still have," the 64-year-old actress said.
She also mentioned that it's hard to find good clothing that leave enough room in the chest department. "Sometimes designers don't take breasts into account and there's no room for them," Sarandon said. Her solution, it seems, is to stick with plunging necklines that don't hide them at all. Exhibit A: Sarandon's fantastic plaid dress at Fashion Week.
We wonder if there will be similarly showy necklines in Uniqlo's fall lineup.
Read more at WWD.com.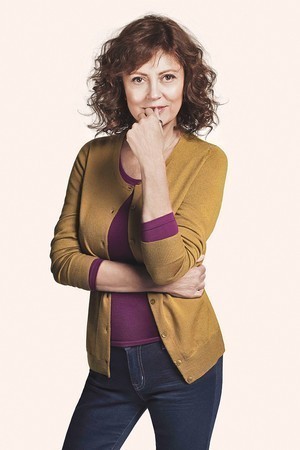 FOLLOW HUFFPOST