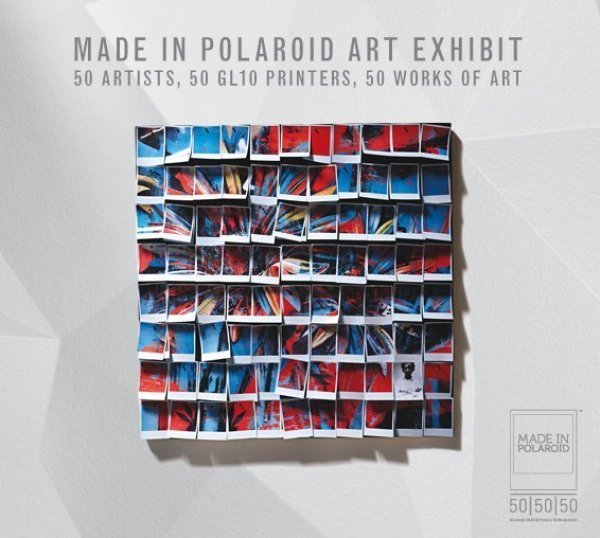 As if having Gaga on its team wasn't enough, Polaroid is celebrating the product launch by asking 50 famous friends, such as Patrick Demarchelier, Philip Lim, Cynthia Rowley and, of course, Gaga herself to create a piece of art using the new technology. Each artist approached the challenge in a different way: James Franco displayed casual portraits of his friends (including girlfriend Agyness Deyn), painter JoKa created a multimedia piece by painting the white of the Polaroids with a toothpick and photographer Maripol fashioned a remarkable dress out that puts any Project Runway garment to shame. While the pieces themselves are varied in medium, scale and aesthetic, the theme of Gaga seems to be ever present in the exhibit in the installations of others- Steven Klein's piece is titled "Alejandro" and both Alex Pardee and Eric Joyner reference the queen of the contemporary music scene in their pieces).
Not all contributors had worked with Polaroids before, or even with photography: designer/filmmaker/fashionista Va$hti has only ever used Polaroids in her personal life as her background is in cinematography and directing. "We live in a world where everything is instant," Va$hti said, "and waiting for a Polaroid photo to develop reminds us of that fact." Never having used photography before, Va$hti was inspired by this project and is currently working on a book of Polaroid photographs of her friends including Kanye West and Clayton Patterson. While many of the artists may reference nostalgia in their work, the Polaroid GL10 printer is definitely forward thinking technology.
Made in Polaroid is currently on exhibit at Phillips de Pury & Company at Milk Studios until September 13th. The pieces will be auctioned off on September 14th at Phillips de Pury & Company uptown to benefit Free Arts New York which provides under-served children and families with a unique combination of educational arts and mentoring programs.
Here is a sneak preview of the exhibit:
FOLLOW HUFFPOST