Glenn Beck is back in New York -- well, on a billboard anyway.
The former Fox News host has a new billboard up in Times Square promoting the launch of his Internet-based network. The cheeky ad reads, "If I had a dollar for every person who badmouthed me... I'd have enough money to launch a network." We're sure tons of people in New York just loved that.
The three-piece set up features two giant photos of Beck smiling down on the corner of 7th Avenue and 49th Street. His website says the billboard is "conveniently located near the M&M store."
The network debuts on September 12, complete with Beck's new two-hour show. A blog post about the billboard on Beck's site harkened back to his parting comments on Fox News, saying, "Glenn warned that progressives would be wishing for the days when he was only on at 5pm…and now they might be seeing their worst nightmares come true." A subscription for Beck's new show will cost viewers $4.95 a month, or $9.95 for full access to the network. PHOTO: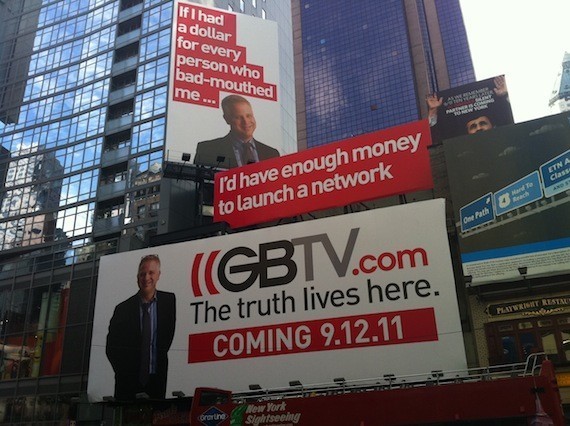 RELATED VIDEO:
SUBSCRIBE AND FOLLOW
Get top stories and blog posts emailed to me each day. Newsletters may offer personalized content or advertisements.
Learn more