There is something sensual to be said about a Date Night wherein you eat dinner with your hands -- and lick your fingers in between bites. Let us discuss fried chicken. The colonel is nowhere in sight; there's a bucket, yes, but the kind you might want to take home as a souvenir. If we're talking about scoring, you'd first better score a reservation to the restaurant with the chef responsible for America's most famous fried chicken. (Hint: He's in the Brentwood Country Mart.)
Farmshop: After much no-motion ado, Farmshop will finally begin dinner service on September 16. It's not to say you've exhausted your appetite on chef Jeff Cerciello's eggs for breakfast or brunch (in fact, we cannot amplify enough how much we live for Farmshop's shirred eggs), but, really, you just want fried chicken already. Clued-in gastronoms know that Cerciello, a Thomas Keller alum, is the chef responsible for the fried chicken served at Ad Hoc in Yountville, and Angelenos have had their napkins tucked and fingers poised for this fried chicken for nearly a year. It's finally coming: a regular Sunday night affair of family-style service, so, indeed, there will be fighting elbows abound for the last leg -- even with your sweetie.
Farmshop, 225 26th Street, Suite 25, at San Vicente Boulevard (310-566-2400 or farmshopla.com)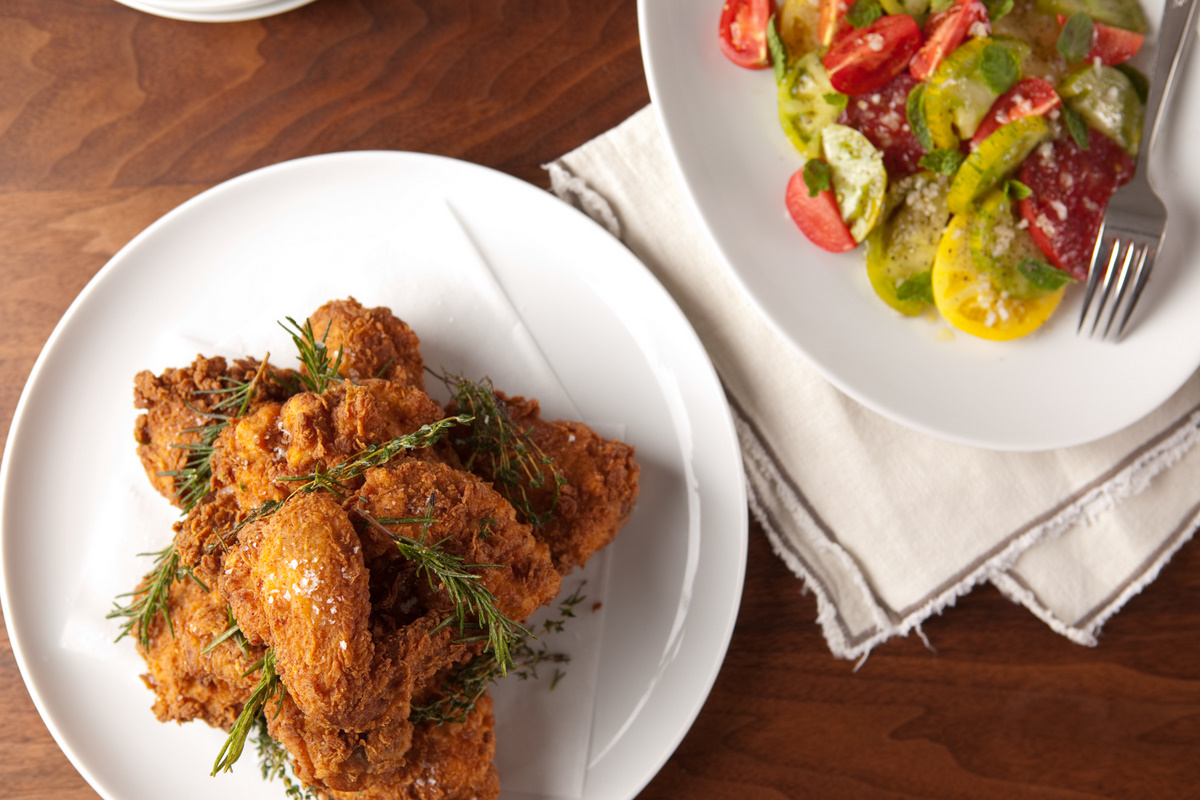 Photo courtesy of Rick Poon Photography
Diesel: But before dinner, pop into the neighborhood bookstore. If you've never browsed books with a paramour-in-the-works, just trust us: It's kind of hot. Not unlike walking the local exhibit at the museum together (you know, to hold hands and attempt to sync up time allotted to read descriptions associated with paintings), it's just a quicker experience of whispering together and looking as beguiling as possible whilst flipping through a new release in paperback. Discuss the upcoming readings that the independent bookstore is soon hosting (keep up with Diesel via their blog) -- and dare we suggest that you get the second date in the books.
Diesel, 225 26th Street, Suite 33, at San Vicente Boulevard (310-576-9960 or dieselbookstore.com)

Photo via Sweet Rose Creamery.
Sweet Rose Creamery: If you're at the Brentwood County Mart, you can't not stop into Sweet Rose Creamery for a scoop of small-batch ice cream. It get its clout via its affiliation with Huckleberry and Rustic Canyon's Zoe Nathan, but also because it's damn good ice cream. The seasonal flavors for September look incredibly enticing: peaches 'n' cream, avocado, concord grape sorbet, apple sorbet, fig jam swirl with goat cheese and toasted walnuts, and more. Snag two '50s-era parlor stools and spoon up a brownie sundae together.
Sweet Rose Creamery, 225 26th Street, Suite 51, at San Vicente Boulevard (310-260-2633)
SUBSCRIBE TO & FOLLOW THE MORNING EMAIL
The Morning Email helps you start your workday with everything you need to know: breaking news, entertainment and a dash of fun. Learn more