Artist Franco Castelluccio wanted to create a piece to commemorate the day that shook America to the core. Six months before the tenth anniversary of the attacks, Castelluccio sat down and began working on a sculpture to honor the first responders of Sept. 11. After one month and about 80 hours, he completed the 3-foot piece.
The "9/11 Pieta," as he calls it, features a firefighter and police officer helping a worker through the dust. Each clay figure has a number etched on it to pay tribute to the lives lost in each group. The firefighter, for example, has "343" etched on his helmet.
To Castelluccio, the events from that day hit close to home -- literally. In 2001, he was living in New Jersey and could see the World Trade Center from his house. "I actually sat on my back porch and watched the whole thing after the first plane hit," he said. Castelluccio said, like many that day, that his initial reaction was disbelief.
"This can't be real. This can't be happening," he said he remembers thinking.
The piece was originally titled "9/11" during its initial stages, but Castelluccio said once he saw it completed, he found it reminiscent of Michelangelo's famous Pieta sculpture and decided to change the name.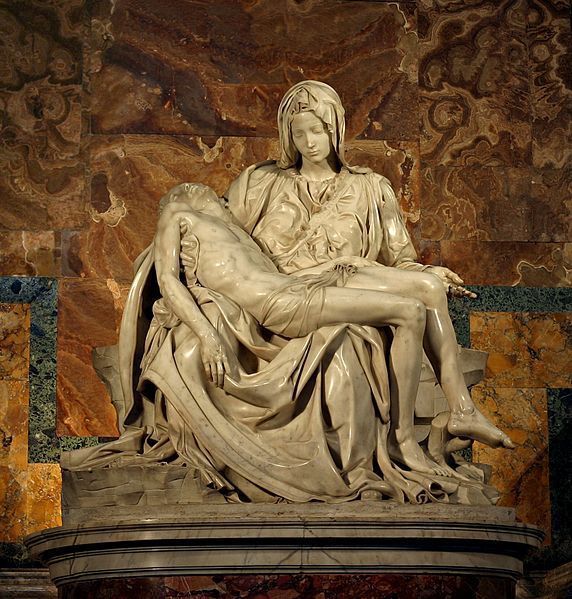 Michelangelo's "Pietà" (1498-1499)
The 3-foot sculpture is the only 9/11 piece Castelluccio has created, but the Orlando, Fla., resident says he's been seeking sponsors to commission a life-sized model.
Castelluccio said he hopes to see his work picked up by a charity, museum or someplace where people can pay tribute to those lost that day.