Five months of chemotherapy can undoubtedly be a physical and mental challenge for any cancer victim. But when the patient in question is a gregarious, active teen, the thought of missing sports matches and cheerleading practice for an extended period can prove even more dire than the treatments themselves.
"I couldn't play soccer, I couldn't do gymnastics," recalled 15-year-old Caitlyn Mortus, who was diagnosed with Burkitt's lymphoma after seeking medical attention for a soccer injury in 2009. "I couldn't hang out with my friends." It wasn't until a family friend provided Mortus with a laptop computer that the resident of Katy, Texas, began to feel like her old self again, despite bouts of nausea and heavy fatigue while undergoing treatment at the University of Texas M.D. Anderson Cancer Center. "It gave me a lot of comfort to stay connected with my friends and family [on Facebook and Skype] when I was in the hospital."
Now fortunately cancer-free, Mortus says her experience inspired her to establish Keep Kids Connected, a non-profit organization "connecting to the power of social healing," which provides computers to children up to 18 years old who are battling cancer and other life-threatening illnesses.
"I thought about what gave me the most comfort when I was in the hospital," Mortus told The Huffington Post. "I know how these kid patients feel. I can relate to them when they're having bad days -- I remember those days. Just being able to talk to your friends is very important."
Since its establishment in April 2010, Keep Kids Connected has distributed a total of 110 computers to hospitalized youths. Though most of the computers go to U.S.-based children and teens, the organization recently donated a Netbook to a 3-year-old boy from South Africa who had been hospitalized with a brain tumor.
The organization is expanding at a rapid pace -- an August benefit dinner arranged by the Mortus family raised $17,000, compared to a similar event in 2010, which brought in $10,000, half of which was immediately donated to M.D. Anderson for pediatric cancer research. "We didn't expect it to become so well-received so quickly," said Caitlyn's mother Dawn, who also reported the organization will soon expand to include members and volunteers from outside the Mortus family. "But to see the smiles on these kids' faces ... it's even more rewarding for us than it is for them."
Keep Kids Connected's beneficiaries were also quick to praise Caitlyn's efforts. "It made things less stressful, it was easier for me to do schoolwork," said 15-year-old Jessica Weller of Mobile, Ala., who received a new computer from the organization in September 2010. "It was a tough situation because my family had bills to pay. ... I appreciate it a lot."
That benevolent nature and interest in philanthropy will undoubtedly prove even more crucial in the future, as Mortus plans to study nursing. "It makes my day knowing I made someone else's day better," said Mortus, who is also one of this year's featured designers with MD Anderson's Children's Art Project. "For us, it's just a little thing we can do, but for [the patients], it means the world."
For more information on Keep Kids Connected, click here.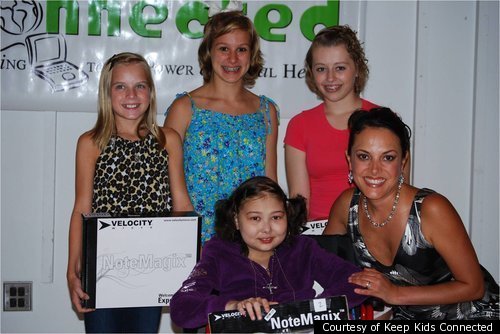 SUBSCRIBE AND FOLLOW
Get top stories and blog posts emailed to me each day. Newsletters may offer personalized content or advertisements.
Learn more