Tuna Labels: WTO Panel Rules U.S. Dolphin-Safe System Restricts Too Much Trade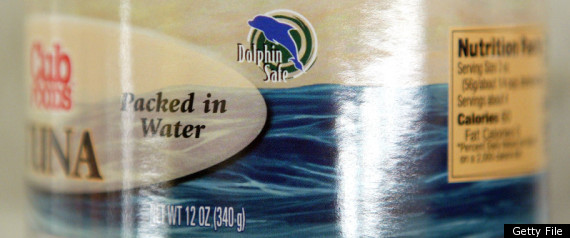 GENEVA -- The popular "dolphin-safe" labels used to market tuna sold in the U.S. are illegal because they restrict too much trade, a World Trade Organization panel ruled Thursday in handing a partial victory to Mexico.
The WTO panel concluded the labels authorized by the U.S. Commerce Department "are more trade-restrictive than necessary to achieve a legitimate objective" of letting consumers know whether dolphins were accidentally harmed in tuna fishing.
It said the labels protect dolphins in U.S. waters but "only partially fulfill" that goal elsewhere. But the panel rejected Mexico's claim its tuna products are treated differently than those of the U.S. or other nations.
"The WTO ruling is a crushing blow to the label 'dolphin-safe' and opens the way for Mexican producers to enter the U.S. market without restrictions, as is their right," Mexican Economy Secretary Bruno Ferrari said.
U.S. officials could not immediately be reached for comment, but they can appeal Thursday's decision.
"Should the U.S. appeal, the final result would be released late in the first quarter of 2012," Ferrari said. "If such an appeal is again unfavorable and the country chooses not to abide by an adverse ruling, Mexico would have the right, under the rules of the organization, to impose trade retaliation."
Mexico's tuna industry in 2010 was 131,000 tons, with a value of 5.5 billion pesos ($426 million). Figures from the U.N. Food and Agriculture Organization show that Mexico is ranked No. 12 in world production of tuna.
Schools of tuna tend to gather and swim around some species of dolphins in ocean waters. Fishermen often have located underground clusters of tuna by tracking dolphins on the surface with speedboats and helicopters, then circling them with nets to get at the tuna underneath.
Tuna fishing is a multibillion-dollar global industry. In 1990, the U.S. adopted a law intended to protect dolphins by encouraging consumers to buy tuna products packaged as "dolphin-safe."
Mexico, which invested heavily in tuna fishing in the 1980s, argued the U.S. rules led the three major processors of tuna brands sold in the United States – StarKist, Bumblebee and Chicken of the Sea – to exclude its products.
Mexico brought the case in 2009, contending the U.S. labels on cans and pouches of tuna were illegal because they effectively excluded Mexican yellowfin tuna from the U.S. market and caused a third of the nation's tuna fleet to shut down.
The Latin American country claimed its tuna production complied with international standards on reducing the accidental capture of dolphins in commercial fishing nets, but said U.S. rules prohibited Mexico from using the "dolphin-safe" label needed to sell the product in the United States.
The WTO panel backed Mexico's argument that the U.S. labels on cans and pouches of tuna aren't necessarily the best way to keep consumers informed whether dolphins were hurt, and that a reliance on stricter fishing rules and other conservation approaches "does not seem to create greater risks to dolphins."
Advocacy group Public Citizen predicted a backlash against the WTO over a ruling that pits environmental issues versus trade.
Lori Wallach, who oversees the group's global trade monitoring program, said U.S. consumers rely on the labels to make smart choices and prohibiting them "is among the few things likely to unite Americans across the political spectrum."
___
Katherine Corcoran contributed to this report from Mexico City.
___
Copyright 2014 The Local Paper. All rights reserved. This material may not be published, broadcast, rewritten or redistributed.