It looks like Lady Gaga was having a little too much fun at last night's Monday Night Football game at MetLife Stadium in East Rutherford, New Jersey.
The "You and I" singer was calling it a night, pouring out a glass of champagne during the fourth quarter of the game. Gaga and friends left shortly after she emptied her glass. The New York Giants defeated the St. Louis Rams and although she was wearing a rather formal dress for a football game, Gaga managed to show her support, sporting a Giants hat.
This isn't the first time Mother Monster has shown her love for New York sports. Last summer she found herself in some hot water when she flipped off some photographers in her underwear at a Mets game. Just a week later Gaga was banned from the New York Yankee's clubhouse after getting a little out of control at Yankee Stadium.
Looks like she managed to wear all her clothes during this game, a little spilled champagne was her only offense.
Here is one photo of Lady Gaga at the game, head over to NJ.com for more shots.
PHOTO: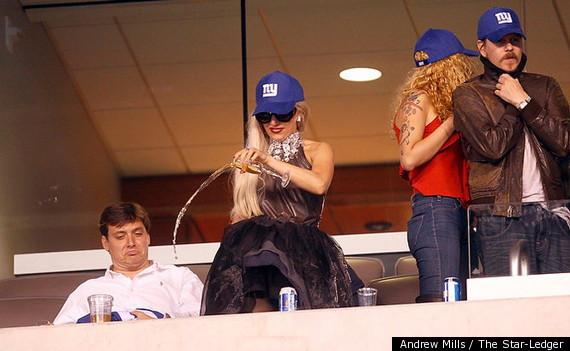 FOLLOW HUFFPOST