Family vacations in the South -- whether you include Texas and Florida in your definition or not -- can be rewarding experiences or absolute disasters. It all depends on pretrip homework. To make planning easier, we've done all the preparation. As part of a Huffington Post Travel series on traveling with children, here are recommended attractions for those planning family vacations in The South.
Mardi Gras World
Nothing illustrates the Big Easy quite like Fat Tuesday. And while Bourbon Street may not scream "kid friendly," you can still experience the joie de vivre of Carnival season any time of year at
Mardi Gras World
, featuring some of the most incredible floats you've ever seen. (If you have extra time, be sure to take older kids on a
Cemetery Voodoo Tour of St. Louis Cemetery #1
, where Homer Plessy is buried and a famous scene in
Easy Rider
was filmed.)
Address: 1380 Port of New Orleans Place, New Orleans, LA 70130
Phone: 504-361-7821
Hours: Open 7 days a week from 9:30 a.m. to 4:30 p.m.
Price: Adults, $19.95; seniors (65+), $15.95; children (ages 2 to 12), $12.95
The Outer Banks, N.C./Kitty Hawk
The Outer Banks
is certainly not lacking on colorful names. There's "Nag's Head," "Ocracoke," "Kill Devil Hills" and, of course, "
Kitty Hawk
," where the Wright brothers were first in flight in 1903. When you're not enjoying the sandy dunes and warm, inviting saltwater of one of these areas, check out the
Wright Brothers National Memorial
and
fly a kite
.
Address: Outer Banks Visitors Bureau, One Visitors Center Circle, Manteo, NC 27954
Phone: 252-473-2138
Hours: The Wright Brothers Memorial visitor center and Centennial Pavilion in Kitty Hawk are open 9 a.m. to 5 p.m. daily. Check for best beach times. Peak season for beaches is early March until mid/late October.
Price: No cost for the beaches. Lodging rental options range from cottages to condominiums, information available on tourism website.
Discovery Place
Located in the center of downtown Charlotte, the hustle and bustle of this up and coming city doesn't touch
Discovery Place
. Instead, you'll feel the busy hum of neurons whirling during these interactive science exhibits and cutting edge IMAX screenings.
Address: 301 N Tryon St., Charlotte, NC 28202
Phone: 704-372-6261
Hours: Monday-Friday 9 a.m. to 5 p.m.; Saturday 10 a.m. to 6 p.m.; Sunday noon to 5 p.m.
Price: Museum only: Adults, $12; children and seniors, $10. IMAX only: Adults, $10; children and seniors, $9. Museum and IMAX: Adults, $17; children and seniors, $15
Mammoth Cave In The Summer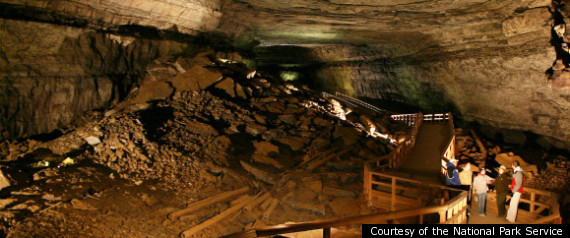 About two hours southwest of Lexington, Ky, Mammoth Cave was deemed by early guide Stephen Bishop to be a "grand, gloomy and peculiar place." The longest underground cave system in the world has no equal for labyrinthine tunnels and fascinating history. Daily tours range from regular meandering walks to all-day belly crawls. While you're there, you can also rent bikes and canoes -- it's where the great outdoors meets the great indoors (or "in rocks").
Address: Mammoth Cave National Park, 1 Mammoth Cave Parkway, Mammoth Cave, KY 42259
Phone: 270-758-2180
Hours: Mid-summer (June 25 through Aug. 7 and Sept. 3-4), 8 a.m.-7:15 p.m. Late summer (Aug. 8 through Sept. 2 and Sept. 5), 8 a.m.-6:15 p.m.
Price: Tours range from $3.50 (for kids) to $48. Average price is around $10 to $20. Camp ground rates vary.
The Martin Luther King Jr. National Historic Site
Learn about this venerated Civil Rights Leader in the city and neighborhood that shaped his ideals. Operated in partnership with the
National Park Service
, several sites along the historic Auburn Avenue include King's birth home,
Ebenezer Baptist Church
and
The King Center
, where both Martin Luther King Jr. and his wife, Corretta Scott King, are buried.
Address: 450 Auburn Avenue, NE Atlanta, GA 30312
Phone: 404-526-8900
Hours: Hours: 9 a.m. to 5 p.m. (during the summer until 6 p.m.)
Price: Free; Accepts donations
The Tennessee Aquarium
According to the
Aquarium's
website, you will be greeted by "feisty river otters, colorful frogs, amazing turtles" along with "big, toothy sharks, beautiful butterflies, playful penguins, mesmerizing jellyfish and thousands of colorful reef fish." With dozens of interactive programs for kids and a history of
conservation outside in the natural environment
, this aquarium stands out even among bigger, flashier options.
Address: One Broad Street, Chattanooga TN, 37402
Phone: 800-262-0695
Hours: First admittance to the Aquarium is at 10 a.m. with last admittance at 6 p.m. The Aquarium closes at 8 p.m. The Gift Shops close at 6:30 p.m.
Price: Aquarium: Adults, $24.95; kids (ages 3 to 12) $14.95; younger than 3, free. IMAX: Adults, $8.50; children, $7; younger than 3, free
Center For Puppetry Arts
When it was first founded in 1978, the Center for Puppetry Arts was host to a most distinguished guest at its ribbon cutting ceremony: Jim Henson and Kermit the Frog. The largest non-profit organization in the United States focused on the delightful art of puppetry, you'll find engaging performances, exhibits and workshops.
Address: 1404 Spring St. NW at 18th, Atlanta, GA 30309
Phone: 404-873-3391
Hours: Tuesday through Friday, 9 a.m.-3 p.m.; Saturday, 9 a.m.-5 p.m.; and Sunday, 11 a.m.-5 p.m. Extended hours during evening shows.
Price: Shows prices vary, but are generally $16 and include museum admission. Museum only: $8.25, all ages.
What's your favorite vacation spot in the South?
Lead photo: ScubaBear68; Flickr
Check out more FAMILY TRAVEL GUIDES.
FOLLOW HUFFPOST