2011 Rugby World Cup: Australia Beats U.S., 67-5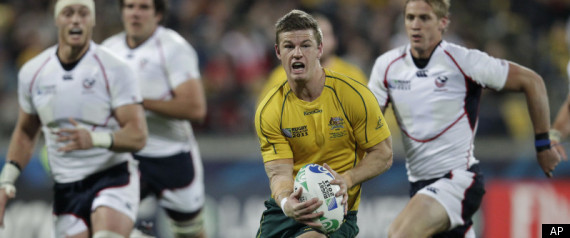 Associated Press

WELLINGTON, New Zealand -- Australia restored authority to its Rugby World Cup campaign on Friday, beating the United States 67-5 six days after its loss to Ireland caused the first major upset of the tournament.
Winger Adam Ashley-Cooper scored three tries in a seven-minute span of the second half as the Wallabies improved their record against the Americans to 7-0 overall and 3-0 at World Cups.
Australia's victory also ended a period of soul-searching prompted by its 15-6 loss to Ireland, leaving it with some hope of reclaiming first place in its pool and of avoiding world champion South Africa in the quarterfinals.
But it may have come at a heavy cost with centers Anthony Faingaa and Pat McCabe and fullback Kurtley Beale all leaving the field with injuries. Faingaa was take off by stretcher in the final minute after being knocked unconscious while making a tackle.
The Wallabies led by only 10-5 after 23 minutes and at times in the first half seemed rudderless when harried by a vigorous U.S. defense. By halftime it had a bonus point through tries to Robert Horne, Rocky Elsom, Beale and Faingaa.
The second half produced seven tries.
"We spoke about it this week, that we needed to be smarter in our decision-making," Australia captain Will Genia said. "The scoreline was a bit flattering but I think the best thing about our performance was the way we went about it and our decision-making."
The United States scored its only try, to J.J. Gagiano, from a period of extended pressure on an Australian defensive line which was stressed and occasionally brittle. The try was the first scored against Australia in three matches at this tournament.
After a break by scrumhalf and captain Tim Usasz and lock Scott LaValla, who was stopped in a lifting tackle by Cooper, the U.S. held the ball through 18 phases near the Australian line. Cooper was eventually driven back over his own goal line and from the ensuing five-meter scrum, and No. 8 Gagiano detached and found no defense on the blindside.
Lacking a reliable source of possession through the first 30 minutes and unable to play with field position – the Americans had 59 percent of territory before halftime – Australia was forced to depend on its counterattack for points.
When the U.S. dropped the ball near the Australian goal line in the 29th minute, Elsom scooped it up and launched a length-of-the-field counter which ended with a try to Beale.
It wasn't until the 34th minute that Australia produced a try from set move. Wycliff Palu off-loaded to Horne in a midfield gap and the inside center was able to run his midfield partner, Faingaa, in for Australia's fourth, bonus point try.
Australia lost Beale to injury just before halftime, forcing Cooper to fullback while Berrick Barnes took over at flyhalf, eventually taking the goalkicking duties from Cooper who landed two of six attempts.
The American defense began to yield early in the second half as Australia went to its bench for fresh legs. Winger Drew Mitchell scored five minutes after halftime, in his first test for Australia this year, and McCabe, who replaced Horne, touched down three minutes later.
Ashley-Cooper became Australia's seventh individual try-scorer in the 59th minute and went on to a rapid hat trick. He got his second in the 63rd minute and added the third in the 66th.
Faingaa scored his second, and Australia's 10th, four minutes later while Radike Samo added its last in the 78th minute.
"That's the difference when you play the best sides in the world, they really punish your mistakes and that's what we learned tonight," Usasz said. "We came here to be measured against the best and we'll learn from it."

RELATED VIDEO: