Will Arne Duncan's Education Reforms Get Left Behind?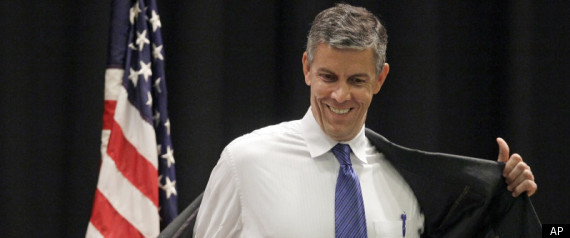 CLEVELAND -- On a recent Wednesday afternoon in the auditorium of Eastern Technical High School, where 1,000 people had come to hear him speak, Arne Duncan was stumped.
"What will the plan be in three years when the Race to the Top funding runs out?" Deontae Gresham, a high school senior, asked the usually well-prepared United States Secretary of Education.
"Will there be a separate program or will it go back to the way it was? Meaning, will a young black male student like me ... with dysfunctional parents be left to make it on his own with no support?" he wondered, through a moderator.
After a brief pause, Duncan responded, "That's a good question."
Gresham was referring to the federal Education Department's signature program, which pit states against one another to compete for millions in grant money -- initially $4.35 billion from the 2009 stimulus initiative. Race to the Top's reforms addressed shortcomings that Duncan, a Democrat, relentlessly hammers at: low standards, low-performing schools, little communal help for failing schools and the weight of seniority in teacher staffing decisions. In Cleveland, RTTT funds produced a mentoring and engagement program that has been largely credited for increasing graduation rates.
But, as Gresham noted, RTTT money is drying up -- in Cleveland and across the country. And as with other programs for which Duncan is known, funding for it won't automatically be replenished. It hasn't been codified in any recurring law in Congress, as it came to Duncan largely through the sponsorship of President Barack Obama.
Duncan, who stands at a lean 6'5", defined himself early in his tenure as a persistent yet compromising free-marketer, part of an education reform movement that stresses the use of data and competition to improve schools -- a departure from traditional Democratic education policy, which unquestionably supported teachers unions. Duncan used RTTT to push states to increase their standards and drive charter school growth. He pushed policies generally unpopular with teachers' unions, such as merit pay and hiring and firing teachers in accordance with their competence. Duncan recently announced that if states adapt his preferred reforms, he will free them from what they consider the burdensome strictures of the No Child Left Behind Act. President Obama will announce what shape these reforms will take on Friday.
"Race to the Top has catalyzed a huge amount of change in this country, and not only in the states that won," Duncan continued at the panel. "When the money goes away, I don't think we're going to reverse that. Politicians now know they have to do the right thing ... Three or four years from now, if we take a step back, that would be devastating."
In other words, Duncan had no clear answer yet for Gresham. But that wasn't for lack of trying.
"If you'd asked me two-and-a-half years ago if we would be at the point of where we're at now, that would have exceeded our highest hopes," Duncan reflected in an interview. "It's amazing."
In the U.S., most significant education policy changes come at the state level, as states have direct control over the school districts within their borders. Because of the incentives set by the federal government for RTTT, states signed onto reform plans -- whether they won money or lost the competition.
Michigan, for example, passed a law that allows the state to take over and run its lowest-performing schools. Illinois passed a law that enables firing teachers for incompetence. New York State raised its charter school cap. Forty-four states signed onto the Common Core state standards. At least twenty-six states passed stricter teacher evaluation laws that take test scores into account.
But while hundreds of reform laws passed statehouses, little evidence of their implementation or efficacy exists. In Illinois, the reform plan, which includes revamped teacher evaluations, is short $500,000. Every winning state postponed its deadlines for implementation of the reforms. New York's RTTT-inspired teacher evaluation law faces litigation -- and cannot be implemented until a new teaching contract is signed.
Duncan must now decide whether to revoke the grants. "If we see folks walking away from goals and stagnating, we have an obligation to step in and if necessary stop funding," he said.
Because Duncan relied on long-time friend and basketball buddy Obama to sponsor his changes, Race to the Top's long-term viability is questionable, as conceded to the young student in Cleveland.
Meanwhile, when the House of Representatives changed hands during the midterm elections, Duncan's ability to give his reforms staying power diminished. The administration waited until March 2010 to release its NCLB blueprint, leaving little time to pass it before Congress's right turn -- and before some ranking members declared defeating Obama in 2012 as their goal.
In part because of the midterm realignment, Duncan, a man with both the stamina of an athlete and the full backing of the president, has so far failed to enshrine his policies -- but the new waiver plan is one attempt to do so.
"He's undertaken reforms based on temporal authority," said Andy Rotherham, a former White House education advisor who now runs Bellwether Education Partners. "In this town, that can change as fast as the weather."
* * * * *
Hours before Duncan addressed Gresham's question, the streets around East Tech closed for Duncan's arrival, on a bus replete with leather seats and a microwave. The bus, first used by Toby Keith and now blanketed with Education Department signage, carried Duncan through three days of staged panels and town halls in a six-state jaunt billed as his "Education and the Economy Tour."
Duncan is a down-to-earth, lanky, one-time Australian pro basketball player who is generous to his aides. He met warm and enthusiastic crowds across the Rust Belt; the reception in Cleveland was so elaborate that, staffers joked, it was as if the president himself had arrived. The East Tech session ended with a swarm of Clevelanders following Duncan out the door. A science teacher rolled out a gigantic student-created robot. Duncan shook its makeshift hand before departing.
Duncan used the bus trip, which ran from Sept. 7-9, to spread his gospel and passion about education reform in a harsh economic climate; to amplify his oft-stated belief that America's schools are failing as other nations' improve; and to stump for his recent decision to waive components of NCLB in exchange for favored reforms.
"We need to educate our way to a better economy," Duncan said several times a day, during speeches from Pittsburgh to Chicago. "Education is the civil rights issue of our time."