Blockbuster has announced its unlimited movie streaming service, dubbing it a "stream come true." But while many thought the service would compete with Netflix, the newly-named Blockbuster Movie Pass will only be available for Dish Network customers at the outset.
At a press conference in San Francisco, Dish-Network owned Blockbuster announced that the new service will be available on October 1. Blockbuster Movie Pass will include both DVDs and games by mail, as well as unlimited streaming of about 4,000 movies to computers. Executives said that, for now, Blockbuster Movie Pass will only be available to Dish Network subscribers as an add-on to current plans.
The relevant Blockbuster Movie Pass content statistics: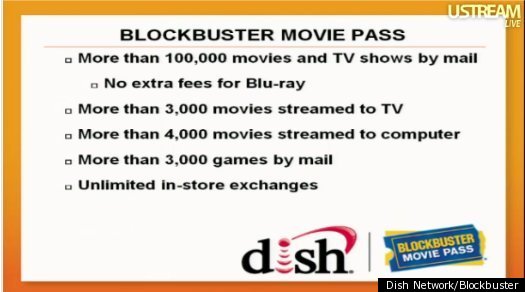 A few other key points arose over the course of the press conference:
- Blockbuster Movie Pass will be available as an add-on for existing Dish customers for $10 per month.
- New Dish subscribers can get Blockbuster Movie Pass with Dish's Top 200 subscription for $40 per month.
- Though there are plans to roll out Blockbuster Movie Pass to non-Dish subscribers in the future, for now the service will be available only for those with a Dish subscription.
The streaming section of Blockbuster Movie Pass contains about 4,000 movies from Starz (who recently walked away from contract negotiations with Netflix), Epix, Sony and Encore; these scant offerings (Netflix streaming has about 31,700 movies, per Blockbuster's estimate at the press conference) will be supplemented by Dish Network's on-demand offerings for subscribers, which includes content from TNT, TBS, Fox, Discovery and other networks.
Again, Dish Network was clearly presenting Blockbuster Movie Pass as an add-on to its subscription service rather than a standalone that might compete directly with Netflix's much-criticized streaming library. Here's the chart they displayed to show the advantages of Movie Pass: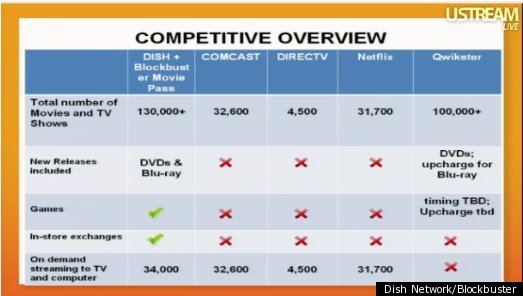 SUBSCRIBE TO & FOLLOW THE MORNING EMAIL
The Morning Email helps you start your workday with everything you need to know: breaking news, entertainment and a dash of fun. Learn more