School Choice Advocates Hope To Build On Gains In Wisconsin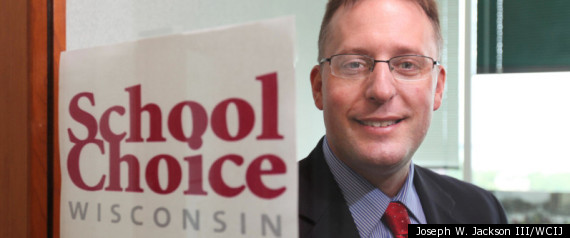 This piece comes to us courtesy of the Wisconsin Center for Investigative Journalism.
This is the third of a three-part series by Bill Lueders examining the forces behind the tremendous success of the school choice movement in Wisconsin.
Part One explores the role of contributors such as the Walton family, heirs to the Walmart fortune, and others who support the use of public money for private schools. Part Two looks at the role of the Legislature and the array of well-connected individuals lobbying for changes in law and policy. Part Three focuses on the expansion of the school choice voucher program to Racine and proposals to extend the program in other ways.
Jim Bender, president of the advocacy group School Choice Wisconsin, has a ready answer for those who charge that giving tax dollars so students can attend private schools is taking away money from public schools: "It's not their money. It's taxpayers' money. It's parents' money."
The decision on how this money is spent, he says, resides with the Legislature: "It's not about a system. It's not about a district. It's about a student. If we put the student's needs first, then there's no problem with having the money following the child."
Beginning this fall, the money is going to be following children from public to private schools in Racine.
The 2011-13 state budget authorized vouchers for 250 Racine students this year and 500 students in 2012-13; thereafter, enrollment will be open to all eligible applicants. Eight local private schools have been approved to participate.
"I'm ecstatic about this," says Laura Sumner Coon, executive director of SOAR (Scholarships, Opportunities & Access in Racine), a school choice advocacy group. "This is great news for us."
Sumner Coon says her group was able to raise just $50,000 over two years for a scholarship fund for private schools, enough to serve 13 children. Now she expects most if not all of the 250 voucher slots to be filled this fall.
The program is open only to students entering private schools in kindergarten or first grade, as new arrivals to the area, or those switching from public schools. Also eligible are students entering high school from eighth grade, even if they are just moving from one to another private school.
Among the new choice students is Miguel Rodriguez, 6, a first grader at Trinity Lutheran. Miguel, abandoned by his mother, has been raised since he was two weeks old by Kathy Robison and her husband Robert of Racine. The couple, who have four children of their own and raised three adopted kids, now all adults, are Miguel's legal guardians.
Kathy Robison says Miguel was born with fetal alcohol syndrome; he has a speech impediment and attention deficit hyperactivity disorder. About a month after they got Miguel, Robert Robison was diagnosed with Parkison's, now in stage 4. He can no longer work.
"God has always provided for us," says Kathy, who believes God gave the couple Miguel "to help us get through my husband's illness."
Last year, the couple paid to send Miguel to kindergarten at Trinity Lutheran, which most of their other children have attended. This year the state is picking up the tab, which is a relief.
Once a week, Kathy takes Miguel for an hour of speech therapy at one of Racine's public schools. But she's grateful he is able to attend school in "a Christian environment" -- from now until he graduates from high school.
AT WHAT COST?
According to the nonpartisan Legislative Fiscal Bureau, expanding vouchers to Racine will add nearly $3 million to the state's costs over the next two school years, after aid reductions to the Racine Unified School District are factored in.
The Fiscal Bureau estimates the district will see a $618,000 state aid reduction in 2011-12 and $1.2 million in 2012-13 due to the voucher program. But Bender says the district "gets to make up for 100 percent of the state aid reduction in the same manner they have done for independent charter schools for years," through local property taxes at a lower per-student cost than for Racine public school students.
And Sumner Coon says it will be several years before the program's impact is fully felt, giving the district time to adjust: "They need to make some changes."
The district says the voucher plan comes on top of a $25 million funding shortfall, mostly due to budget cuts. In August, it cut 123.5 full-time equivalent positions, including 85 educational assistant jobs, along with some administrators, secretaries and teachers, according to district spokeswoman Stacy Tapp.
"The vouchers are a real gut punch to this district," says Steve Urso, executive director of the Racine Education Association, a union representing 1,630 teachers and more than 400 educational assistants. "There's not a lot of money to work with."
Doris Szejna, president of the Racine Educational Assistants Association, says her members make anywhere from $18,165 to $31,948 a year, working in the classroom with special needs students. The cuts mean that 79 assistants were laid off, and several dozen more forced to take reductions in hours and pay.