Celebrity Chef Restaurants: The Rise Of The Emperor-Chefs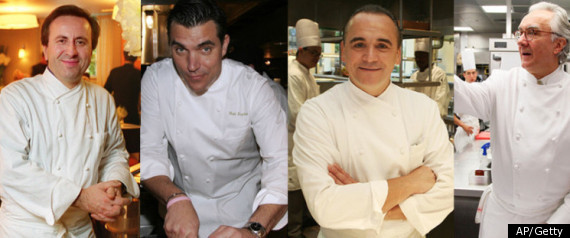 In September 1991, chefs Jean-Georges Vongerichten and Todd English looked unstoppable. English had just been named the James Beard Rising Chef of the Year after leading his restaurant Olives in Charlestown, Mass., to two years of wide acclaim. Jean-Georges had just opened his first solo restaurant, JoJo, a bistro on New York's Upper East Side, after over four years as the chef of Lafayette, where he'd earned a rave four-star review from the New York Times at the age of 31. JoJo, meanwhile, was quickly becoming a smash hit. Times restaurant critic Bryan Miller said that the dining room was so packed that it often evoked "Epcot Center during spring break," and declared the food, light on cream and butter, "cooking for the '90s." They were young, good-looking, prodigiously talented chefs cooking in a country that was just starting to grow taste buds -- why would anyone even want to stop them?
Twenty years later, they have become household names, received further accolades and thickened their wallets considerably. Jean-Georges now owns 27 restaurants, and English owns 20. Dishes they've invented -- Jean-Georges's molten chocolate cake and foie gras crème brûlée, English's fig-prosciutto pizza -- have become industry staples. They've made inroads to becoming a part of the mainstream, each releasing guides to home cooking this fall , and being featured in People magazine. They are celebrities and restaurateurs, rich and famous -- but are they still chefs?
That's the question that has haunted English, Vongerichten and the whole coterie of "emperor-chefs" since their ascension. (By "emperor-chef," we mean to exclude celebrity chefs, like Giada de Laurentiis and Ina Garten, who are more TV personalities than restaurateurs.) Pretty much everyone knows that, if you go into one of the 23 restaurants owned by Gordon Ramsay or the 13 owned by Bobby Flay, your chances of eating a meal actually cooked by the chef are slim to none. So the question of what the job of "emperor-chef" entails -- beyond appearing on TV, writing memoirs and cashing a fat check at the end of every month -- is a salient one.
It's a question that has been known to raise tempers. Alan Richman, the restaurant critic for GQ, is an especially harsh critic of empire-building by talented chefs. "Cooking is one of the most individual enterprises in the world," he told the Huffington Post. "There's nothing that lends itself less well to franchising than cooking."
Richman argues that the emergence of the emperor-chef -- a phenomenon he traces back to Wolfgang Puck, now the owner of 92 restaurants -- is a product of cooks' material aspirations. "For most of history, nobody got rich being a chef. Then they figured out a way to get rich -- it was TV and franchising," he said.
English and Vongerichten rose in parallel for most of the '90s. English won his second Beard Award when named Best Chef in the Northeast in 1994. He opened branches of Olives in Washington, Las Vegas and Aspen. He wrote cookbooks and launched other restaurant concepts: Figs, a more casual version of Olives, in Boston and La Guardia Airport; Kingfish Hall, a seafood eatery in Faneuil Hall; an Italian restaurant, Tuscany, in Connecticut's Mohegan Sun casino.
Meanwhile, Jean-Georges used JoJo as a platform for other ventures. He opened an NYC Asian-Fusion restaurant called Vong in 1993, then another in London two years later. He waited until 1997 to return to haute gastronomy, with the eponymous Jean Georges restaurant in the Trump International Hotel. It is, to this day, his flagship, and one of the most highly-acclaimed restaurants in America. It won both four stars from the New York Times and the James Beard Award for Best New Restaurant just months after opening. In 1998, Jean-Georges also received the Beard Award for Most Outstanding Chef in the Country.
It could be argued, though, that the two chefs' success in the '90s bred a kind of gastronomic hubris. There have been missteps.
Jean-Georges may have started to expand too quickly, as he began opening restaurants and building his empire both inside and outside New York. A few restaurants he'd opened, such as Vong's Thai Kitchen in Chicago and New York's 66 and Matsugen, closed after just a few years. More stingingly for a chef of such wide acclaim, Frank Bruni stripped stars from Spice Market, Vong and Mercer Kitchen in a blistering series of reviews in the Times.
"You couldn't see his name and say, 'Yep, that'll definitely be a great restaurant,'" Bruni said in an email to The Huffington Post. "You had to be a more informed, discerning diner than that, and to know that some Jean-Georges was 100 percent reliable, some not. ABC Kitchen, one of his newest, can be terrific. But that doesn't mean all of his new restaurants will be."
In 2006, Jean-Georges divided his empire into two halves. One, Jean-Georges Management, would continue to operate as before. The other, Culinary Concepts, was the result of a partnership with a private equity firm and Starwood Hotels. It was designed to open franchise-like restaurants around the world. The first Culinary Concepts property was the New York Spice Market, which at one point had revenues of approximately $15 million a year. Today, Culinary Concepts and Jean-Georges Management are separate operations, though Jean-Georges retains ties to both. Culinary Concepts manages and operates 15 of his 27 restaurant, mostly Spice Markets, JG Steakhouses or Markets.
"We usually don't create recipes outside New York," Jean-Georges told HuffPost. "I don't like to call those restaurants franchises -- but really, that's what they are. So Jean-Georges Shanghai is kind of a best-of. And Market, in Paris, I would describe as a kind of cross between Mercer Kitchen and Perry St. They're lucky, really, because they have the greatest-hits menu of all the dishes that we've done in New York."
Needless to say, Jean-Georges does not often man the line at Lagoon in Bora-Bora or J&G Grill in Park City, Utah. Instead, the chefs at each restaurant have access to a huge computerized database of recipes developed by Jean-Georges and his chefs in New York, which they are instructed to follow very closely.
"The recipes are very precise. The challenge is really to make sure the meat, fish and poultry are seasoned and cooked correctly, which is a tall order," Jean-Georges said.
Chefs at new restaurants also rotate through the Manhattan restaurants in advance of opening, then train their own underlings in the weeks before a location's official debut. The training culminates in a series of high-pressure "staff-on-staff" dinners.
"Half of the staff cooks for and serves to the other half," Jean-Georges explained. "We treat them like customers, then they give feedback."
The team uses feedback from the staff-on-staff dinners to fine-tune the restaurant in advance of the friends and family opening, a series of dinners in the five days before the restaurant opens to the public. According to Vongerichten, the whole process primes the restaurants for early success.
"My view is that the first three months of a restaurant is best. Even though they're green, there starts to be turnover after that. Then you have to train the new team while the bus is running – which is obviously much harder," Jean-Georges said.
This is not a commonly held model of the evolution of a restaurant -- indeed, many assume that a restaurant peaks after a year or two, once the staff has practiced away any flaws in food or service.
Jean-Georges's departure from conventional wisdom might point to deeper issues in managing quality control as his brand expands. It's hard for any group to maintain high quality over time, and restaurants involve too many moving parts for everything to be perfect in every meal. That said, there are restaurant groups that do better and those that do worse.

HOW DO THE OTHER GUYS DO IT?
Two chefs who are known for maintaining high standards across global empires are Alain Ducasse and Daniel Boulud. Compared to English and Vongerichten, Ducasse and Boulud are classicists, and their menus hew closer to traditional French models of gastronomy. Each of them has garnered three Michelin stars at a flagship restaurant, Ducasse on numerous occasions. They also both have very low miss ratios, and the median restaurant in either's empire likely outperforms the median restaurant owned by English or Vongerichten.
Ducasse attributes his success as a restaurateur to the fact that he has never relied on his own deftness at a stove to achieve top cuisine. Indeed, from the start, personal experience led him to be more of a manager than a line cook.
"In August 1984, the plane I took with four other friends crashed. I was the only survivor and it took me one year to recover," he said by email. "This obliged me to invent another way of practicing my job: to delegate and give my team very precise guidance, to cook 'in my head,' not standing in a kitchen."
When he is opening a new restaurant, he trains new staff for up to a year, and after launch he is in constant communication with chefs. His vision of one's position in chefdom is more to be a kind of spiritual advisor than a man in the trenches.
Richman, on Ducasse, was unequivocal. "Alain Ducasse is the best one at doing this work at the very top level," he said. "He works with really top-level chefs, and he gives them a lot of autonomy. His different properties operate almost as independent restaurants, and he gives guidance and resources to the chefs."
Of Boulud, Richman was more circumspect. While he had nothing but praise for Boulud's flagship New York restaurant, Daniel, he said his experience of other Boulud restaurants was corporate, almost sterile. He said, " DBGB, DB Bistro Moderne – they're OK, they're fine, they're pretty good. They're B's!"
A tendency towards sterility in Boulud's restaurants might be chalked up to the same quality that makes them consistently good: his perfectionism.
His training process is almost as rigorous as Ducasse's. When he was opening a restaurant in Beijing, for example, he was so concerned about conveying standards to the staff that he had his training manual translated into Mandarin. He also insists on being present at every stage of design and conception of any property that his company, Dinex Group, opens.
"Daniel's involved in everything from the foie gras to the toilet paper," said Dinex Director of Operations Michael Lawrence.
That said, even the most rigid of restaurateurs has to surrender some control over restaurants operating around the world. (Boulud owns, in addition to Beijing, a Bar Boulud in London and a new DB Bistro Moderne in Singapore.)
"Keeping quality high, when there's a five hour time time difference -- or more, in the case of Singapore -- is tough, just because we're not there every day," Lawrence said. "It's different when you can get in a cab or a subway and be at the restaurant in 20 minutes."
The people with some of the strongest senses of how to maintain high quality are not chefs, but rather, career restaurateurs. Rich Melman, the CEO of Chicago-based restaurant group Lettuce Entertain You, is renowned in the culinary industry for his scrupulous standards across his 85 restaurants. Three of them hold Michelin Stars, including one, L2O, which has three. His management style differs from many as he grants chefs and GMs at his restaurants autonomy only insofar as they have already earned his complete trust. Until then, he keeps them on a tight leash.
"The keys to opening good restaurants are defining what you want from a restaurant, getting the right people and holding those people to clear, high standards," he said. "It's kind of like posting a speed limit. If people knew there were no policemen, it gets out of control. You're constantly setting up systems that let you monitor things."
For Melman and several of his peers, that means setting up thoughtfully-organized corporate structures, with officers in charge of overseeing all aspects of specific restaurants.
Stephen Starr, a Philadelphia and New York restaurateur who owns 25 high-volume restaurants, even went so far as to say his own corporate structure grew out of the need to check up on restaurants on a regular basis.
"I knew that I couldn't check on everything myself, so I found other people who would help," he said. "They were called directors, but really they were just checker-uppers."

Next: The Case of Todd English & Inside a Restaurant Empire
Also on HuffPost Food: A slideshow of the 15 biggest emperor-chefs