House Republican Says No Democrat Will Touch Jobs Bill That Was Introduced In The House By A Democrat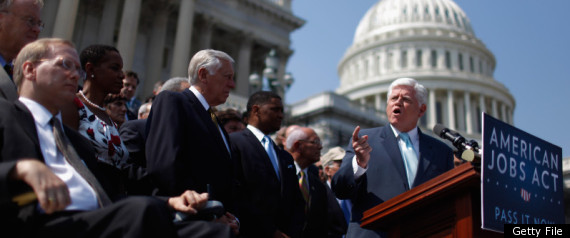 It seems that Representative James Lankford (R-Okla.) and the Daily Caller reporters who talk to him all need to get up to speed on current events.
That's the takeaway from this article by James Ballasy, titled "Congressman: House Democrats won't touch Obama's jobs bill." See, there has actually been some touching! Meanwhile, Lankford comes across as a trifle touched:
Republican Rep. James Lankford of Oklahoma told The Daily Caller on Friday that no House Democrat wants to put his or her name behind President Obama's $447 billion jobs plan, a necessary step before the legislation can be introduced for consideration.

He also claimed the bill would not lower the current 9.1 percent unemployment rate.

"The focus right now from him [Obama] is 'pass my whole bill, pass my whole bill,' [and] some of the struggle with that is no Democrat in the House has even taken his bill and filed it yet. So we can't even pass the bill because no one wants to put their name on it and say, 'this is my bill' and file it in the House," said Lankford in a September 23 interview at the U.S. Capitol.
Emphasis mine. So, "no House Democrat wants to put his or her name behind" the American Jobs Act, or "say 'this is my bill' and file it in the House?" Well, I'd like to introduce everyone to House Democratic Caucus Chairman John Larson (D-Conn.). And, as the Hill's Pete Kasperowicz reported, here's a thing that he did two days before this interview that may be of interest to everybody:
House Democratic Caucus Chairman John Larson (D-Conn.) on Wednesday introduced President Obama's American Jobs Act legislation in the House.

"The President has drafted a plan that is focused on what the 14 million Americans who are out of work know they need -- the simple dignity of a job," Larson said. "He deserves a vote on his plan in as timely a fashion as possible because those 14 million Americans can't wait the 14 months until the next election for this to be resolved."

Larson's bill, H.R. 12, is identical to S. 1549, the bill Senate Majority Leader Harry Reid (D-Nev.) in the Senate last week in a bid to start the process of moving Obama's jobs plan through Congress.
Lest anyone be confused, Larson's office confirms to The Huffington Post this morning that this action does constitute "put[ting] his name behind" the bill and "fil[ing] it in the House."
Meanwhile, if you're interested in why the American Jobs Act, having been introduced, may not advance much further down the legislative process, it's because there are people who don't want to touch it. As Kasperowicz reports: "House Republicans are unlikely to schedule any time for Obama's plan, in large part because of the $1.5 trillion in tax hikes Obama has proposed to help pay for it."
So, let's everyone get on the same page about what's going on in Congress, shall we?
[Would you like to follow me on Twitter? Because why not? Also, please send tips to tv@huffingtonpost.com -- learn more about our media monitoring project here.]
Earlier on HuffPost:
Subscribe to the HuffPost Hill newsletter!