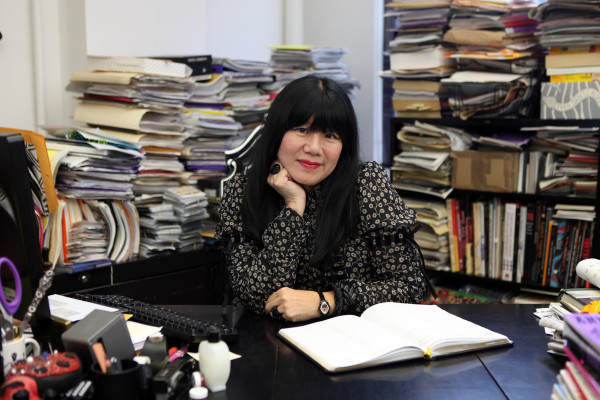 Bobby Doherty AOL/Getty Images.
Although she's a proud American fashion designer (she received the CFDA Lifetime Achievement Award), Anna Sui just happens to be totally entranced with the City of Lights at the moment. Case in point: her Spring 2012 collection was inspired by Paris in the 1970s. Having visited the the most romantic city in the world in July, Sui couldn't shake memories of her trip after she returned to New York. "I went to look at the Yves Saint Laurent Rive Gauche 1971 exhibition and was really excited to see those clothes because he created such iconic designs that were really fun," she said. "They were really youth-oriented rather than couture, and then I started recalling that whole period in Paris."
Famed fashion illustrator Antonio Lopez's jaunt in particular struck her fancy. "In the book 'The Beautiful Fall,' there are these two chapters where Antonio and Andy Warhol go to Paris and they bring along with them Jane Forth, Donna Jordan, Jerry Hall and Grace Jones," Sui exclaimed. "They would go dancing every night at Club Sept where Guy Cuevas was the deejay and they brought along their Philadelphia sound disco, vintage clothes and Bakelite jewelry. It was a wild time."
Sui's obvious excitement for the 1970s was apparent when her collection of retro-inspired, house dresses, colorful feather chubbies and turbans finally hit the runway. "It was a time of whimsy," said Sui. "It was when fashion wasn't so serious, and was just fun." Nothing like a trip to Paris for a little vintage inspiration!
For more behind the scenes with Sui, look through our slideshow below.
SUBSCRIBE TO & FOLLOW LIFESTYLE
We're basically your best friend… with better taste. Learn more