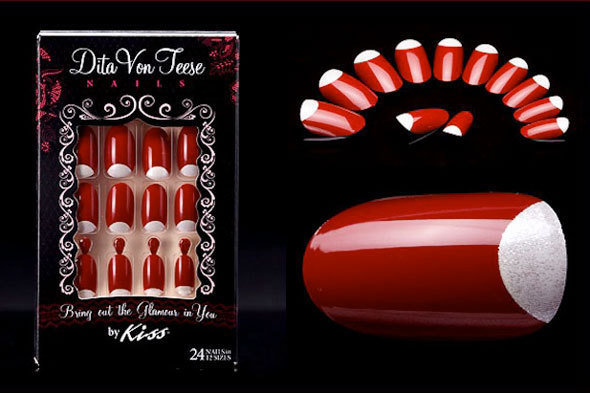 Dita Von Teese pin-up inspired press-on nails. Photo: dita.net
You may not be able to give a titillating performance like burlesque star Dita Von Teese, but she's making it easier to look good while you try the perfect manicure.
Von Teese has teamed up with New York-based nail brand, Kiss, to create a line of retro-inspired press-on nails. Painted in a super shiny and chip resistant cherry red lacquer, the oval-shaped digits mimic a style that was popular during the 1930s and 1940s among Hollywood screen sirens -- and a look the Michigan-born beauty has worn for the past 20 years.
She explained to the
Telegraph
:
"When I was researching style in the early part of my career, I looked very closely at the details of photographs of women of those decades and noticed that they would leave the moon of the nail bed bare; sometimes they would leave a sliver of white at the tip too", said Von Teese. "So I showed the pictures to my mother, who has been a manicurist for 30 years, and she would patiently paint my nails in this style, sometimes experimenting with colors. All these years later the trend is finally catching on, so I wanted to offer a shortcut to the classic half moon manicure - a way for everyone to wear it without going through the drama of explaining to your manicurist what you want it and how to do it."
Thank you for thinking of us, Dita!
Would you wear these retro press-on nails? Tell us your thoughts in the comments section and learn how to recreate this sexy lace manicure.